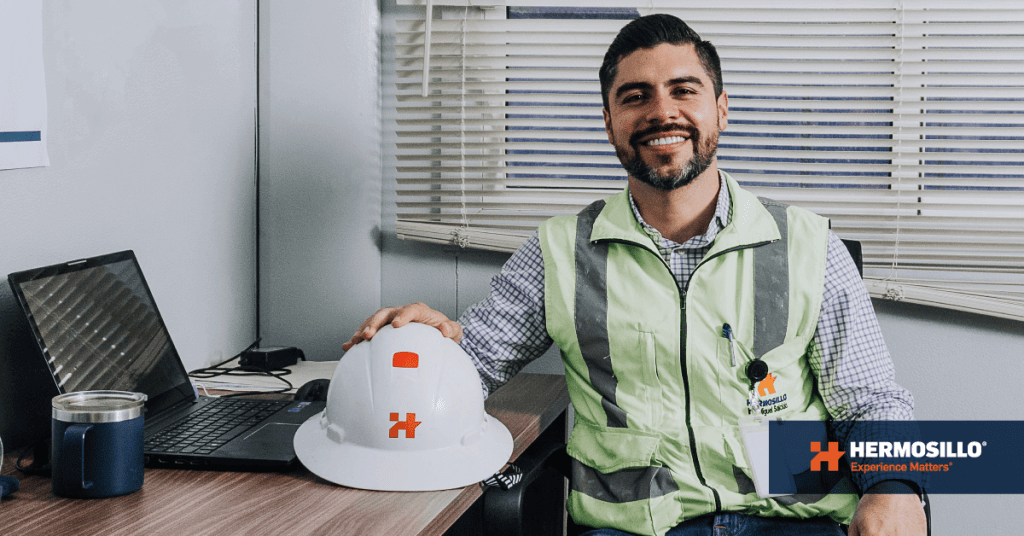 What has led you to be where you are now?
After graduating from Civil Engineering, I started working at Hermosillo. Since then I have had the opportunity to develop myself as a construction resident, superintendent, and project leader.
During my time as a construction resident, I specialized in the construction of industrial flats and managed to gain an ACI certification in concrete flooring techniques. Additionally, in order to guarantee projects built with the highest safety standards in the industry, I also pursued an OSHA certification.
How would you describe your job to a person who does not work in the construction industry?
My work involves resource management, with a special focus on time and cost. I also make sure every work is done safely. My goal is that every member of my team returns to their home with no harm at the end of the day.
Finally, you could say that I take care of fully understanding the needs, expectations, and goals of our customers, to be able to offer them a precise and optimal solution.
What is the biggest challenge you have faced while working in Hermosillo? How did you manage to overcome it?
One of my main challenges in Hermosillo was to meet the 3-month delivery date for a very demanding industrial project, in which I was the superintendent. In the end, we achieved the goal due to exceptional teamwork from Hermosillo's staff as well as subcontractors and suppliers.
What is the job achievement you are most proud of?
I am very proud of the career I have built with Hermosillo. I believe that these years have been very enriching for both parties as we have created a win-win relationship in which I believe that I have grown and matured both personally and professionally.
How have Hermosillo's values influenced your life?
Hermosillo's values have been a great reason for me to enjoy and feel comfortable in my job. I've also been given the certainty that I can continue to grow. I'm sure that if my personal values were different from the ones in my job, I couldn't have gotten to where I am.
What aspect of your personality do you most attribute your personal success to? And how did Hermosillo help you do that?
I am an honest, analytical and conciliatory person, that tries to act and make decisions always in a fair way. I'm a believer that you must treat others the way you want to be treated.
Someone that inspires you:
I find Michael Jordan's life story inspiring and impactful. I think his success was due to his determination, perseverance, resilience and his desire to succeed. He knew how to identify when to put aside his personal interests and prioritize those of the team (as every leader should act), which was the key to push his institution to win championships and thus establish his empire. He maintained a high enthusiasm and positive attitude, which he transmitted to those around him.