WE KNOW MEXICO
BUILDING SINCE 1963
You can rely on our expertise after developing and completing +950 DESIGN & CONSTRUCTION projects across Mexico. We'll help you every step of the way, from site selection to properly recommend the best solutions for your project, delivering a world-class facility.

With our expert and bilingual team, innovative technology, financial capability, and people-oriented values, Hermosillo will put your mind at ease. You can trust us to find the best way possible for your INVESTMENT IN MEXICO.
FULL SERVICES
We offer you solutions tailored to Mexico's environment and regulations, working with North American standards.
· SITE SELECTION · PERMITTING SUPPORT ·COST ESTIMATES · NEC, NEMA, FM, NFPA, IBC STANDARDS · CONSTRUCTION · DEVELOPMENT
We provide an immersive experience through the entire project-cycle. Your project will be delivered on-time and on-budget.
· SAFETY STANDARDS BASED ON OSHA GUIDELINES· VIRTUAL DESIGN CONSTRUCTION (3D BIM)· LEAN CONSTRUCTION MANAGEMENT
NATIONWIDE PRESENCE
Our strategically located offices allow us to meet your needs efficiently and offer our services nationwide.
· NORTHERN MEXICO· MEXICO CITY· CENTER BAJÍO AREA
More than 950 projects in +80 cities nationwide
Hermosillo played a crucial role in our project, developing the design and construction of our plant with
high quality standards and professionalism.
— José Luis Carrington | Alen
Hermosillo worked with our project team on value engineered solutions to reduce the cost of the building. Once the construction started, the
value engineering
continued. Their goal was the same as ours: to
deliver the project on time and under budget.
— Guillermo Sonetti | The Home Depot
Their performance has been
impeccable
and they consistently fulfill our company's standards for quality. They have
always delivered our stores on time.
— Guillermo Sonetti | The Home Depot
Hermosillo completed our project successfully and in a professional manner. We experienced both their
reliability and responsibility
in the construction of the Magna Powertrain facility in Ramos Arizpe.
— Mario Pecile | MI Developments
The execution of the construction was with the greatest degree of expertise, paying attention to
detail, quality, safety, as well as keeping ahead of schedule.
— Joe O'Conn | Jones Lang Lasalle / Whirlpool
We recognize the
excellent performance and professionalism
that Hermosillo has shown in the construction of more than 20 AutoZone stores throughout Mexico. Always complying with our quality standards, budget, delivery times and service.
— Robert Thomas | AutoZone México
We are completely satisfied with the job performed by Hermosillo. They acted with
proactive interest and expertise, paying attention to details, quality, and safety.
— Kosuke Takeo | NHK Spring Mexico
We especially appreciated
Hermosillo's prompt actions towards our requests,
so we could achieve such a difficult schedule on time.
— Motoaki Matsuura | K-MEX
This fast track project was a success based on
the good coordination and the flexibility of Hermosillo's project management team
to adapt to the challenges of the project.
— Hyuntak Oh | Hyundai Amco México
Hermosillo's team proved to be
hardworking, honest professionals with values.
— José Guerrero | IN3
A bilingual, knowledgeable and professional staff
was key in IDI's selection of Hermosillo. I was most impressed by their comprehensive understanding of difficult engineering terms as well as construction terminology.
— David L. Nelson | Industrial Developments International
They noticed areas of detail that were overlooked by our own project team. They would often
proactively approach us, describe the potential issue and make an immediate recommendation.
— Matthew Rivello | Cookson Mexico
They have consistently shown to be flexible and exhibited a strong desire to understand and achieve the owner's goals while
remaining fair and consistent
in their dealings with our team.
— Stephen K. Scott | Caterpillar
START THE CONVERSATION
CONTACT US
Our strategically located offices allow us to meet your needs efficiently and offer our services nationwide. For immediate assistance, you can reach representative Rafa Romano: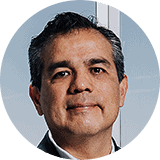 Rafael Romano
New Business Development
CLICK TO CONTACT ME
Let's see where a conversation leads
We are the #1 resource for international companies looking to build in Mexico.
Contact Us