Get to the finish
line faster
With more than 65% of our projects executed under a fast track scheme, we know how to move quickly and execute productively. We'll work closely with your team to plan the design and construction of your project on parallel cycles while keeping cost containment top of mind. This is where our project management and integrity really shines. You'll value our honest, open nature and relentless focus to ensure design expectations are cost-effectively met, even when construction leads the process.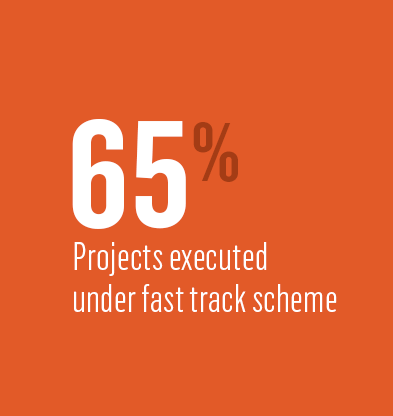 OUR QUALITY
And quality is not left behind. Our designs are based on AIA standards and processes, and we have deep experience designing under international codes and directives such as NFPA, IPC, NEC, IBC, Food & Beverage U.S. standards, and Underwriters (Factory Mutual, Tokio Marine).
OUR SUCCESS
Our fast track success is due in part to our strong supply chain relationships. We have vested great efforts in creating a culture that involves our suppliers and subcontractors as key project stakeholders. Aided by a LEAN methodology, we use standardized metrics to track and modify the overall team's performance in order to meet demanding timelines.
learn more ABOUT LEAN CONSTRUCTION