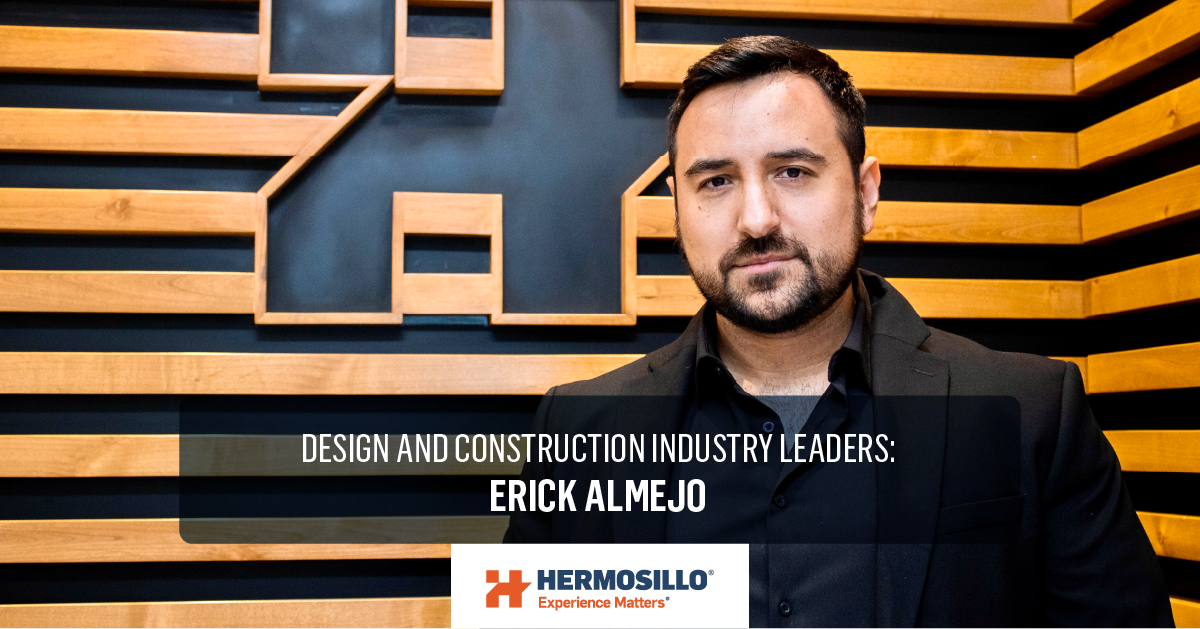 In the dynamic world of construction, having passionate leaders with extensive experience is essential for the success of any project. Meet Erick Almejo, Head of Design of our Forward Design team. With over 9 years of experience in Hermosillo, Erick has proven to be a role model and a key player in the effective coordination of design projects.
What is your experience in the construction industry, and how did you get to your current position within Hermosillo?
I have been collaborating with Hermosillo for 9 years now. I reached my current position by applying for a job as the Head of Design. After that, we formed a new team, the Forward Design business unit.
How would you describe Hermosillo's culture and its focus on work quality?
I believe that the culture of Hermosillo is based on its values, which are solid and well-established. Its mission and objective are the pillars that move us, and all the collaborators have them very clearly when carrying out our activities inside and outside the company. This is due to its good structuring, which has been key to the organization's and its members' success.
Abroad, we are characterized by always giving excellent results to our clients, oriented towards excellence. We use these same values ​​and tangible and intangible tools to provide the attention and quality that all projects deserve.
What motivates you in your daily work?
In addition to achieving good results and earning the trust of our clients, I am highly motivated by seeing team members grow. Despite being a team of young workers, they have made tremendous progress, which indicates that we are doing something right. I also appreciate the opportunity to demonstrate that significant achievements can be accomplished by a new team of young professionals within a well-established construction company like Hermosillo, where experience and leadership skills are important, but so is the drive to grow and excel. That is fundamental to our company culture.
How do you manage the balance between work and your personal life?
I stay organized by setting daily goals and prioritizing activities. Once I leave the office, I try disconnecting and focusing on my pursuits. Having personal motivation is crucial, which I translate into planning trips or engaging in activities with family and friends in the short or medium term.
What activities do you enjoy doing in your free time?
I enjoy engaging in physical activities, such as exercising or playing sports. I also like spending time with my family and friends, going to the cinema, etc.
What types of tools or technologies do you use in project design?
I utilize various tools and technologies in project design. For BIM (Building Information Modeling) methodology, I work with software such as Revit and BIM 360. I use platforms like Trello and Mural to keep track of the team and our tasks. For documentation, administration, and presentations, I use the Microsoft Office suite.
Which projects have been the most rewarding for you and why?
From previous projects, one we carried out in Querétaro in 2015 for a Japanese company stands out when I was part of UEN Mexicali. It was my first project as a lead, and it achieved excellent results. Additionally, it fostered a strong client relationship from a design perspective.
I have enjoyed my career in construction and all our projects with our current client, mainly because it involves learning extensively from a developer with such a wealth of experience. Moreover, we have supported them in standardizing their designs, improving their processes, and creating manuals.
And outside of architectural projects, what I have enjoyed the most is having the opportunity to be part of the formation of the Forward Design team. We have dedicated a lot of time and effort to make it work, and it is yielding results.
How do you stay updated with the latest trends and technologies in design?
We maintain close contact with the internal VDC (Virtual Design and Construction) department, which supports us in finding new technologies to streamline our activities. Additionally, thanks to our client, we have learned about recent trends and the direction of the design and construction industry, particularly in sustainable buildings and industrial parks, LEED certification, Net Zero, and greater accessibility to detailed information.
What advice would you give someone interested in entering the design and construction industry?
I advise them to be open-minded and willing to learn. It's a profession I truly enjoy, but I also acknowledge that it's not easy. It can be demanding and challenging, but at the same time, incredibly rewarding when you see the results and client satisfaction derived from your work and the teamwork involved.