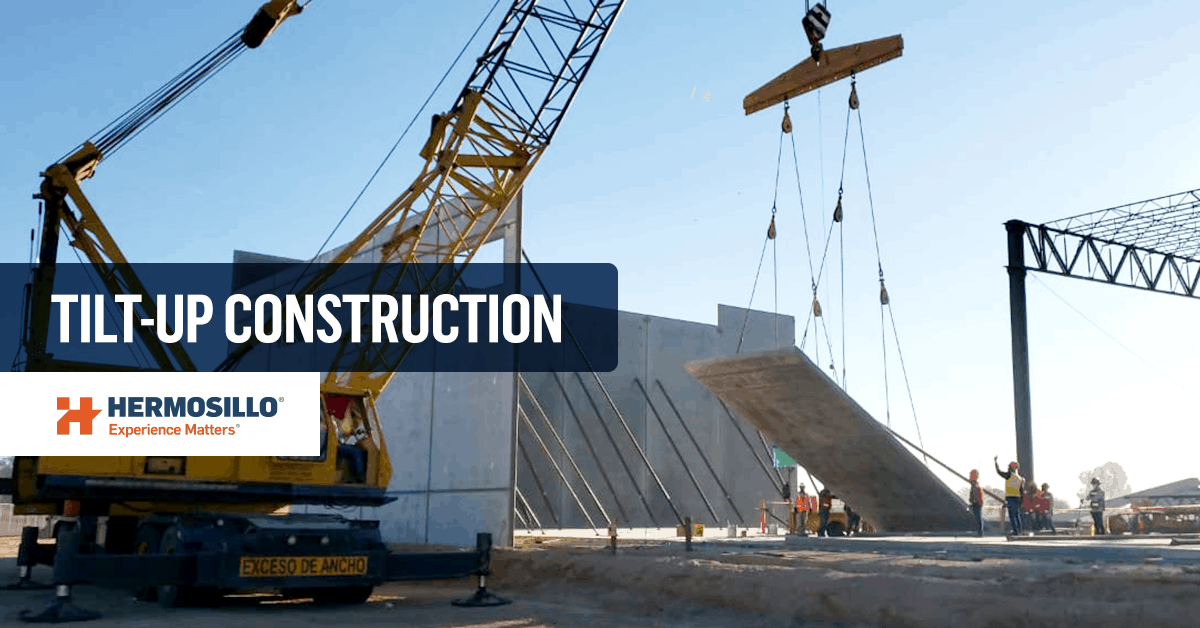 Tilt-up construction is a process we're passionate about. We have over 18,657,086 square feet of Tilt-up construction under our belt. For this reason, we decided to create a comprehensive guide for you to understand the whole concept like an expert.
To tackle this task, we reached out to four Hermosillo specialists: Alejandra Ramos, Jesus Torres, Rosalba Velarde, and Servando Camargo. We gathered their insights and developed them through 4 fundamental topics: the concept, important considerations for success, the process, and the benefits.
1. What is Tilt-up construction?: Understanding the concept
There are many ways to build a long-lasting, quality building. Tilt-up construction is one of them. It consists in constructing the exterior structure of a building by lifting fabricated concrete walls that will function as the shell of said building. This method can be employed on any type of project. Nevertheless, it's particularly useful when your client faces a tight delivery schedule or wants to maximize the visual appearance of the building while keeping future maintenance costs low.
The concept of Tilt-up construction is straightforward. In a (very) simplified way, it can be broken down into three steps: design, construction, and panel lifting.
Tilt-up walls are built over what we call a 'concrete slab' that also works as the facility's interior floor. The walls are assembled around the facility's perimeter. (See the image to visualize how every element interacts within the process). 
First, you must design and build the panel forms, which are the molds of your soon-to-be walls. 
Then you cast concrete into each panel, and in some time, it'll become a solid concrete element. 
You lift the finished wall, place it in the desired space, and tighten it up to the steel structure of the building. Then, you repeat this process until you have the perimeter of your facility.

2. Key aspects to succeed when executing a Tilt-up project
As we said, the concept of Tilt-up construction is easy. The execution, however, not so much.
Tilt-Up is all about efficient planning. Yes, like most things on construction, effective planning can save you time and money. A meaningful part of the work is done during the design and preconstruction phase to guarantee a safe and smooth operation. Some considerations you must consider during this step are:
Safety first. Make sure everything is up to code.
Every member must be knowledgeable of the process and their specific tasks during the operation.
Panel Vertical Erection Logistics. Define the sequence of events, considering panel final location, casting, assembly sequence, and lifting; as well as the crane's site logistics.
Have an assembly manual that includes each panel's blueprint. It must have information about its location, rebar grid placement, bracing inserts, the center of gravity, additional reinforcement details, and the required concrete strength before installation.
Run a weather and soil stability review.
3. The detailed process of Tilt-up construction
As stated, Tilt-up is composed of 3 steps: design, construction, and vertical panel lifting. Here is a detailed explanation of the activities that take place in each one of them.
Design.
In this phase, you define the dimensions, shape, and overall design of your future walls. Panels can be produced in many shapes and sizes, including flat and curved. The limit is the creativity of the designer and the overall weight of each panel.
To have an efficient panel erection, you also have to make a layout of how your panels are going to be laid down before lifting.
Construction
The first thing to do is to prepare the tilt up concrete slab where the walls are going to be built. Then you can start positioning the panels in their planned place. 
The wall panels are drawn, shaped, assembled, and molded on the concrete slab, including the components needed for moldings, architectural features, windows, doors, logos, installation steps, and placement of embedded connection to structure before the concrete installation.
A chemical reactive bond breaker is sprayed to prevent bonding between the concrete slab and the Tilt-up wall when lifting.
Then you place the steel reinforcement grid and the concrete casting starts.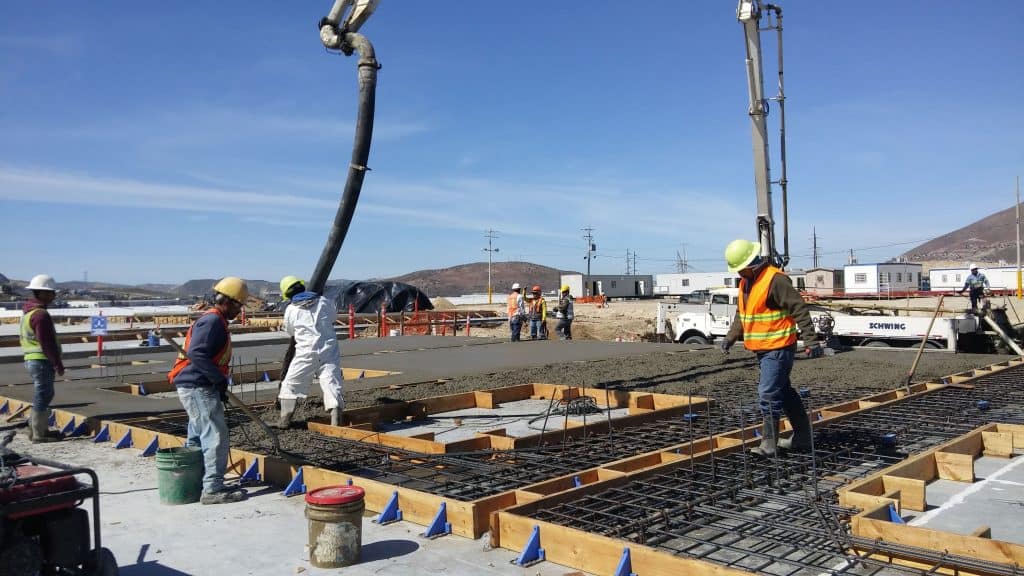 Lifting
The crane elevates each panel in the planned sequence. They're consequently put in their correct location.
Before the panels are released by the crane, temporary braces are installed to support them and will remain until the building's steel structure is connected and secured.
Once the lifting is finished, the Tilt-up concrete walls are connected with the structure connections, cleaning and patching the panels. The final step in this activity is the filling and casting of the closure strip.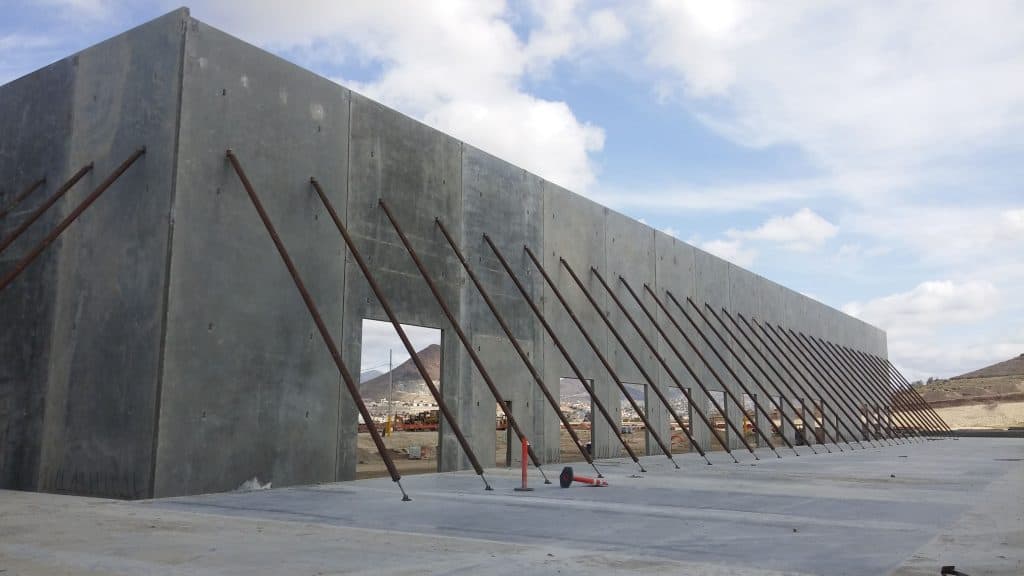 4. Impact and benefits of Tilt-up construction on cost, aesthetics, and speed
Tilt-up is simple as it is helpful. This method has a direct impact on costs, aesthetics, and overall speed of the final installation, the more remarkable being:
Tilt-up walls are just more beautiful. They have better aesthetics than sheet walls or masonry. Also, they're cleaner and sturdier.
You end up with more space! Since you won't need supporting perimeter pillars or columns, this will result in more space inside the building.
It's faster. Yes, when you plan appropriately, it's a faster process than a regular construction project.
It's cheaper to maintain in the long run. It also has lower insurance premium rates for durability.
With Tilt-up construction, you end up with a more fire-resistant and thermally robust building due to the material.
It's a very good solution for Food & Beverage production facilities, due to its more efficient cleaning surface and low bacteria growth properties.
The truth is there are not any disadvantages. But there can be times when the planning gets sloppy. Therefore you need to select a General Contractor that has solid experience and fully understands the proper execution, the risk factors, and lifting panel erection logistics in order to be able to have a quality product, on time and on budget.
Wrapping Up
The Tilt-up construction method is versatile, fast, and cost-effective. Although it's not suitable for EVERY type of project (especially small ones), this type of construction can provide terrific benefits.
Over the years, we've built close to 100 Tilt-up projects nationwide. We have been perfecting this process to provide the best cost-effective solution to our clients. Our main goal is to deliver world-class facilities, always on time, and within budget.