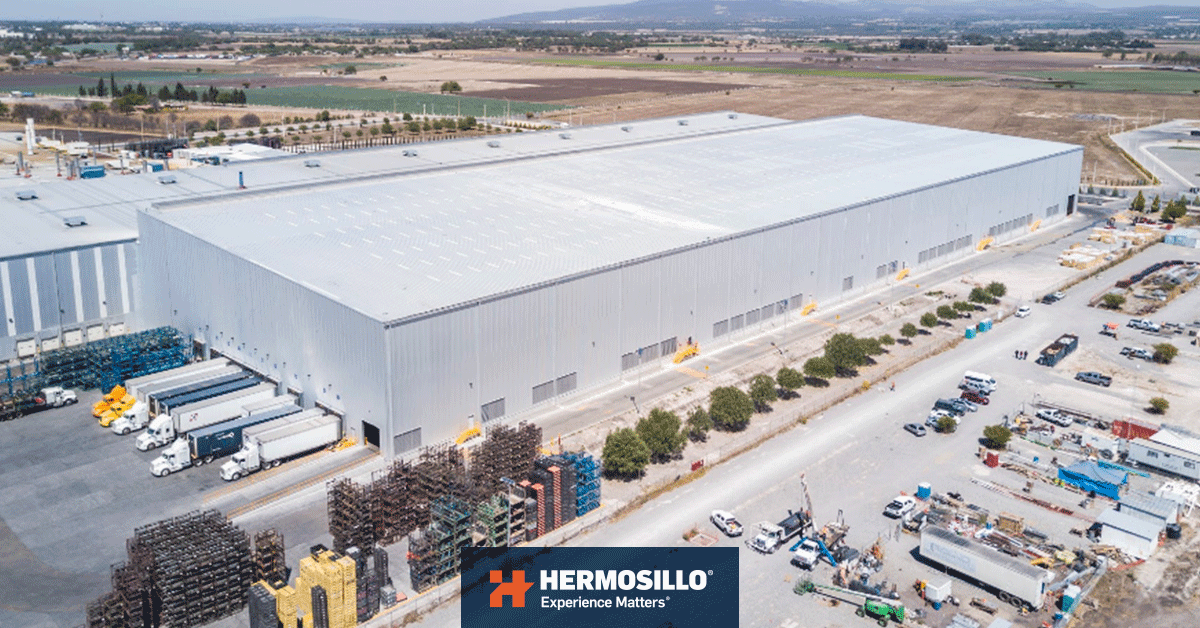 The American company Flex-N-Gate is a manufacturer of bumpers, fenders, and sub-assembly of automotive parts.
Before officializing the contract, Hermosillo had already achieved substantial savings in the foundations and the steel structure through a value engineering exercise carried out during the bidding process.
Project Specifications
The project was located in San José Iturbide, Guanajuato. It consisted of expanding the metal manufacturing plant, carrying a total area of ​​20,992 m2 (225,060 square feet). Works began in May 2017, and we achieved a substantial delivery for equipment installation in October, 4 months after.
One of the project's main focuses was to design the special foundations, pits and trenches to execute the construction of the facility without any delays. For that, we worked along with the conceptual design firm Ghafari, and their stamping manufacturer. In the end, the goal was to achieve all project milestones within an ambitious 10-month schedule.
Solutions and Development
The biggest challenge of this project was the construction of concrete pits to receive presses. These consisted of the edification of underground tunnels and special foundations for stamping machines.
The metal plates were necessary to receive the presses were installed on concrete pedestals, which were integrated into the bottom slab of the pits. The complexity is fixed on complying with the strict tolerance for the line and leveling.
High-precision surveying equipment was used to trace the elements, as well as specialized labor for the installation and fixing of the plates. The concrete retaining walls of the underground tunnels and pits were made with great quality and the perfect appearance of natural concrete.
We were able to generate a positive impact, by creating local jobs for construction, complying with local environmental regulations, and implementing our internal material recycling program.
It is important to mention that the project was executed in a reduced construction time frame, without altering the production of the already-functioning plant.
Conclusion
The client always expressed admirably for the teamwork achieved between the construction team, supervisor and owner (client). As expected, we worked within our values, professionalism, and ethics, while focusing on a win/win relationship between everyone involved.