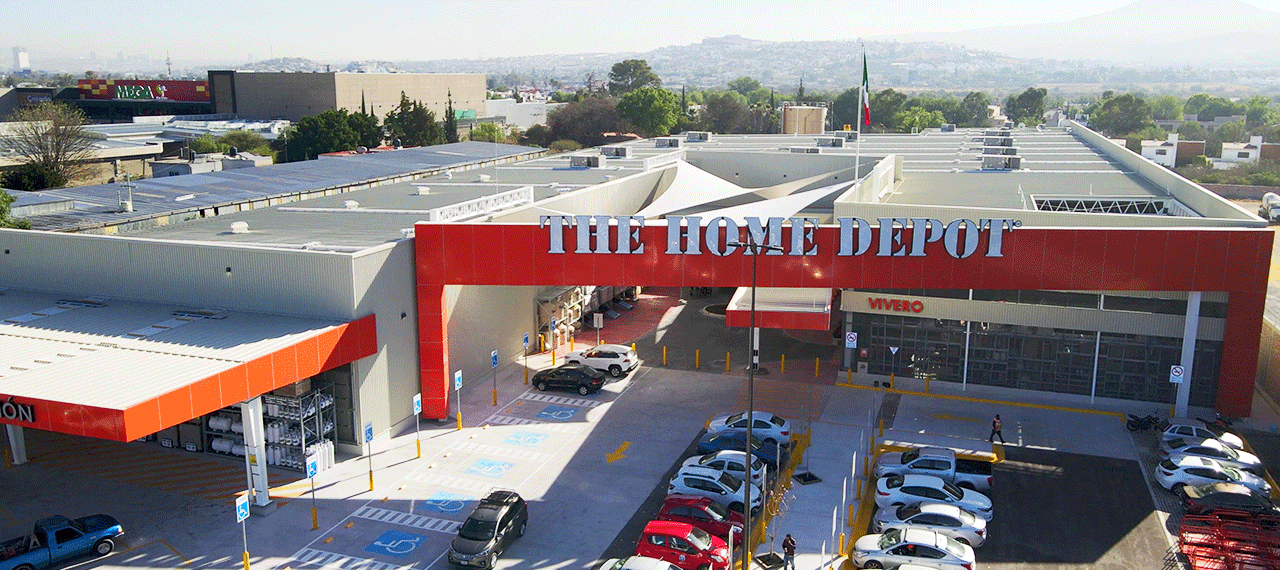 Last Thursday, February 25, we delivered to The Home Depot store located at Corregidora, Querétaro. The construction, carried out by Hermosillo, began on June 15, 2020. It completed an extension of 8,828.20 square meters (95,025 SF), in a 21,642 square meters (232,952 SF) polygon.
The project is currently in process of being LEED® Certified, and it also complies with Local and State environmental and the resolution process. During the construction phase, we implemented segregation and classification of waste materials, in order to have proper disposal and/or reuse methods according to LEED's recommendations.
To date, we have built 24 stores for The Home Depot México. The company has been a recurrent client since 2002 when we built their first store in Mexicali, our hometown. Through the years, we have delivered more stores for them in: San Luis Potosí, Tijuana, Hermosillo, Tampico, Ciudad Juárez, Cuautitlán, Xalapa, Los Cabos, Tuxtla Gutiérrez, Cd. Victoria, Coatzacoalcos, Zapopan, Tlaquepaque, Tlaxcala, Córdoba, Nogales, Culiacán, Playa del Carmen, Salamanca, San Luis Potosí (mass grading), Zacatecas, and, of course, Querétaro.
We are proud to mention that our client appreciated the fulfillment of the established goal in time, despite the current health contingency, and the inconveniences presented due to the strict hygiene, and anti-COVID protocols that we implemented, in order to protect all of our collaborators that were part of the construction process.
Related: LEAN CULTURE IN TIMES OF COVID-19: FLEX-N-GATE
We appreciate The Home Depot Mexico's trust in Hermosillo, not only for the construction of its stores in multiple cities but also for the design and construction of larger facilities, such as its two distribution centers.
Congratulations to The Home Depot team for this new establishment. We look forward to keeping working with you.