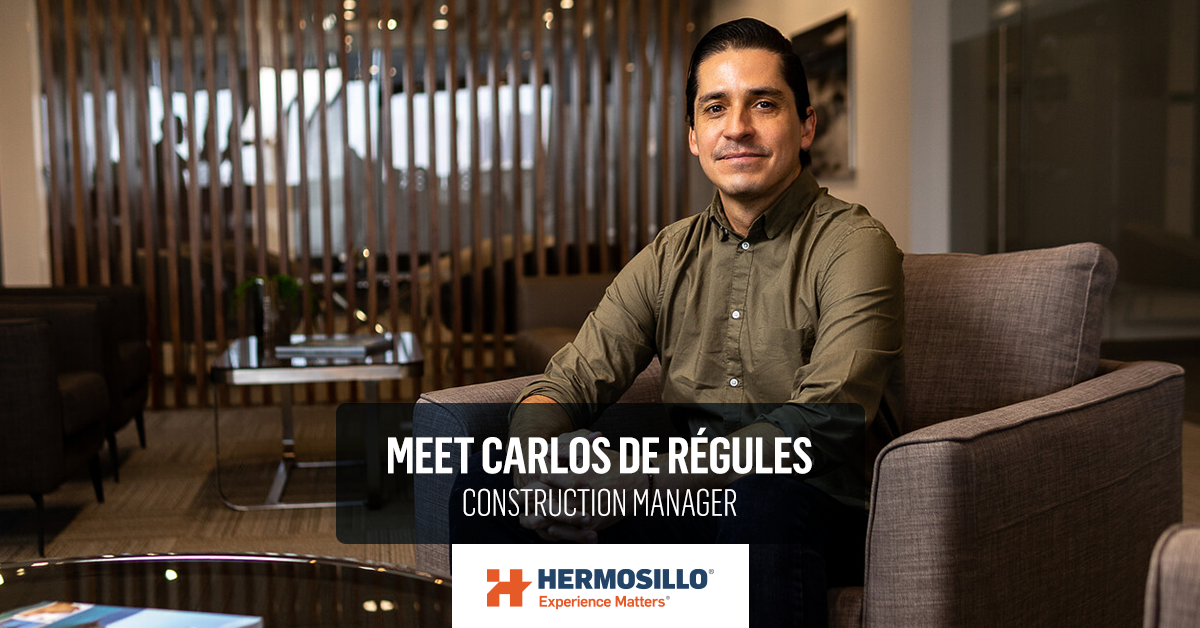 We introduce you to Carlos de Régules, Construction Manager in Hermosillo. In this interview, Carlos tells us about how he started his career in the company, his role as Construction Manager, and the challenges he has faced throughout his work. He also talks about his professional achievements, the values he has adopted from Hermosillo, and his sense of responsibility, which have led him to personal and professional success. In addition, he shares with us his passion for developing new teams and his satisfaction in seeing them grow within the company.
What led you to be where you are now?
Shortly after getting my degree in Architecture at Instituto Tecnológico de Tijuana, I found an open position at Hermosillo. I started working at the company in 1999 when I was hired by architect Pablo Álvarez, our current CEO, who at the time, was the regional director of our Tijuana office.
My first job was as a documenter for the ISO9000 certification. Subsequently, I went through every construction role until I became Project Manager, something similar to what we now know as Project Leader.
In 2008, with the growth and formalization of the office, I supported Management in the development of operation and quality processes, a critical position that allowed me to get to know all aspects of the place, not only from the work approach but also the complete scheme of the business. Two years later, they allowed me to return to a more operative role as Construction Manager for Hermosillo's operations in Tijuana.
I started from the bottom and went through all the on-site roles. The experience I gained in developing and implementing Hermosillo processes has been vital in understanding the projects as Construction Manager.
How would you describe your work to someone outside the construction industry?
As Construction Managers, we are responsible for ensuring that the projects in our care are carried out under the company's guidelines and terms agreed with the client. The goal is for the final product to meet the time, cost, quality, and safety standards.
We plan and execute the adequate strategy to fulfill our work. We take care of every team, accompanying them in their professional development and integration during construction; we aim for them to feel like a family. At the same time, we make sure to provide all the necessary means to achieve and exceed each project's results.
What's the biggest challenge you've faced working at Hermosillo?
Each project, whether due to its dimensions, location, height, and particular characteristics, has different degrees of complexity. As construction experts, we must solve all the challenges that arise throughout the life cycle of each project. As a company, we have placed a lot of emphasis on our work processes. With strategic planning and teamwork, we can achieve our goals and improve the quality of the final product every day.
Additionally, one of the most significant challenges for me has been my participation in reopening Hermosillo's operating office in Mexico City. It is a great deal to form new work teams with young, very young talents and be able to develop them at the pace of the demand of our clients and the industry. This has given me great satisfaction because I get to contribute with what I have learned during my professional career. This way, I can do my bit for the following generations in Hermosillo.
How have Hermosillo's values influenced your life?
For me, the key is smart & hard work. We have this saying within the company: "Doing things right the first time." These values and living our day-to-day with honesty and respect help us achieve our goals, whether it is customer satisfaction, family satisfaction, friendships, or even our own.
What aspect of your personality do you most attribute your success to? And how did Hermosillo help you do that?
My sense of responsibility is something that I always keep in mind, and I try to make it a priority in my work performance. I attach great importance to fulfilling the commitments that I
agree to. My analytical part allows me to identify the critical points of a project, pay attention to detail, and have a sense of justice. It has helped me to maintain healthy relationships with our internal and external collaborators, such as contractors and suppliers.
Someone who inspires you:
Without a doubt, my sister. She doesn't know, but she is an example of resilience, strength, and integrity to me. She takes everything with a great sense of spirituality that gives me peace and inspires me to continue to believe.