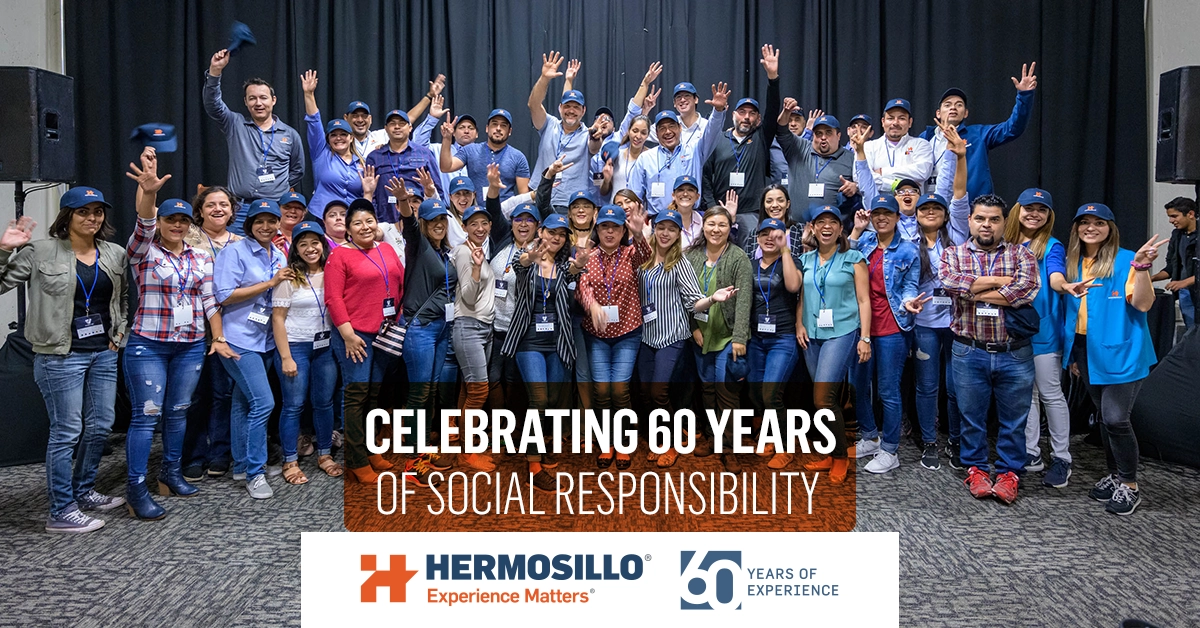 This year marks the 60th anniversary of Hermosillo, and we are thrilled to share this significant milestone with our valued supporters! It is with immense pride that we reflect on our journey and recognize the strides we have made as one of the most reputable construction firms in Mexico.
In 1963, we began offering design services, followed by construction services, under the name of Hermosillo y Asociados Arquitectos. Over the years we have managed to evolve to become a business organization made up of 3 different sectors, in which we live the same values ​​and fundamentals seeking a common goal: to transcend together.
Grupo Hermosillo comprises Hermosillo General Contractors, Exe Housing Development, and Hermosillo Developments. These companies provide construction and industrial design services, design and construction of new homes for families in our community, and industrial real estate services, respectively.
Our success has not come without challenges, but thanks to our customers, collaborators, and community, we have become Mexico's most technologically advanced construction company. Throughout 60 years of service, we have built an array of projects that have contributed significantly to our nation's progress and the betterment of our community's well-being.
At Grupo Hermosillo, our core values, such as collaborative teamwork, focus on quality, honesty, and integrity, are at the heart of everything we do. They are the foundation of our projects and the driving force behind our long-term relationships with valued customers, partners, subcontractors, and suppliers. As we celebrate our 60th anniversary, it is the perfect time to reflect on our commitment to social responsibility and our work to improve people's lives in our local communities.
"In the early days, we struggled to stay afloat during changes and deep crises. We worked tirelessly to stabilize and grow the business to institutionalize the company later. This enabled us to offer a broader range of services and help others in need." – Founding Partner, Arch. Leopoldo de la Maza, 2023.
Over the years, we have been dedicated to positively impacting the cities where we have built projects, communities, and jobs. We understand that our responsibility as a construction company goes beyond just erecting structures. It includes enhancing the aesthetic appeal of our work areas and promoting a sense of pride in the local community.
One of the ways we have done this is by focusing on beautifying ridges and monuments, particularly in Mexicali, where our company's history started.
We believe that beautifying these areas has a ripple effect on the surrounding communities, promoting a sense of ownership and responsibility for the natural and cultural treasures that define Mexico. As a result, we are committed to continuing this effort and working with our partners and community members to promote sustainable and responsible practices that benefit us all.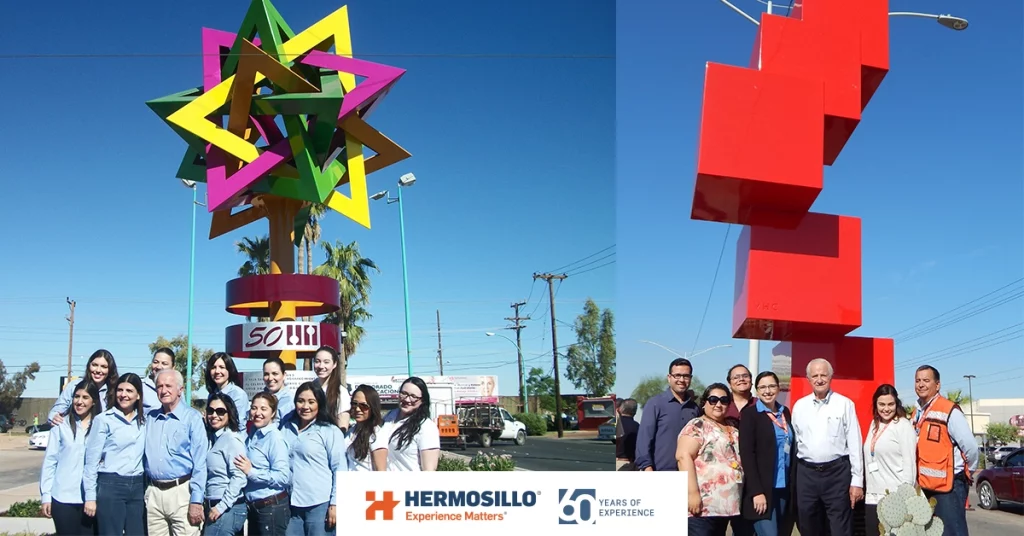 It has become essential to us to help those who need us the most, and we have worked tirelessly to promote awareness and encourage our team members to join us in these efforts.
We constantly organize collections of groceries and school supplies destined for low-income families.
We have also actively supported educational institutions like CETYS University and Tec de Monterrey, providing scholarships and volunteering in their activities focused on education.
We have worked with various foundations, civil organizations, and shelters that help people living on the streets or abandoned, those who suffer from violence or substance abuse, or migrants needing assistance.
We have supported many organizations dedicated to positively impacting the community, such as TMONA, CAHOVA, Cruz Roja, Fundación Hélice, Refugio de Amor, Fundación Marianita Curiel A.C., CAVIM, Cadenas de Ayuda, Todos Somos Mexicali, Ocupa, and many more.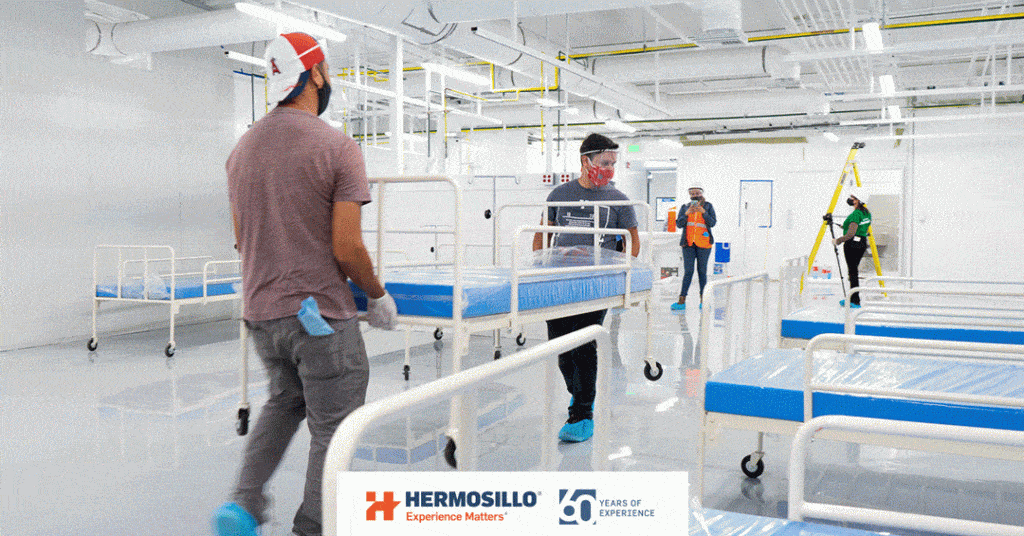 One of the most notable social responsibility projects that Hermosillo has undertaken during its 60-year history was during the hard times of the COVID-19 pandemic when we partnered with a vast network of Baja California's business people and the UABC Foundation to donate a mobile hospital's design, construction, and equipment in just 23 days. This hospital had a capacity of 50 beds and all the necessary facilities and equipment to effectively care for COVID-19 patients.
Another noticeable action during those times was working with the "Unidos Somos Mejores" (Better Together) campaign, which managed to raise funds and donations destined for various leading associations during the pandemic.
Looking back, we take immense pride in this accomplishment, which would not have been possible without the selfless contributions of all the individuals who joined hands with us.
We are very grateful to be part of this community and will continue with our unconditional support, solidarity, and commitment to improving our employees' and communities' quality of life. We are honored to be a company committed to serving our community, staying true to our founding principles and core values, and especially our commitment to social responsibility.
We believe in the strength of unity, and we look forward to continuing to work closely with our collaborators, clients, partners, subcontractors, and suppliers to make a positive difference in the world. These six decades are a testament to the power of community and the impact we can have when we work together, which is how we seek to transcend and reach our first 100 years as a Hermosillo group and family.