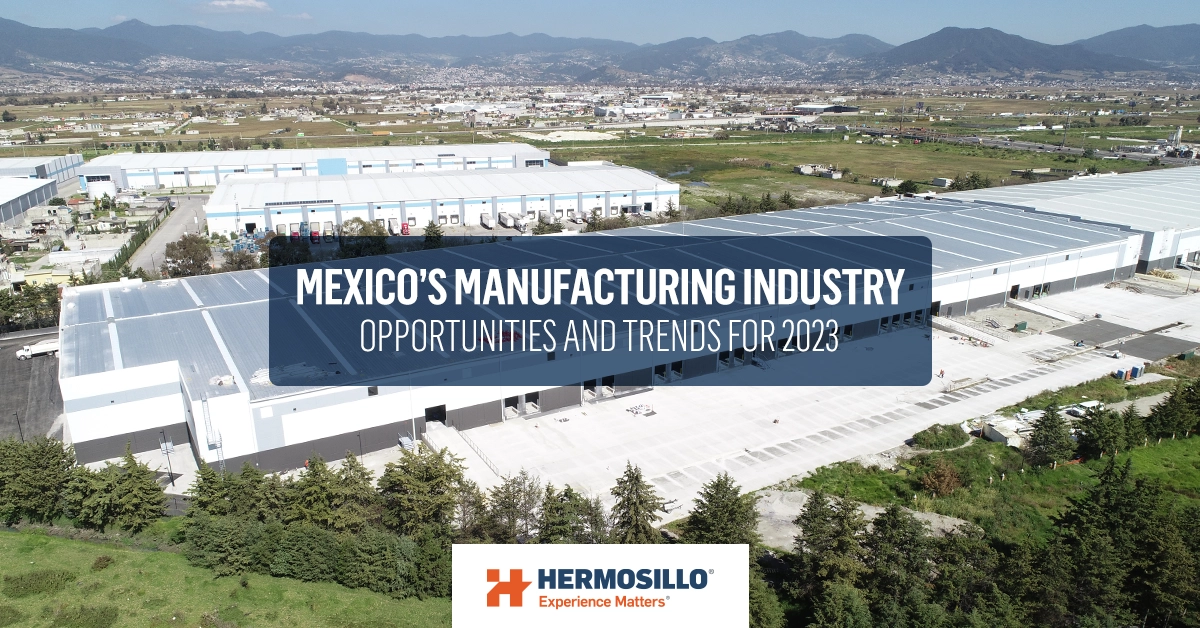 Manufacturing has proven to be a consistently growing industry. It will continue to be so in 2023 and beyond. However, this year is all about innovation, as new technologies, people's well-being, and sustainability take center stage in the conversation when designing and/or building new industrial facilities.
In the last quarter of 2022, the manufacturing industry in Mexico generated 5.51 billion Mexican pesos in Foreign Direct Investment (FDI), representing a 3.4% increase compared to the previous quarter and 18% compared to the same period. For 2023, we can expect even better numbers.
In this blog post, we'll discuss the top manufacturing industries that will play an essential role during 2023 and why investing in the country's manufacturing sector is a good idea.
Industrial Construction: The Golden Pillar of Mexico's Economy
The manufacturing business represents 17% of Mexico's GDP, and 30% of the country's total exports, making Mexico the 2nd largest global exporter.
In 2021, this market attracted 12.560 million Mexican pesos in FDI and employed more than 9 million workers. It is also the most significant line of business for external investment; 60% of the total Foreign Direct Investments in 2022 were destined for the manufacturing industry.
The country has established itself as a leading manufacturing hub for North America and the world. This year is showing signs of a continuous lead.
The Mexican specialized consultant, Engen Capital, suggests that the manufacturing industry will be one of the primary boosters of Mexico's economy in 2023. It is expected to grow by 4.1% in comparison with 2022.
So, which markets will be part of this growth?
The Top Manufacturing Industries for Mexico in 2023
The short answer: the top industries in Mexico will be food and beverage, aerospace, automotive, medical devices, and electronics.
Here's the breakdown:
1. Food and beverage industry in Mexico. This has always been one of the country's most essential industries. About 35% of the manufacturers in Mexico belong to this field, which is estimated to be worth US $39.4 billion. The food and beverage industry has witnessed remarkable growth over the years and has emerged as a critical attraction for domestic and international companies looking to invest. In 2021, it produced 703,600 million pesos, representing a substantial 9.8% increase from the previous year. This year this sector is expected to maintain constant growth by integrating new cutting-edge technologies, promoting a circular economy, and delivering superior-quality products.
If you are interested in learning more about design and construction for this industry, you can check out our building guide for Food & Beverage Facilities here.
2. Aerospace industry in Mexico. Mexico is now the 6th largest aerospace manufacturer in the world. Aerospace manufacturing in Mexico constitutes nearly half of the country's foreign direct investment. In 2021, the industry's valuation represented an impressive 6.22 billion dollars, with a projected growth rate of over 18% through 2027. According to the Mexican Federation of the Aerospace Industry (FEMIA), the sector is set to return from the pandemic-stricken 2020. Export levels are expected to reach $9.6 billion by the end of 2023.
3. Automotive industry in Mexico. The automotive sector significantly contributes to Mexico's economy, accounting for approximately 4% of the country's GDP. Mexico is the seventh-largest vehicle manufacturer globally, and several global OEMs have established production facilities in Mexico. According to Francisco González, executive president of the National Auto Parts Industry (INA), the production of auto parts is expected to reach 108,874 million dollars by 2023 and exceed 110,000 million dollars in 2024. This rapid growth is largely fueled by the increasing demand for electric automotive parts.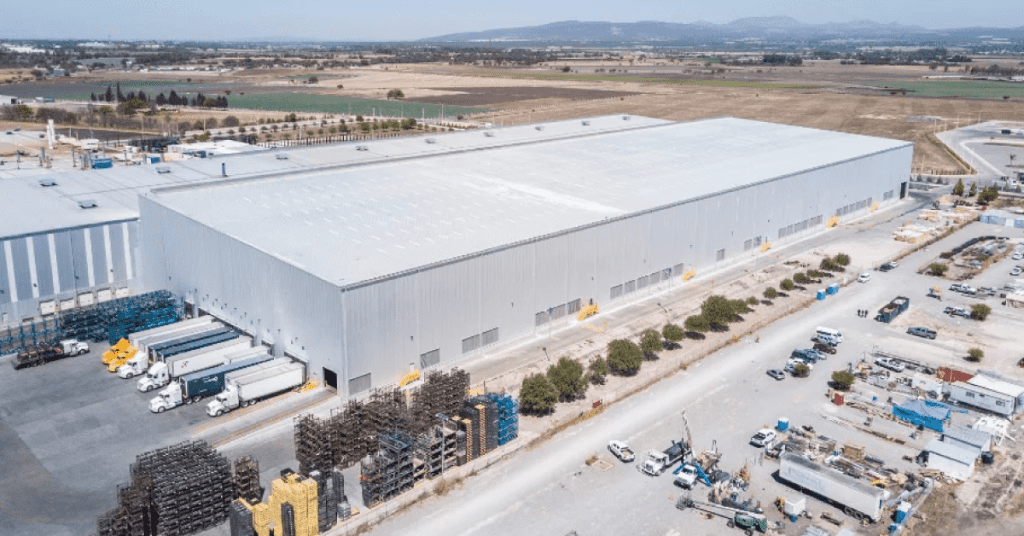 4. Medical Devices Industry. Mexico leads the way as Latin America's top exporter of medical devices. The growing aging population in North America has spurred increased demand for these products. In 2023, Mexico's medical equipment manufacturing industry is expected to continue its upward trajectory, growing by a remarkable 8.9% annually and reaching a value of $14.7 billion by 2025.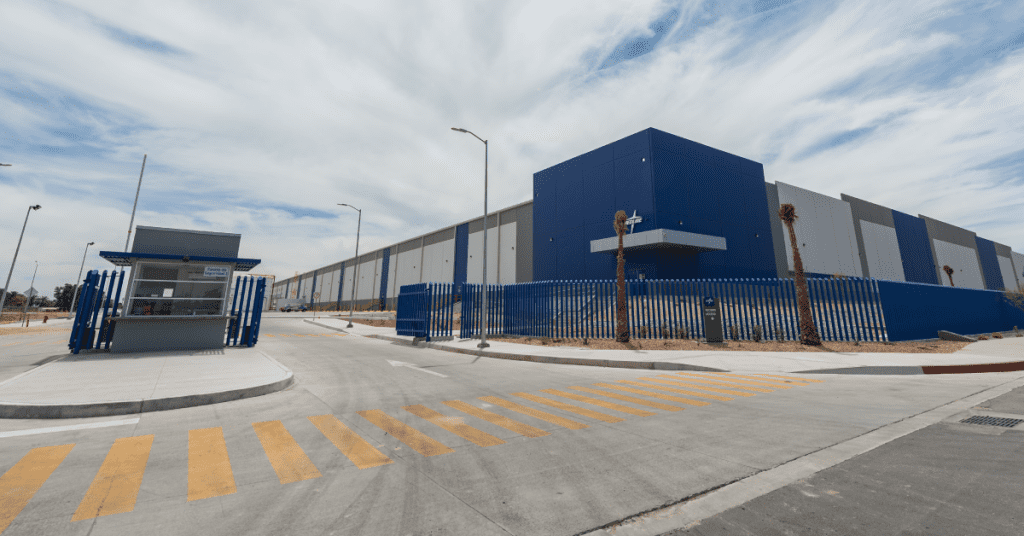 5. Electronics Devices. The electronics manufacturing sector is growing to the consumer goods segment and the expanding demand for specialized products in various sectors, including trucks, automobiles, airplanes, and medicine. The industry serves as a key enabler of progress for many sectors, and its value is reflected in the 8.5% growth registered in 2022. In 2023, the demand for electronics will continue its upward curve domestically and internationally.
Why Are These Industries Growing?
The reason for this growth across all these industries is complex, and many factors impact each. However, the common ground can be attributed to Mexico's strategic location, nearshoring, free trade agreements (especially the USMCA), favorable business environment, government policies supporting manufacturing, well-established supply chain, and skilled, cost-effective/educated workforce. These circumstances have made Mexico an attractive destination for companies expanding their operations.
Wrapping Up
Investing in Mexico's manufacturing industry is a wise decision that will yield returns for years to come. The industry is a force with continued growth in 2023 and beyond. With a long-standing reputation as a hub for manufacturing and a business-friendly environment, Mexico offers a wealth of opportunities for investors looking to capitalize on the industry's potential.
You can trust Hermosillo to be your partner for your next venture in Mexico. We are dedicated to providing customized solutions that integrate the latest technologies to meet the specific needs of our clients, ensuring that they are well-equipped to succeed in a rapidly evolving manufacturing landscape. With our 60 years of expertise in building manufacturing facilities, we can help your next project thrive in Mexico.