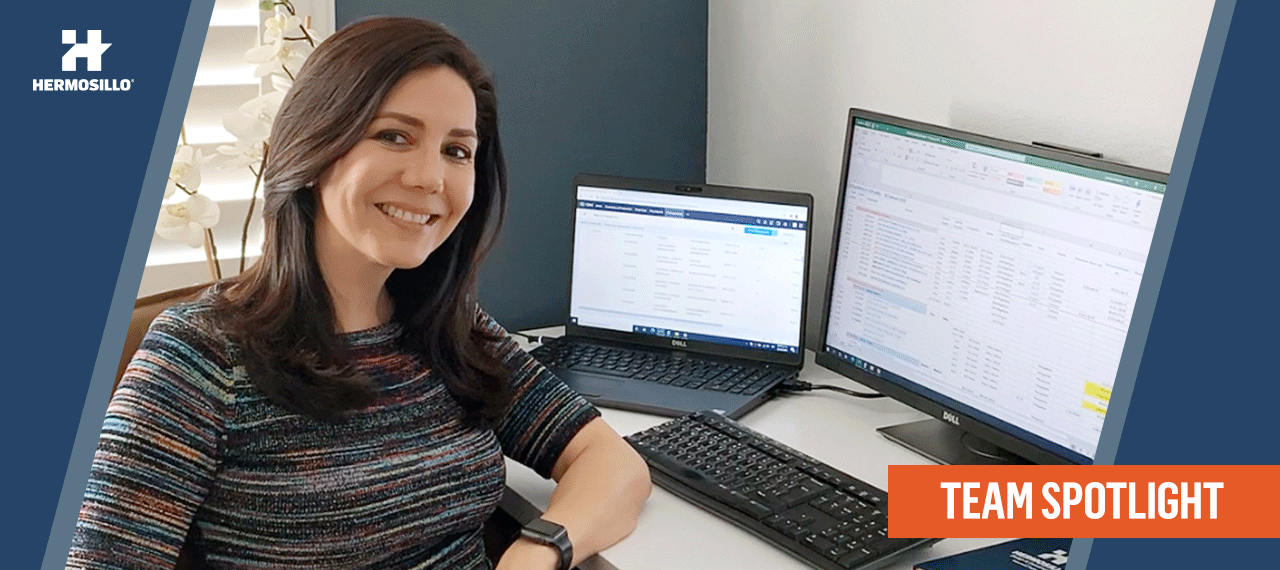 What started as a summer job for Catalina has turned into a professional career within Grupo Hermosillo, in our Mexicali office.
How would you describe your job to a person who does not work in the construction industry?
I am responsible for generating technical-economic proposals for construction projects, complying with our client's requirements.
It is important to have the ability to identify risks, analyze, and generate strategies to present a winning proposal and as a result, obtain a contract (sale). Subsequently, it is used to manage and control the corresponding expenses in the execution stage.
This is done with the valuable contribution of multiple interdisciplinary teams from design, budgets, cost analysis, and if necessary, experts in construction procedures and logistics.
How did you start working in the construction industry?
It all started in 1996 when I was cursing the 7th semester of my Civil Engineering Bachelor's Degree. One of my teachers at that time turned out to be an associate member of Hermosillo and he invited me to apply for a summer job.
Time passed and during subsequent years, I performed multiple roles, such as Budget Assistant, Head of Budgets, Project Administrator, and Purchasing Manager. As of now, I am currently working as a Project Development Manager.
All this time has been full of learnings that have led me to develop my professional career within Hermosillo Group.
What is the biggest challenge you've faced while working in Hermosillo? How did you manage to overcome it?
It definitely revolves around adaptability. It is a constant challenge. We must adapt to changes, as well as the different personalities and generations that we collaborate with in order to be successful.
What is the job accomplishment you are most proud of?
The first one must be to be the pioneer of the Purchasing department in Hermosillo. I'm also proud that the formats handled as part of the brand are still used to date.
The second one is to have become the first woman to obtain a Manager position level within the Group's operational area.
What do you enjoy most about your work?
With almost 25 years in Hermosillo, I can say that each project has given me the opportunity to learn something new, from management updates to project development.
I enjoy versatile environments and overcoming challenges.
To which aspect of your personality do you most attribute your personal success? And how has Hermosillo helped you with this?
Commitment. I believe that Hermosillo and I share the same core values and we believe in them. The Group has helped me by providing every opportunity in which I have been able to develop myself professionally.
Someone that inspires you:
Michelle Obama
Your favorite phrase:
I have several, I can name 2 that is consistent in my life.
Never see your challenges as obstacles.
Keep your feet on the ground, successes, as well as failures, are temporary.