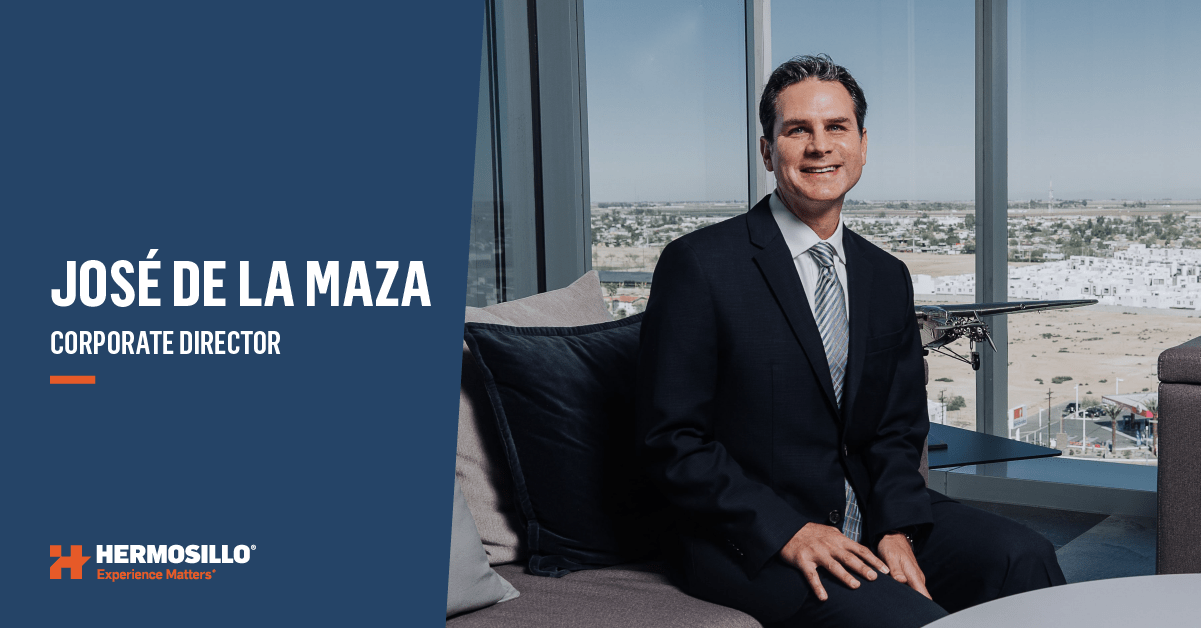 José De La Maza is Hermosillo's Corporate Director and Real Estate Development expert. Get an insight into the work ethic and philosophy that, along with his passion for business and team-oriented values, have paved the way to where he is now.
What led you to be where you are now?
Many factors, among the most valuable of which is the education that I received from my parents. That, along with the fortune of having the support of very talented people by my side.
Since my youth, I've been passionate about business, especially about real estate development. I studied accounting at TEC de Monterrey and later, did a Master's Degree in corporate finance at CETYS Universidad. I specialized in project evaluation and business risk assessment.
After my formal education, with the support of the founders of the organization, we at Hermosillo began our journey in the real estate sector, and it's now been 20 years since we started our first project! Over time, Hermosillo has diversified and ventured into multiple types of development projects, from urban housing to industrial parks, shopping centers, hotels, and corporate offices.
Undoubtedly one of the most complex projects we have done has been Genesis, a 200-hectare urban development project consisting of more than 8,000 homes. Since then, it has been enhanced with industrial parks, shopping centers, schools, and green areas that now serve the community.

Other equally demanding projects were BH Tijuana and Punta Este, emblematic high-rise buildings based in Tijuana and Mexicali, respectively.
How would you describe your job to a person who does not work in the construction industry?
I am a dream maker who is passionate about turning the dreams of other visionaries into reality.
What is the biggest challenge you have faced while working in Hermosillo? How did you manage to overcome it?
The biggest challenge of a real estate developer is not the fact of turning dreams into reality but guaranteeing the profitability of that reality throughout its existence.
Our goal is to make sustainable projects that transcend, regardless of the challenges that may arise in the future. This can only be achieved through thorough risk assessment and prudent decision-making throughout the entire process.
I am a dream maker who is passionate about turning the dreams of other visionaries into reality.
What is the job achievement you are most proud of?
Having earned the trust of my parents, as well as the commitment and heroic dedication of our collaborators.
How have Hermosillo's values influenced your life?
Values transform our lives from the center of our persona. They give a higher and transcendent meaning to all of our actions, turning our daily work into a permanent mission in the conscious search of each person's development.
To what aspect of your personality do you most attribute your success and how did Hermosillo help you do that?
Hermosillo has allowed me to surround myself with extraordinary people with whom I have shared much of my life. I strive to make the virtues of my partners my own.
Someone that inspires you:
My parents.