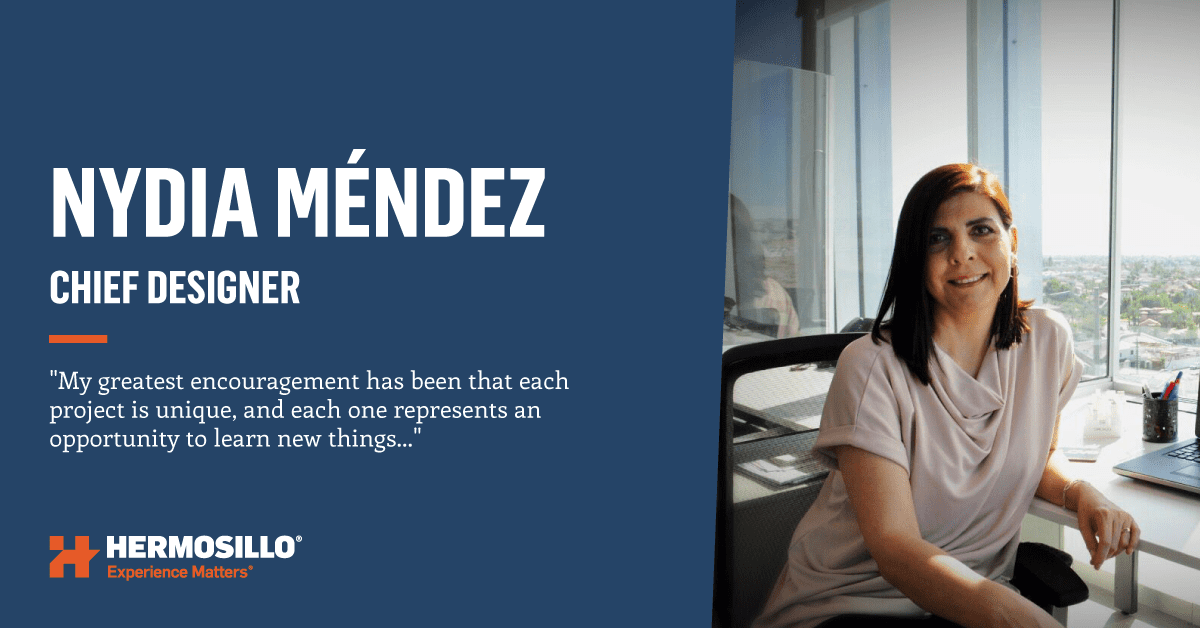 What led you to be where you are now?
I joined Hermosillo as a draftswoman in the design department. From there, I began to develop myself as a designer as I began to work on different complete-design projects. For a while, I also worked as Project Manager, coordinating the execution and administrative tasks of the construction site. Currently, I'm still working in the design field, but now more oriented in the promotion area of the project's preconstruction phase.
I could say that a great deal of my learning is due to the work opportunities I've gotten, as well as the passion and dedication for my work. All of this has always been reinforced by the training and support of my parents, as well as the support of my husband and daughter.
What motivated you to work in the construction industry?
Since I was a kid, every time I saw a building or construction, I wondered how it was built. I think that since then, I have grown aware of my desire to study Architecture. 
Once I joined Hermosillo, my greatest motivation has been the fact that each project is unique. In each one, you learn different things, from the manufacturing processes to different construction systems.
What is your role in Hermosillo, and how would you describe it to someone who doesn't work in the industry?
Currently, I'm the Chief of Design in the development department. I work in an area focused on the design of industrial, educational, and commercial buildings. Our scope of work covers the development of the conceptual proposal of a building, considering our client's requirements and needs, to the development of a ready-to-be-built executive project. 
We start with a "layout" following our customer's requirements to generate a pre-engineering of both the architectural part and other trades, such as electrical and mechanical systems, the project needs. Based on this information, we can generate a cost idea for its construction. 
Once the cost is approved, we start to develop the executive project and issue construction drawings. It consists of providing solutions for the project and the proper coordination of the different disciplines, such as civil, architectural, structural, and electromechanical installations, into one unified document. During this process, we always count on our client's feedback in order to achieve the proper performance and operation of the building. 
At the same time, we follow up on the execution of the work. We deliver design drawings for construction, purchase required materials and equipment, give specifications of materials and blueprints, and are always supervising and following -up on any changes or new requirements that may arise during the process.
What is the job achievement you are most proud of?
I've always considered an achievement the fact that I have been presented with different growth opportunities without asking for them. They've been doors that have been opened just at the right time. Currently, I'm in the design department and I'm so proud to be part of a team of young enthusiasts from whom I've learned a lot. Knowing I'm part of their training and seeing them grow professionally to achieve their goals is very satisfying.
What do you like most about working at Hermosillo?
(Hermosillo) is a company that has always given me great support and confidence both in the workplace and personally.
What do you consider to be the most important life lesson you've learned so far?
Understand that everything is temporary and accept the detachment of a loved one. Having had the opportunity of taking care of my mother during an illness that occurred as a result of the pandemic, I had to be strong, let go, and help her leave so that she could rest in peace and be able to thank everything she lived with.
Who inspires you and why?
My parents always had a great example of love, service, gratitude, honesty, and passion for their work. My daughter is also my teacher in life.
What do you like to do in your free time?
I enjoy spending time with my family, listening to live music, and relaxing.
Something not many knows about you:
I'm a bit self-conscious about public speaking.