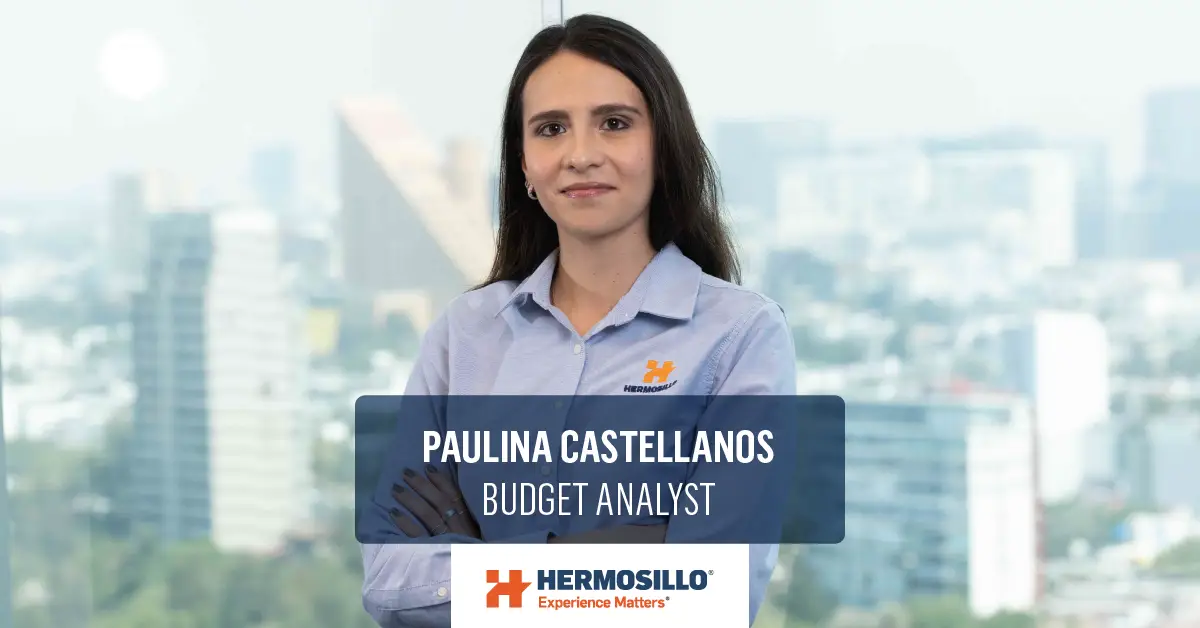 Meet Paulina, Budget Analyst at our Mexico City office. She started her career three years ago in Hermosillo and is already a key asset for us and our clients. Paulina gets involved in projects from the early stages of the construction process, from designing a proposal to developing integral projects.
How did you reach your current position within Hermosillo, and what is your experience in the construction industry?
My career in the construction industry has been relatively short. I joined Hermosillo as a VDC intern, and when the CDMX UEN started growing, I was allowed to be part of it as a Budget Assistant. Now, I hold the position of Budget Analyst.
Previously, I worked at a construction company as an intern in the administrative area of pre-construction. My responsibilities included sourcing contractors, gathering their legal information, and creating their files for quoting projects. Being a Civil Engineer has also been a great asset in my current development in Budgeting. We not only focus on budgeting a design but also work on proposal development.
How would you describe your work to someone outside the construction industry?
My work in Budgeting is about more than just creating a cost proposal. It involves developing comprehensive projects in the early stages, starting from a single idea or basic need. What we do in the department is generate proposals with a cost objective and an architectural and structural solution that are feasible to execute within the given time frame.
Usually, we have to create a functional project with minimal information. The client is rarely an architect or a contractor, so, as experts, we need to propose a project that suits their needs. As our CEO often says, "We are experts in problem-solving", and these problems often come in the form of an AutoCAD file from the client, along with an explanatory PDF of what they want to conceptualize.
How have Hermosillo's values influenced your life?
Hermosillo and the people working at the company constantly emphasize teamwork, unity, hard work, and acting with honesty. The commitment of each team member, including myself, is something I strive to maintain throughout my professional career. It is a value I observe in my colleagues, as we are dedicated to giving our best in every proposal until the end. Undoubtedly, this commitment is reflected in every individual involved in the construction process of any project and across all departments.
How do you handle challenges or conflicts during a project's design and construction process?
I seek advice from experienced colleagues I have encountered in Hermosillo. The best way to overcome conflicts is by learning from mistakes, proposing new ideas, and reviewing previously developed solutions. I learn a lot with the help of the individuals who have supported me in my knowledge and development process.
Another thing I have noticed in the CDMX business unit is the pursuit of innovation. We constantly search for alternative brands, proposals, construction systems, etc. Although they may not always be the solution, they can be the starting point for an idea that will become the solution for another project. We have learned a great deal through the exploration of innovative solutions.
What aspect of your personality do you primarily attribute to your success? How has Hermosillo helped with that?
Personal success is achieved daily by staying motivated in your work and continuously growing while doing what you love. Our success as a Regional office results from our drive to do things well and deliver high-quality work as a company. The constant pursuit of overcoming challenges has been our driving force.
What motivates you in your daily work?
Initially, what led me to pursue my career was the satisfaction of seeing a project come to life. Walking past a building or a house and knowing I contributed to its development is incredibly fulfilling. Now, after watching the progress of projects during construction and seeing the impact of my contributions to the company, what motivates me is knowing that we can generate employment, support many families, and contribute to the development and well-being of the community. It is amazing to visit the construction site and witness everything achieved, especially when you have that same project on paper or in an Excel file. Contributing to something significant that brings excellent benefits is what motivates me today.
How do you manage the balance between work and your personal life?
I strive to be highly organized. I plan my days, establish clear boundaries, and aim to be efficient in my work, completing tasks in the shortest time possible. I feel a sense of imbalance when my schedule is disrupted, but flexibility achieves balance.
What activities do you like to do in your free time?
I enjoy working out at the gym and running, but I care about spending time with my family and going out with my friends. Being with my loved ones, whether it's sharing a meal, having a barbecue, watching a movie, or going out for dinner and conversation with friends, is the best investment of my free time. My family is the most valuable thing to me.