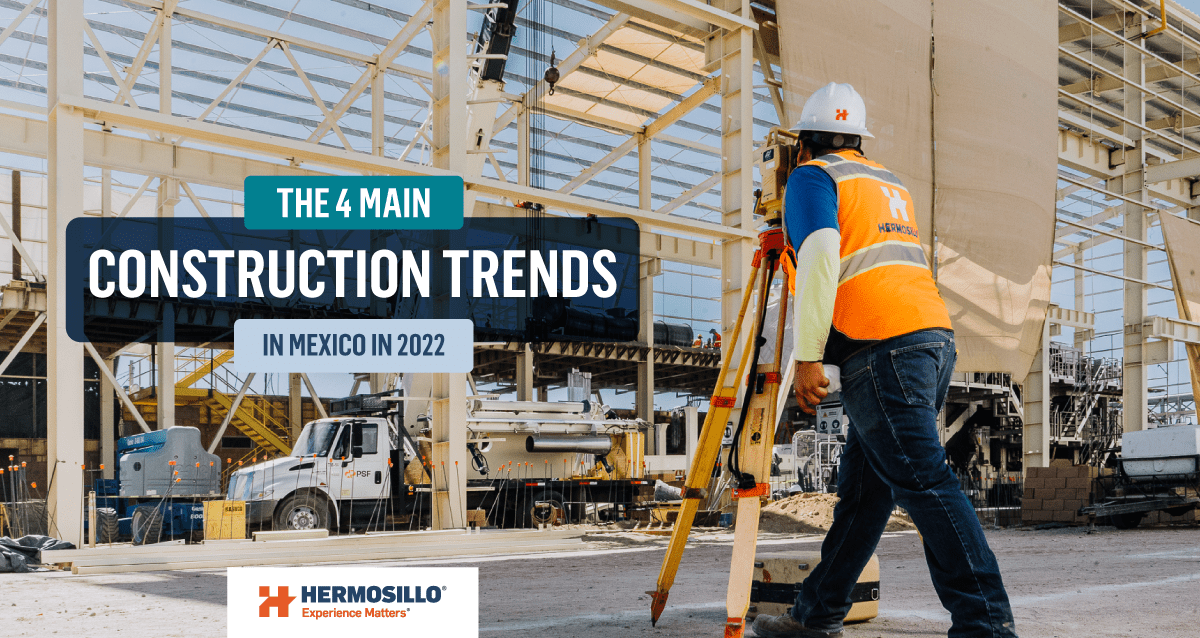 Mexico's economic landscape is looking promising for 2022. It is shaping up to be a great year: perception of the country's health is improving, there has been steady economic recovery over the last few months. More companies are looking to invest in Mexico due to nearshoring of their supply chain and due to mobility finally streamlining.
Thus, as the industry is regaining strength, this year's core theme is improvement and action. The focus is on doing things right, not only for the sake of productivity and profit but also for every element impacted by construction, including our planet and our people.
2022 is all about taking construction into a more holistic approach using technology as a medium to achieve it.
For this reason, this year's trends are tightly related to sustainability, technology, and efficiency. So, if you want to know more about them, keep reading as we will reveal Mexico's main construction trends for 2022.
Prefab construction is gaining popularity in Mexico due to its speed and cost-effectiveness.
It consists of the fabrication of certain elements of a building in an off-site space. As a result, it allows for more consistent quality while decreasing construction time by as much as 50%. Another perk is that you can enhance employee safety in climate-controlled, ventilated environments, avoiding the open nature of working on-site.
In addition, material control is easier in this type of construction, such as the reduction of waste by using recycled leftover materials.
3 – Sustainability
It is no longer just about performance, costs, and quality but about impact, impact on the resources, environment, human health, biodiversity, and sustainability. Our responsibility goes beyond business. It is about satisfying today's needs without compromising future generations and, at the same time, working towards increasing the well-being of our Community.
To accomplish that, contractors must act and plan accordingly, not just by reducing costs by cutting water and electricity usage. Or only considering the material with which the facility will be built.
It is also about planning long-term usage, implementing technology, selecting the right equipment and materials, and taking action to protect the environment. For this reason, environmental guidelines such as LEED and ESG initiatives are becoming increasingly important within the industry.
Also, now more than ever, clients –rightfully so– are requesting more environmentally conscious projects, especially within the commercial, industrial, and mixed-use sectors.
Newer generations, in particular, are growing more sensitive to these issues, 45% of Mexico City's citizens consider the environment a crucial part of society and think it must be preserved. Basically, to stay competitive, you must be sustainable.
And it is already showing. According to Forbes, more than two-thirds of businesses within the construction sector have stated have plans to reduce carbon dioxide emissions. Moreover, Mexican enterprises are looking to comply with ONU's Goals for Sustainable Development.
2 – Technology
As you can start to notice, a common goal this year is to reduce waste.
One of the central uses of technology this year is to assist construction companies in the reduction of waste of every type (transportation, inventory, motion, waiting, overproduction, over-processing, defects, and skills). While, as a consequence, increasing efficiency.
What we refer to as efficiency is tightly related to sustainability and the enhancement of time and quality. There is a growing need to build faster while increasing quality and keeping costs in line. With many emerging technologies, such as BIM and cloud collaboration, construction companies now have to innovate to stay competitive.
In 2022 the focus on efficiency is even more pronounced. This year is about finding methods and techniques that increase the speed at which the work is done. As well as implementing frameworks that allow your client to immerse in the process, such as real-time data sharing and virtual reality.
According to Forbes, only 20% of Mexican construction companies have adopted new technologies in their processes.
1 – LEAN Construction
Going lean is the cornerstone of this year. LEAN Construction is the #1 trend construction companies are trying to implement.
LEAN Construction is the starting point for achieving sustainable and efficient frameworks in a company. It encapsulates the goal construction companies are focusing on right now: doing things right.
The issue is that it is not an easy task to tackle. Implementing a successful LEAN Construction mindset is never-ending work and can take years to build momentum.
Wrapping Up
This year can be summed up in three words: sustainability, people, and technology. That is the focus. It is time to take it up a notch and start building smarter, faster, and with purpose. Our industry is pivotal to humanity. We have a tremendous responsibility within our hands, it´s time to take action by protecting our environment and increasing the well-being of our communities.