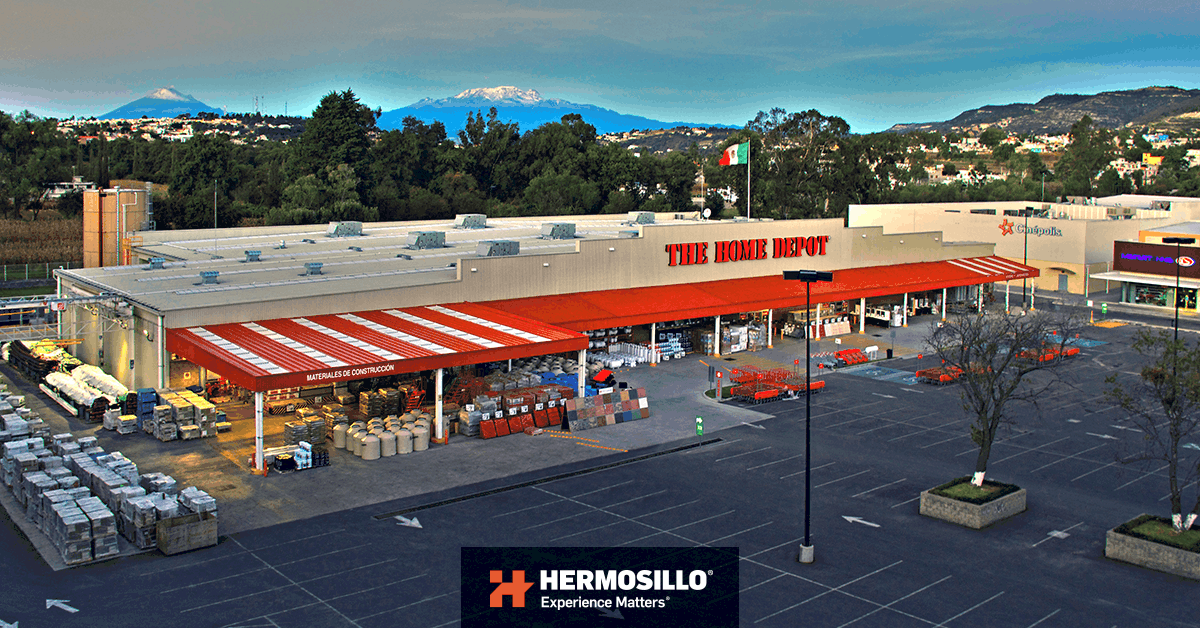 The leading company in Mexico of products for home improvement, hardware and construction materials has worked with us since 2002. We have built 23 of its self-service stores in various cities in Mexico and two distribution centers, including building expansions for both of them.
One of the first projects designed and built by The Home Depot in Mexico was the Mexicali store in 2002. Since then, we have maintained a successful professional relationship with the company.
Project specifications
The construction projects of its stores all have different formats and sizes. One of its prototype stores has an area of 9,185 m2 (98,876 square feet). Our collaboration with The Home Depot Stores has extended to several important cities in México, such as:
Corregidora, Querétaro (2020)
San Luis Potosí (2016)
Salamanca (2015)
Playa del Carmen (2014)
Expansión en Tijuana, B.C. (2014)
Culiacán (2013)
Nogales (2012)
Córdoba (2012)
Tlaxcala (2011)
Tlaquepaque (2010)
Zacatecas (2008)
Zapopan (2007)
Coatzacoalcos (2007)
Ciudad Victoria (2006)
Tuxtla Gutiérrez (2006)
Tapachula (2005)
Los Cabos (2005)
Xalapa (2005)
Cuautitlán (2005)
Ciudad Juárez (2004)
Tampico (2004)
Hermosillo (2003)
Tijuana (2002)
San Luis Potosí (2002)
Mexicali (2002)
Solutions and development
We always make it a priority to deliver the stores within the agreed timeline because the client starts with the rack assembly and product supply before the project's substantial completion.
Once the latter has been achieved, the stores open their doors to the public. Just by then, we can mark it as completed in time.
Through the years, we have implemented a LEAN Construction methodology in every project we work on. Thanks to this, the subcontractors actively participate in the development of the planning and execution of the project. Thus, we have managed to reduce costs and waste, as we focus on delivering the project on time.
Conclusion
The long-term and professional relationship we have with The Home Depot has led us to work repeatedly with them, including two recent expansion projects in their distribution centers. We have achieved a collaborative synergy that drives a win-win relationship between both companies.
We appreciate The Home Depot Mexico's trust in Hermosillo, not only for the construction of more than 20 stores in multiple locations, but also for the design and construction of larger facilities, such as its distribution centers.