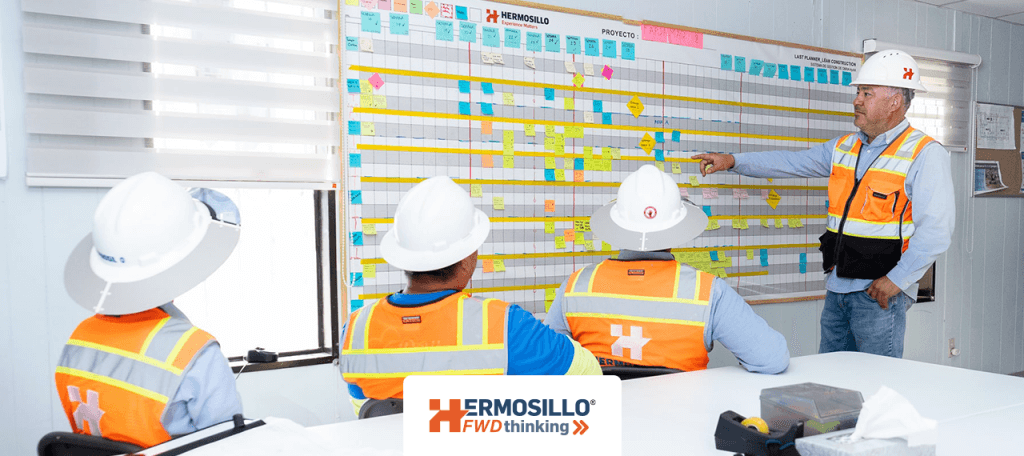 Our company's culture is defined by continuous improvement, that's why we seek to increase our competitiveness and be at the forefront of optimization topics. Being a leading Lean Construction company is a central element of our strategic vision to transcend.
The EGL (Lean Management Specialist) certification, administered by the Mexican Institute for Research and Disclosure of Lean Construction A.C., is standard within the construction industry in Mexico. It was designed to provide theoretical and practical knowledge on Lean Construction topics among professionals, and thus help in their contracting processes for construction projects.
The certification committee –appointed by the Mexican board of the Lean Construction Institute–, is in charge of providing the required material for the training and evaluation of applicants.
In order to apply for the EGL certification, you must obtain certain academic credits that can be achieved through Lean Construction training programs.
We are proud to announce that, since August 2020, 35 of our employees and 7 contractors have been certified as Lean Management Specialists. The most recent application was held on July 15, 2021.
The EGL certification makes it possible to raise awareness about the traditional methodology for project management, and the main waste this generates. Applicants then learn to plan, design, execute, and close projects while looking for continuous improvement opportunities and workflows that add value for customers and participants.
Some of the most valuable learnings are:
Leadership reinforcement
Collaboration and coordination of teams
Habit tracking and constant use of LEAN Construction tools, which are internationally approved to be efficient
Our goal is not only to certify all of Hermosillo's project leaders and superintendents but to include this program in the growth and development plan for site residents.
LEAN Construction represents the integrality of tools and respect for the work of each discipline through good collaboration. This program is aimed at participants seeking to develop essential skills in construction project management.
Hermosillo's vision as a LEAN Construction company is to optimize the design and execution of construction projects, achieving the value delivery our client expects: quality, time, and cost-effectiveness.