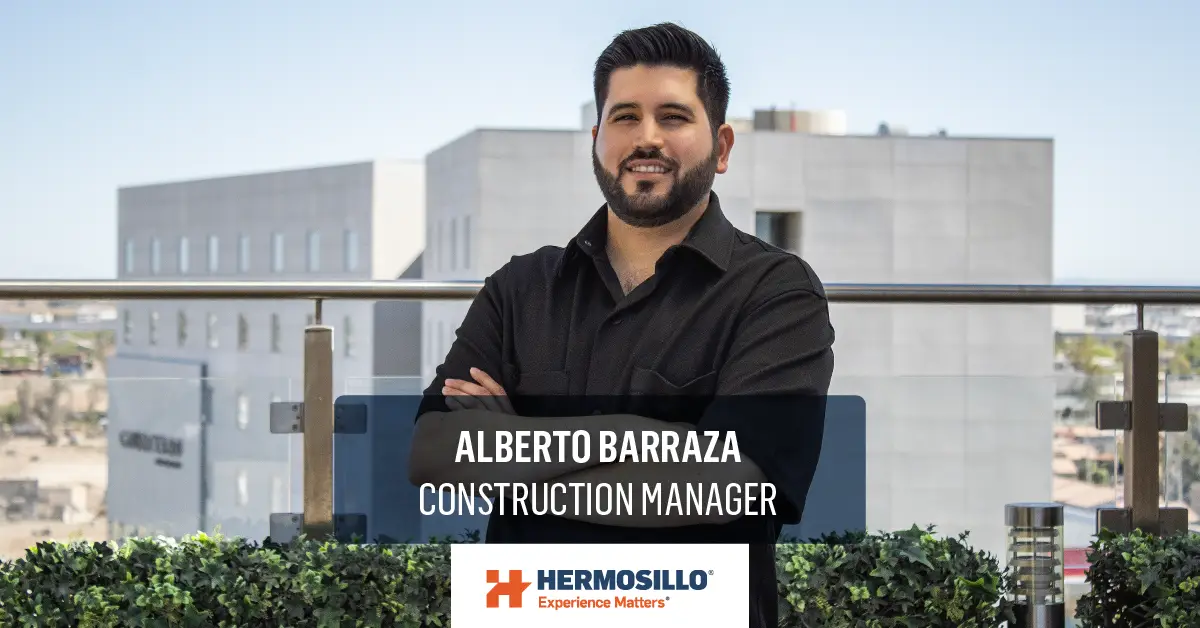 Alberto Barraza, one of our collaborators, shares his experiences and achievements as a Construction Manager. His time with the company has taught him valuable lessons, such as staying updated, applying his knowledge daily, and innovating to improve his work. Discover more about his efforts to excel as a human being and a professional in this interview.
What led you to be where you are now?
Thanks to the values and education my parents gave me, I have had the opportunity to develop myself integrally. I consider myself a leader who cares about people and promotes the formation of more leaders.
I started at Hermosillo in the last semesters of my Architecture degree. Since then, I have collaborated in various areas within the company, including the design, development, and project promotion department. I have also served as a Site Resident, Project Manager, Quality Supervisor, and Project Leader. I am currently a Construction Manager.
I seek to keep myself in constant training and gaining new certifications to put them into practice within the projects in which I participate. I have certifications such as LEAN Specialist by the LEAN Construction Institute, Project Management Certification in Sydney, Australia, Administration and Management in Construction by CETYS University, Construction Safety by OSHA, and ACI technician in concrete testing. I am currently obtaining the CM-LEAN certification from the Association of General Contractors (AGC).
What motivated you to work in the construction industry?
My passion for architectural design led me to study Architecture. The example of professionalism set by my father, Jesús Barraza (R.I.P.) and close architects like Arq. Pablo Alvarez and the vastness of the construction industry have kept me motivated in this journey and eager to continue discovering what more and better we can do as builders.
How would you describe your work to someone outside the construction industry?
As a Construction Manager, my role revolves around working with people and ensuring that construction projects are properly managed. This involves striking a balance between our construction scope, project timeline, planned budget, on-site work teams, and support personnel from other departments at the central office.
I am the mediator between the execution of the project and my team's needs. As a Construction Manager, I am committed to taking care of my team and ensuring everyone knows and develops their activities correctly. In addition, I like to work in teams and motivate them to grow professionally together.
What is the job achievement you are most proud of?
As a completed construction project, I proudly say it was my first as Project Leader: FAPSA Machine #8. In addition to its intricate engineering complexity during the construction process, this project was carried out during the COVID-19 pandemic. Despite the world crisis we experienced, we were able to complete the project on time and budget thanks to the good coordination of our team. In the end, we exceeded our client's expectations.
However, I am currently very proud of my work team. Seeing them grow professionally and embrace the Hermosillo spirit, knowing that they see me as a support in carrying out their roles, gives me the satisfaction of knowing that I am doing my job well.
What do you like most about working at Hermosillo?
To be part of a work team that motivates you to develop yourself integrally, with every employee living through the company values.
What do you consider to be the most important life lesson you've learned so far?
Being a leader who seeks to train and work with more leaders. I always try to create a healthy and high-quality work environment. We work with people; the most important aspect is ensuring their physical and mental well-being and safety.
In addition, I enjoy the company of other employees and like being a support in all areas where I work directly or indirectly. I do not seek perfection, but I give my maximum every moment.
Who inspires you and why?
My father, Jesús Barraza. I inherited his passion for architecture and construction. His memory constantly inspires me to leave my mark to transcend as a human being and professional.
What do you like to do in your free time?
I really enjoy going to the movies and the theater. I try to attend them regularly. However, due to my frequent travels for out-of-town projects, I prefer to spend my leisure time with my family, engaging in conversations with my sister, my mother, nieces, and nephews.
A lesser-known fact about you is…
I enjoy traveling and learning about different cultures. One of my goals is to visit all the continents. So far, I have been to America, Asia, and Oceania. I hope to visit the remaining continents soon.