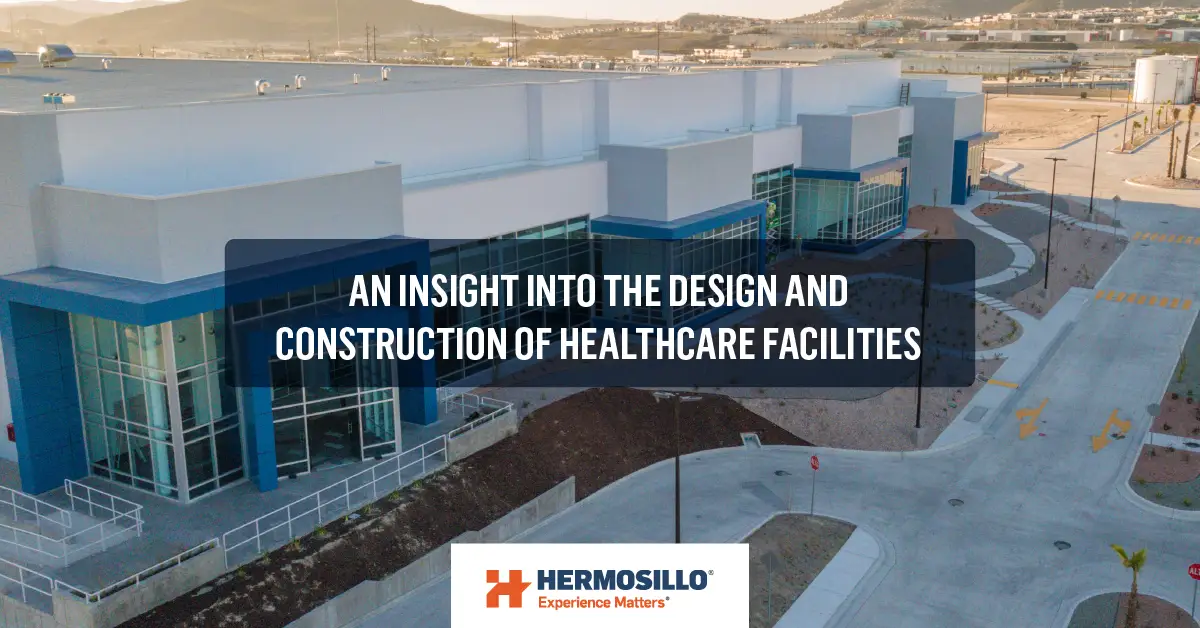 The healthcare industry demands excellence. Now more than ever, medical device manufacturers must increase efficiency and lower costs while maintaining quality. After all, their products' fabrication is essential to our community's well-being.
We aim to stay up-to-date with the latest healthcare design & construction trends to deliver top-quality medical facilities as this industry grows. With increasing medical clusters nationwide, we keep updated to meet our client's needs. Utilizing new technologies, automation, and practices such as LEAN Construction and Value Engineering, we are committed to excellence.
Here, you will find an overview of the healthcare industry in Mexico, the types of facilities we build, and our best practices to guarantee excellence.
Healthcare Industry In Mexico Overview
The healthcare industry covers three large sectors: pharmaceutical, healthcare services, and medical devices. The last one is one of the largest in the nation. As we have remarked constantly, Mexico is a manufacturing country. It is Latin America's second-largest medical device market, just behind Brazil.
Mexico's annual medical equipment and supplies exports were valued at $9.049 billion in 2018. In 2022, it exported over USD 16 billion in medical devices, representing a 76% increase in 4 years.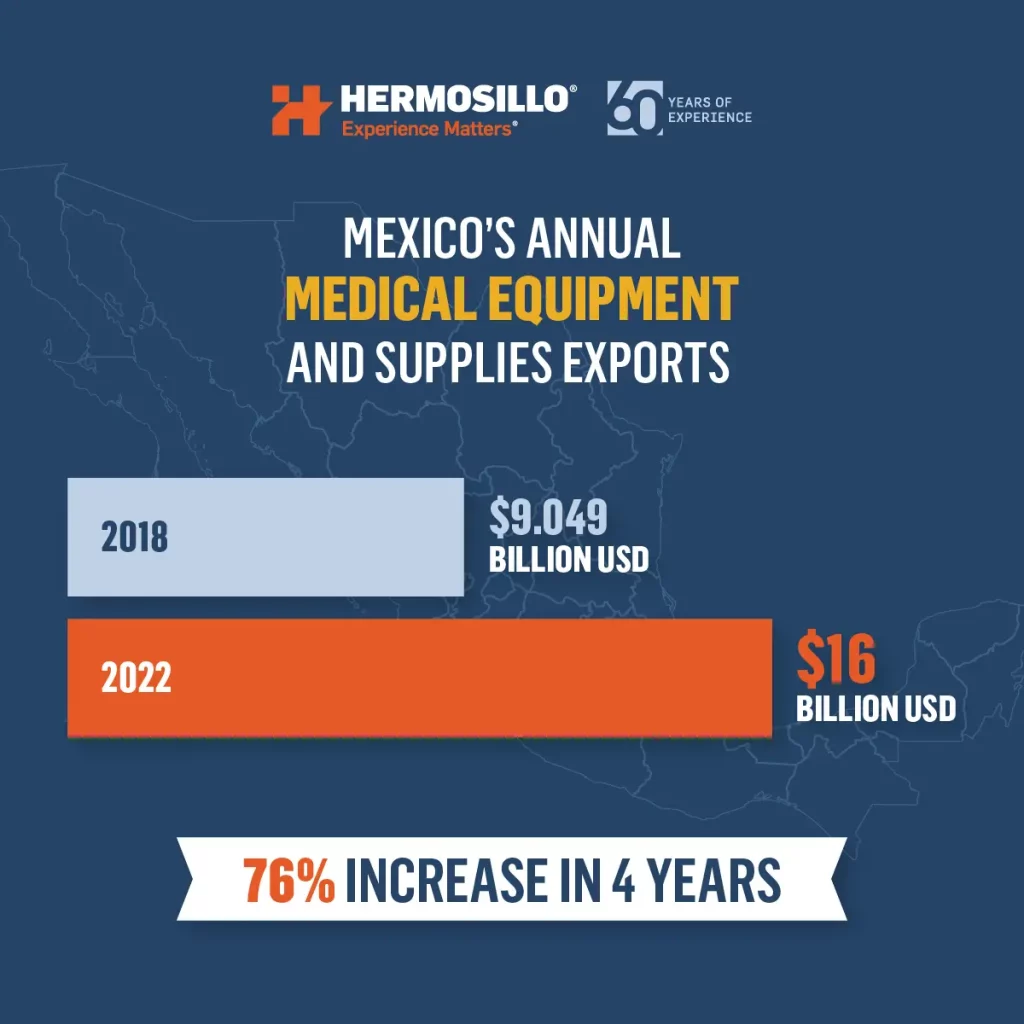 Cali-Baja Biotech Cluster
Baja California State accounts for 36% of medical device exports in Mexico, becoming the preferred region dedicated to the industry. 90 medical manufacturing companies are established in this cluster, making it North America's most extensive industry concentration.
There are manufacturers of all types. Here, you will find developers of surgical equipment, catheters, pacemaker parts, orthopedic devices, defibrillators, and other essential items. These companies are responsible for half of Mexico's medical device exports.
Another crucial factor of this development is its closeness to San Diego, California. Manufacturers leverage the city's expertise in medical studies. In addition, San Diego is the 4th largest Life Sciences technology hub in the US, and it has Tijuana, a Mexican manufacturing giant, just across the border. So with these two strengths combined, business owners can thrive in Mexico.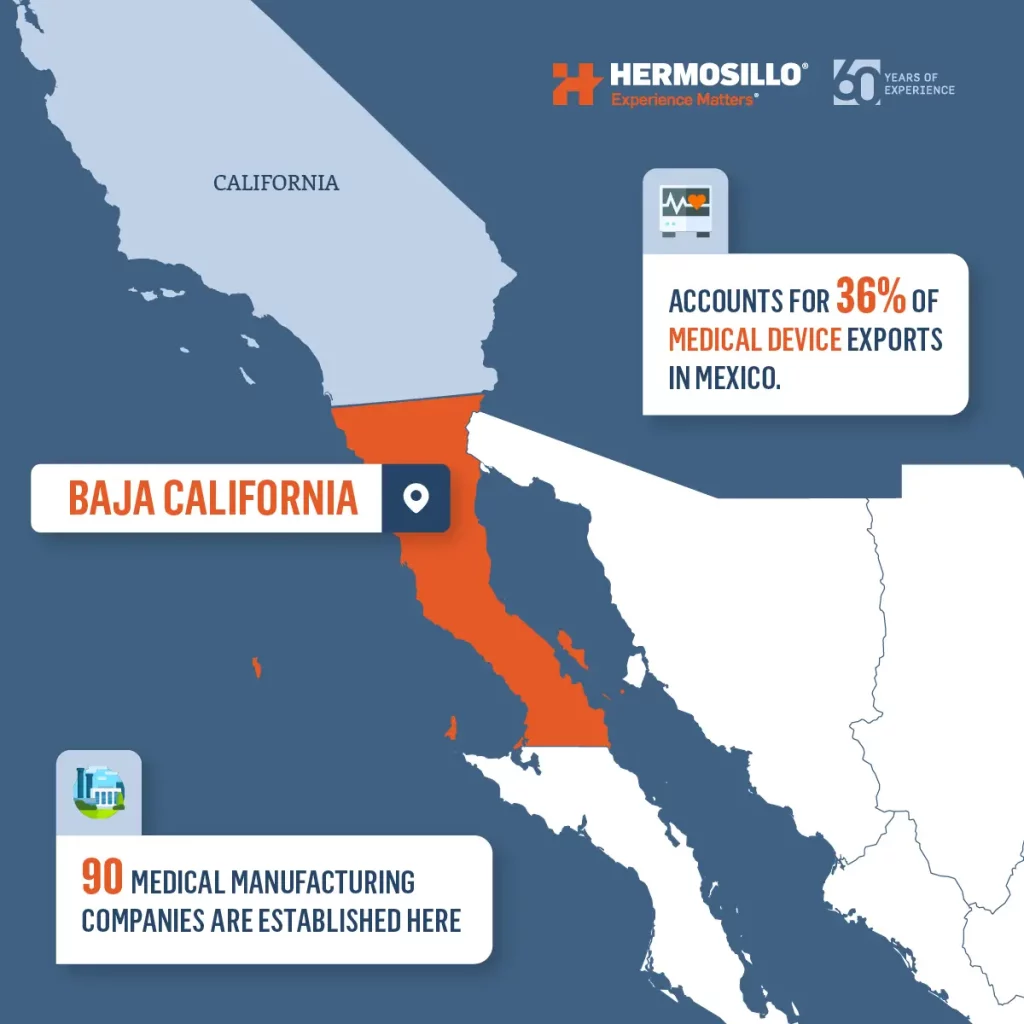 Healthcare Design & Construction Types
Medical construction is a labor of love that calls for precision and impeccable execution. We are experts at designing and building two types of medical facilities: tenant improvements and built-to-suit.
We have worked with medical manufacturers to deliver projects under these modalities, such as:
Pharmaceutical production facilities.
ISO clean rooms.
Hospitals and medical services stations.
Sterilization plants.
Medical devices distribution centers.
Here's the breakdown.
Tenant Improvements
In this type of construction, we start with an already-built facility or shell. Then, we work on the tenant improvements. This means we adapt and personalize the building to fit our client's needs. We guarantee the process is smooth and transparent using BIM and LEAN Construction.
As we sometimes have to work within a facility in operation, we work with meticulous attention to detail. We also ensure that our clients' work is not interrupted at any moment by our work.
Customized Healthcare Construction (Built-to-Suit)
Customized healthcare construction involves designing and building a medical facility from scratch. This type of construction has specific features and amenities tailored to our client's manufacturing needs.
For example, Medline required the construction of a complete floor for sterilizing medical products. Likewise, Fisher & Paykel asked us to build several clean rooms to manufacture their respiratory product devices.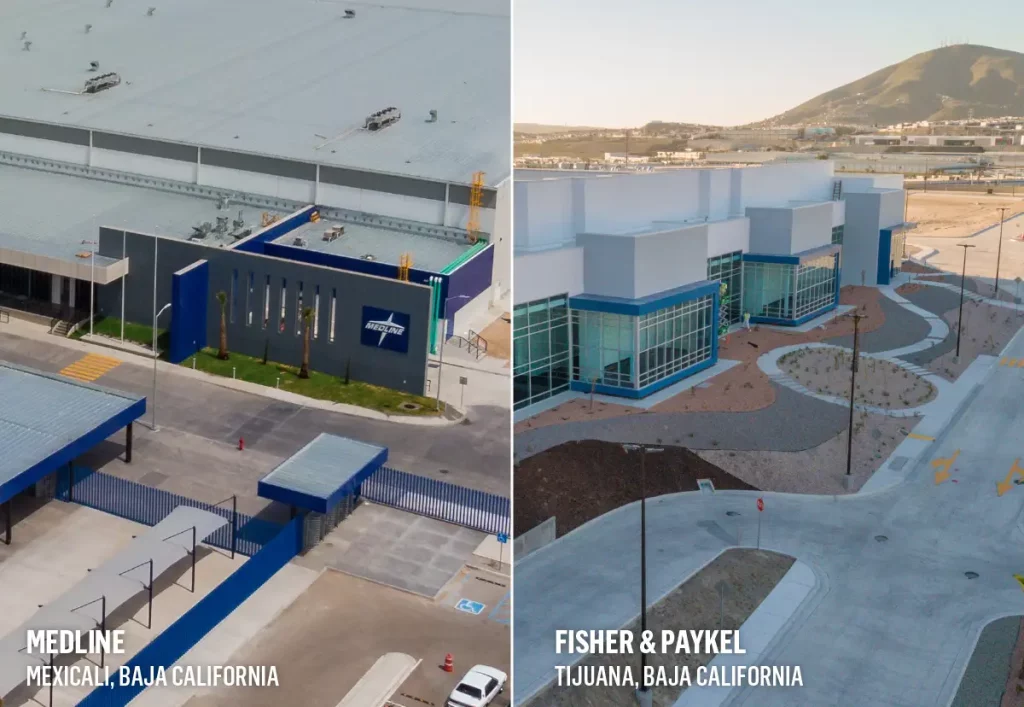 This type of construction provides more flexibility and customization options. The challenge is to break down the needs of those using them.
So, how do we make sure we deliver the best healthcare facilities?
Healthcare Construction Tips For Success
We value our client's investment. That's why we have solidified our construction process over the years with the industry's best and most innovative practices. We always consider safety, precision, and adaptability for our healthcare construction projects.
We are confident enough to bring our clients a highly efficient and clean facility. Therefore, we follow every local and foreign guideline to guarantee the best healthcare facility. Here are our top practices when building healthcare facilities:
Value Engineering
It is a process that uses techniques and provides options to reduce costs without sacrificing quality or performance.
Some examples of applying Value Engineering solutions:
Material Substitution: Selecting high-quality yet cost-effective flooring materials or using energy-efficient lighting fixtures.
Space Optimization: Analyze the layout to maximize efficiency. Reconfigure room sizes, optimize storage and streamline circulation paths.
Systems Integration: Look for opportunities to integrate various building systems, such as HVAC, electrical, and plumbing, to reduce redundancies and improve efficiency.
Construction Methods: Explore innovative prefabrication techniques that reduce costs and construction time. For instance, modular construction or off-site fabrication minimizes costs and additional requirements.
It is essential to consider that Value Engineering should be implemented carefully, with a thorough understanding of each project's requirements. Collaboration and expertise from multiple points of view will be crucial to achieving cost savings without compromising the essential aspects of your next healthcare construction project.
Project Tropicalization
When working with international clients, we ensure the project we develop in Mexico is the best version. We are experts in tropicalization, designing and constructing healthcare facilities to meet local regulations, environmental conditions, best local practices, and cultural shifts.
Site Selection
Site selection is another critical factor in healthcare construction projects. For this reason, we help our clients strategically select the best location that would benefit their project the most. The site must be accessible, secure, have the required infrastructure, and be suitable for the desired healthcare facility. The area should also consider the local community's needs, such as accessibility through public transport and other essential services.
Wrapping Up
In today's evolution of the healthcare industry, achieving excellence is not just an option; it's a necessity. At Hermosillo, we understand medical devices and their facilities' critical role in our community. Our commitment to innovation and excellence makes us proud to be a trusted local partner to medical device manufacturers and healthcare providers across Mexico. If you want to know more about our expertise in healthcare facilities, check out our Healthcare market experience.