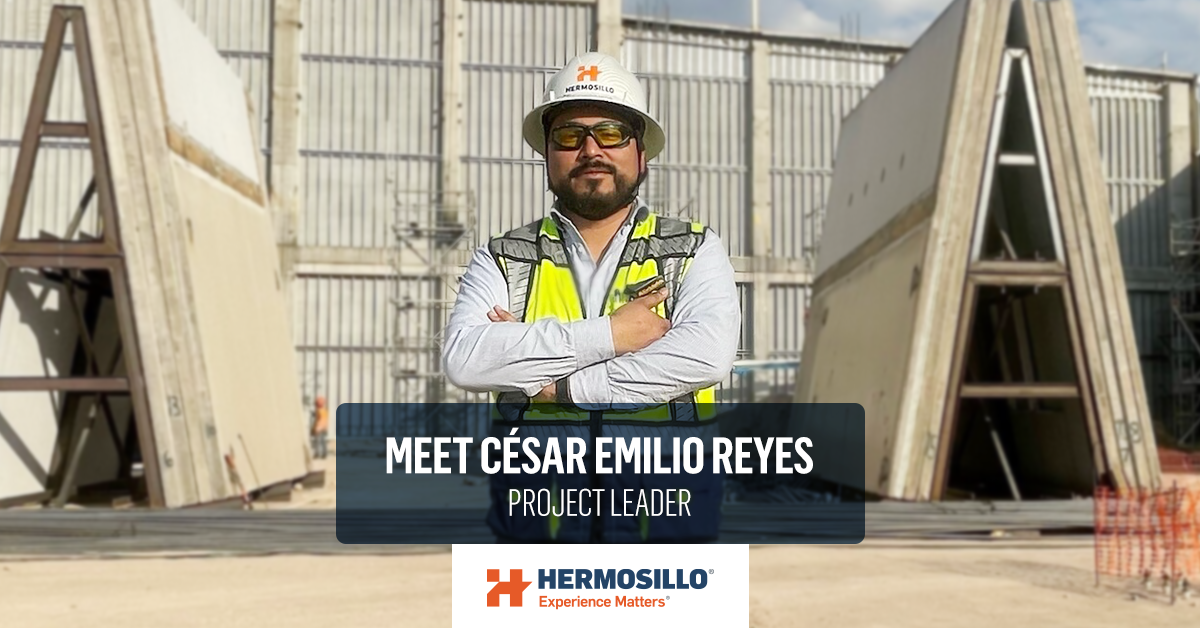 Meet César Emilio Reyes, our Project Leader at UEN Mexico City. In this interview, he tells us about his experience working at Grupo Hermosillo, since he joined the design department of the UEN Tijuana 16 years ago, until today.
What led you to be where you are now?
Since I was a teenager, I realized that I liked construction, especially the finishes and design of buildings. It was in high school that, with good architecture teachers, I found in this career a philosophy of life very similar to mine. A career where the principles of design are based on the users of a space and, at the same time, reflect the culture of an era. That's how I decided to study architecture.
During my degree, I worked as a finishing installer in residences in the United States, and as a freelancer doing plans and renderings in Tijuana. This is how Grupo Hermosillo recruited me to build a model in 15 days, with the condition that I executed it within the Hermosillo offices in Tijuana.
This two-week job turned into 16 years with the company. I started as a part-time drafter while I continued my studies, then I became a designer. I spent a total of five years in the Design department to later start my journey as a project leader. Two years later, I was involved as a buyer at the Hyatt hotels, focusing on purchases in the United States. When I finished my work in the hospitality sector, I continued working in the Group as a Project Leader. Now I find myself working as Project Leader and Construction Manager Jr.
What motivated you to work in the construction industry?
All buildings have a particular challenge. Our role in the construction environment is to identify the "problems" of the projects and give them a solution. That is, manage them responsibly, coordinate and execute them on time, and always seek excellent customer satisfaction.
It motivates me that clients see Hermosillo as a professional Mexican company with a global vision.
How would you describe your role to someone who doesn't work in the construction industry?
I am a project leader. My role is to lead the administration of a project, coordinate interdepartmental communication, communicate with the client, and manage the project collection. For someone who does not work in construction, it is similar to being a conductor because his job is to integrate and guide his musicians to perform a musical work. Just as there are different instruments, under construction, the work involves accountants, design, purchasing, budgets, work, security, human resources, management, subcontractors, consultants, etc. The project leader serves as the integrator.
What is the job achievement you are most proud of?
All the projects I have participated in have left me with many teachings and good friends. However, I liked the Hyatt Place hotels in San José del Cabo and Tijuana because of the type of project they were (turnkey). This was where I put on the buyer's mindset and hired two American companies to equip the hotels with everything you can imagine they need: furniture, finishes, accessories, operating items, and even pillows and blankets. I consolidated with freight companies throughout the U.S. and ports for container unloading. In addition, I had to import products from Asia, Italy, and Canada, until I went on to support as a finishing resident in the project's closing. Those challenges where you must change your mindset and leave your comfort zone to achieve the goal are the ones that leave you with the most satisfaction.
What do you like most about working at Hermosillo?
Hermosillo is a company with values, principles, and commitment, both with its customers and collaborators. I am proud to know that over time, even though there may be many challenges or crises, the company remains firm in its stance, vision and philosophy. It is a blessing that a group of people with these life principles have come together to form a construction company. It is fantastic to be part of their team.
What do you consider to be the most important life lesson you've learned so far?
On April 4th, 2016, my son Sebastián was born. Being a father has taught me to stop being selfish or vain. When you are a parent, you stop thinking about yourself and start thinking about others. You start to question: How do I educate my son? What am I going to teach him? What example do I want to give him? How do I want to transcend as a human? This has driven me to try, little by little, to do things better daily.
Who inspires you and why?
More than an author, a public figure, or a scientist, I am inspired by my co-workers and my family. I am inspired by their motivations, desires, and the alliance they make to carry out their projects. They are very talented people who deserve the best in the world to happen to them.
What do you like to do in your free time?
Spend time with family, play racquetball, and, since the pandemic, be a handyman around the house.