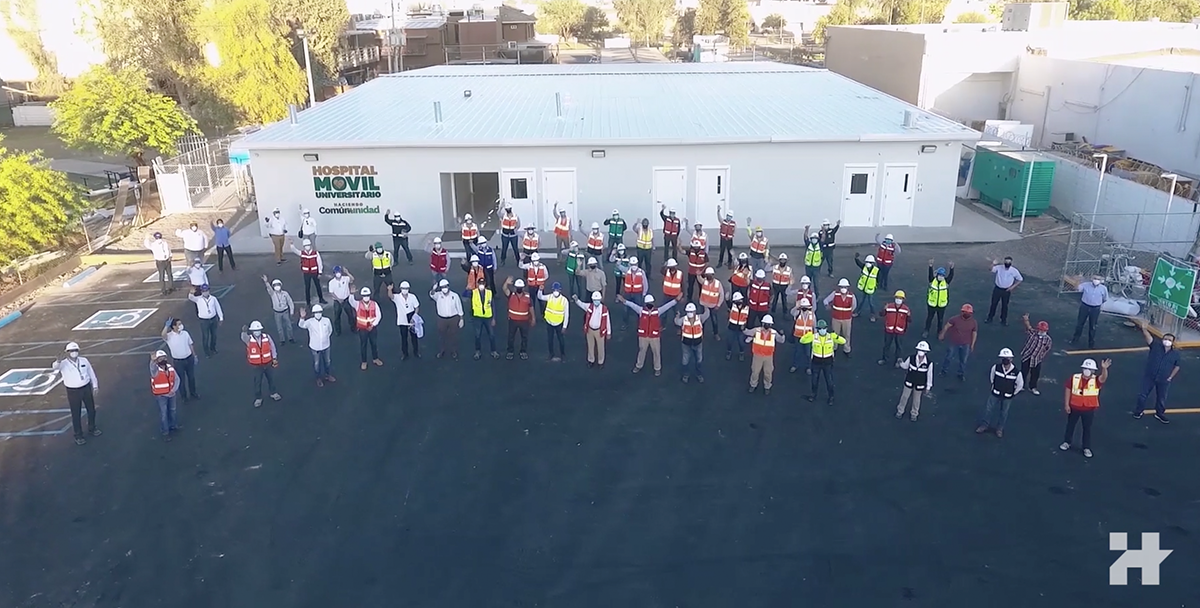 When we understood the impact of the pandemic on our community, we knew that we had to start moving our hands to the benefit of our people. Our way of helping has been building a fully equipped hospital in record time (23 days, to be precise) to exclusively nurse cases of COVID-19.
This was the result of the strong values ​​that constitute our company, along with the will of a large network of Baja California's private enterprises, Fundación UABC, and UABC.
It all started on April 30, 2020, when we signed the Collaboration Agreement, held between the UABC A.C, Fundación UABC, and us, Grupo Hermosillo. It stated the role each of us would have in the project. From our side, we promised to donate everything building and infrastructure related, while Fundación UABC would be in charge of raising funds for the hospital's equipment.
On the other hand, it was agreed that the Baja California State Health Department would operate the Hospital during the contingency phase.
Four days later, we officially began the construction of the hospital, officially named "Hospital Móvil Universitario." We are proud to announce that after four weeks of hard work and workdays of up to 14 hours, it has come true. 
On May 26, the construction ceased. In the next three days, it was equipped with the necessary materials. Now, the Hospital is operating and fully functioning within the UABC Faculty of Medicine at Dr. Humberto Torres Sanginés S / N Street, Centro Cívico, Mexicali B.C. Land donated by the same school.
To achieve this, there was an investment of 20 million Mexican pesos. Those covered construction and infrastructure expenses exclusively and were completely funded by private finance initiatives.  We raised the capital with the support of subcontractors, suppliers, local companies, and clients. Fundación UABC raised funds to acquire all the necessary equipment.
The whole thing was a process of teamwork. The result of this union was a Hospital with 50 beds capacity with the necessary spaces and equipment to effectively treat positive cases of COVID-19. Inside its facilities, you'll find personnel and medical instruments disinfection areas, a sector to receive and prepare food, and separate access to enter and exit the facility to avoid cross-contamination. It also has a pharmacy, medical, and nursing work area, as well as restrooms and showers for patients.
Overall, we built a fully functional hospital in 4 weeks. This is a clear proof of unity. We've witnessed true strength and commitment from our community. It's apparent that when a group of people unite to work for the common good, great things can be accomplished.
We are sure that this Hospital will fulfill its main goal of saving lives. We'd like to thank everyone involved; UABC, Fundación UABC, Baja California private initiative, and our collaborators for their commitment and unparalleled dedication. We couldn't have done it without you, Grupo Hermosillo's family.