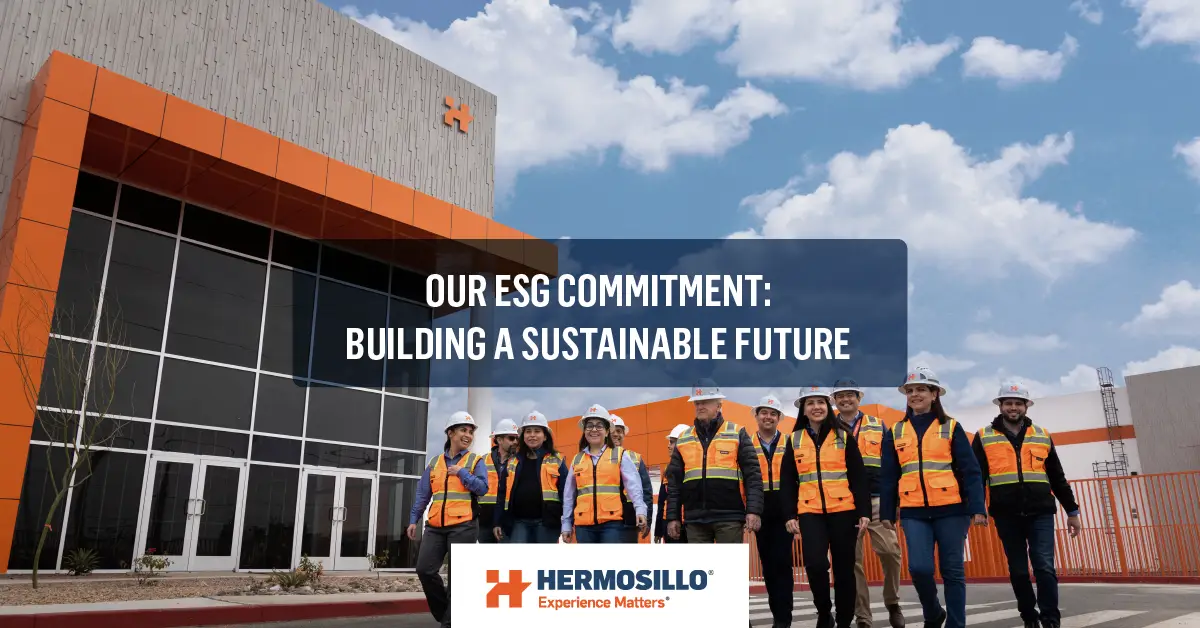 There is no denying that the construction industry directly impacts our environment. Every year, more than four billion tons of cement are produced, accounting for around 8% of global carbon emissions. At Hermosillo, we are aware of this, which is why ensuring our communities' well-being and supporting our collaborators has always been a priority. However, during the pandemic, we began to question ourselves more deeply: How can we be better for our people, the environment, and society?
Since the uncertain year of 2020, we have embarked on a journey of self-reflection, seeking to align our company's future with sustainable practices and environmental stewardship. In this blog post, we share the culmination of our efforts: our first ESG report, which serves as a testament to our commitment to transparency in these principles. It highlights our actions and progress toward a more sustainable and responsible future.
WHAT IS ESG?
ESG stands for "Environmental, Social, and Governance." According to the Corporate Finance Institute (2022), ESG is a framework that helps stakeholders understand how an organization manages risks and opportunities related to its criteria. ESG takes a holistic view that sustainability extends beyond just environmental issues.
Embracing ESG practices encapsulates our work into a universal language, allowing us to communicate our environmental, social, and governance endeavors on a global scale. In this pursuit, we found a valuable partner in Verdical, a renowned US-based consultancy firm dedicated to promoting sustainable business practices. We thoroughly evaluated our operations and defined realistic goals for our environmental and social responsibility initiatives.
SUSTAINABLE DEVELOPMENT GOALS
The United Nations (UN) established its Sustainable Development Goals (SDGs) in 2015 as a universal call to action to end poverty, protect the planet, and ensure that by 2030 all people enjoy peace and prosperity. When addressing ESG criteria, many companies use the SDGs to guide their commitment to sustainability. After reviewing all 17 of them, our social and environmental impact, and our stakeholders' priorities, we have decided to focus our future initiatives on the following SDGs: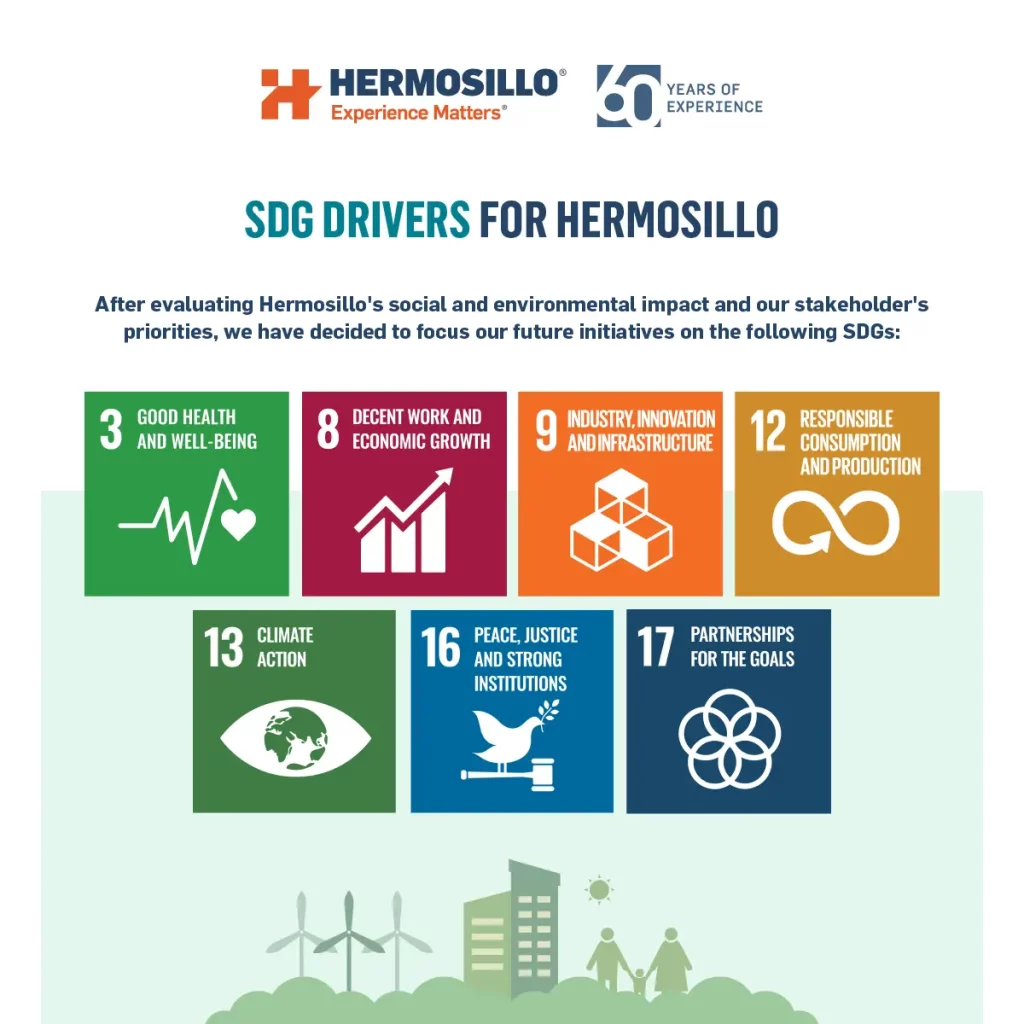 These five core actions will mark our ESG path:
Climate action
Employee well-being and growth
Environmental policies (Green Book HMO)
Responsible use of innovation and technology
Community development.
We will achieve our goals by taking small conscious actions, creating policies, training our people, measuring our impact, and strengthening our partnerships.
OUR COMMITMENT
ENVIRONMENT
We have been working on becoming more environmentally responsible, starting by gathering the data that will help us define the impact of our business operations on the environment, such as power consumption and vehicle usage.
Our ESG report translates our impact into GHG (GreenHouse Gases) emissions, defined as Scopes 1, 2, or 3, and commonly presented in metric tonnes (mT).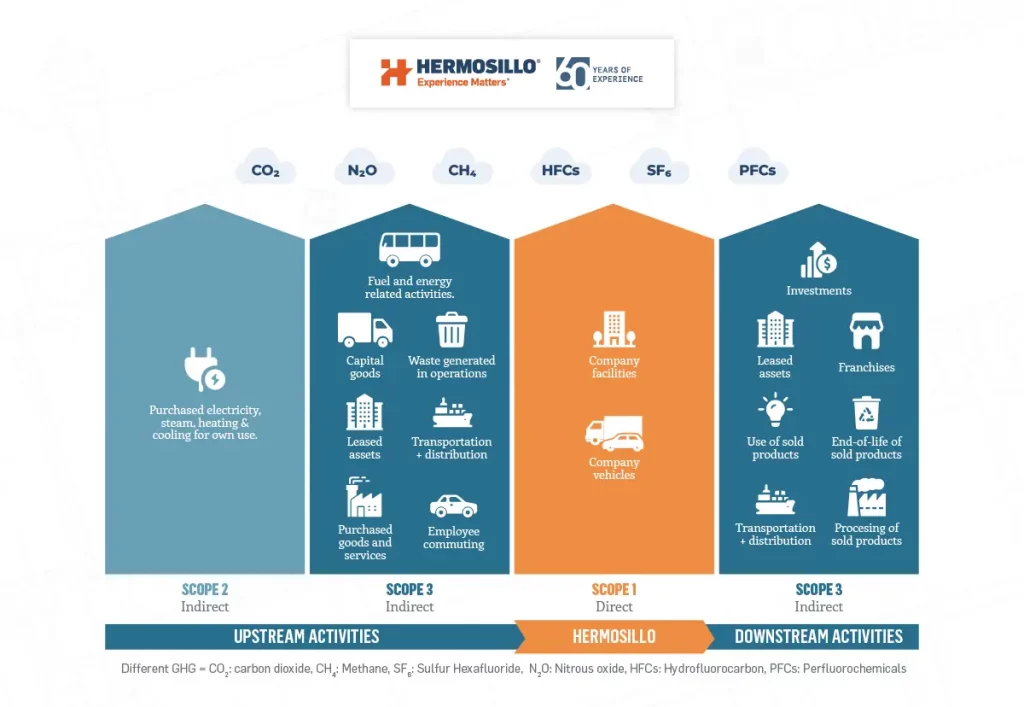 We firmly believe that better buildings equal better lives. This is why we prioritize working in the design and construction of LEED® certified projects, seeking to meet the highest energy efficiency performance standards to keep negative environmental impact at its lowest. We even encourage LEED® certified projects for clients who don't initially request them. You can read more about this certification and its importance in our blog post.
As part of our Environmental, Health, and Safety manual, we ensure the following activities are constant in all of our construction sites:
General activities like relocation of protected species, dust and erosion controls, donations of new trees to the city, protection of neighbors' assets and well-being, use of certified bank materials, and solid waste management.
Earthwork activities such as using treated wastewater during the execution of mass grading in the construction phase, avoiding maintenance of heavy machinery on site, and adding a concrete pad station to clean trucks-vehicles tires before exiting the construction site to avoid mud on the public roads.
Construction activities include compliance with the Environmental Impact Assessment recommendations, such as animal and plant life protection, emissions and noise control measures, properly storing and managing hazardous materials, and more.
SOCIAL
We have always had genuine care and a strong bond with our society. Hermosillo was founded on the principle of doing things ethically and responsibly, being solidary not only for our team and clients but also for the betterment of our community. We continuously work on creating a culture of people that remain conscious of their community's needs and concerns.
Some of the ways in which we have given back to our community are:
Resource donations to non-profit organizations. We have worked with several institutions that help multiple local causes, seeking to finance them through periodic contributions. These organizations support vulnerable groups, immigrants, public services, local cultural events, seniors, education, sports, family unity, defense for life, and protection of women's rights.
Supporting the growth of our collaborators. We provide scholarships to our collaborators to continue their studies for Master's Degrees, Diplomas, and Certifications. In 2022, we tracked 1,405 hours of external and internal training. We also award scholarships to students to continue their professional studies at various universities nationwide.
Creating a solid internal culture. We have created an internal culture that reflects our group values to incentivize action. We have initiatives like the monthly issue of our corporate magazine, "A Tiempo", and our yearly event, "Valores 360º", focused on our corporate values and how to live them at work and home.
Safety first. We also strive to create a healthy and safe workspace by incentivizing training, employee empowerment, job site monitoring, and more. We have an EHS (Environmental, Health, and Safety) manual for every construction site. This document aims to standardize safety, environmental, and health policies for the company and all its projects.
Construction projects donated to diverse social causes. Some of the most outstanding projects we have executed of new construction or renovation in the past few years: CAHOVA, CAVIM, COVID-19 Mobile Hospital, Refugio de Amor, Unidos Somos Mejores, Ocupa, Centro de Ayuda para la Mujer, VIFAC. You can read more about them in our ESG report.
GOVERNANCE
We are committed to maintaining integrity and honesty in everything we do. We are proud to lead by example, constantly thanking the trust of our collaborators and partners. Our unwavering dedication to the best corporate governance practices is evident in our adoption of high ethical standards beyond mere compliance with laws and regulations. With a clear and organized governance structure, we guarantee transparency and accountability.
An example of this is our Employee Handbook, which includes an internal set of rules and a Code of Honor that revolves around four main points:
Work environment
Customer and supplier relationships
Assets, information, and conflict of interest
Relations with competitors, community, and government
We prioritize strict controls and compliance in our financial and human resources processes, safeguarding our company's and stakeholders' interests. We actively manage risks through assessments, audits, anti-corruption actions, and strict adherence to Mexico's corporate taxation and employment laws. Our commitment to protecting universal human rights, fighting corruption, and delivering value to shareholders and stakeholders is ingrained in our internal processes and policies.
LET'S GET TO WORK!
At Hermosillo, we see ESG as a responsibility and a strategic opportunity to drive positive change. We are committed to strengthening our relationships with our stakeholders, working hand in hand towards community development and environmental preservation. Our approach is guided by a holistic vision of each project, ensuring we do things right from the beginning. This is why we are delighted to be the first construction company, of its kind, in Mexico to publish an ESG report, which you can read here.
We recognize that we are part of something greater and that every action we take matters. Our focus remains on becoming a better company for our employees, community, and stakeholders. We firmly believe that by consistently doing what is right for them, everything else will naturally fall into place. Ultimately, caring is not just a mere intention but is reflected in our actions. Together, we can build a more sustainable and responsible future.