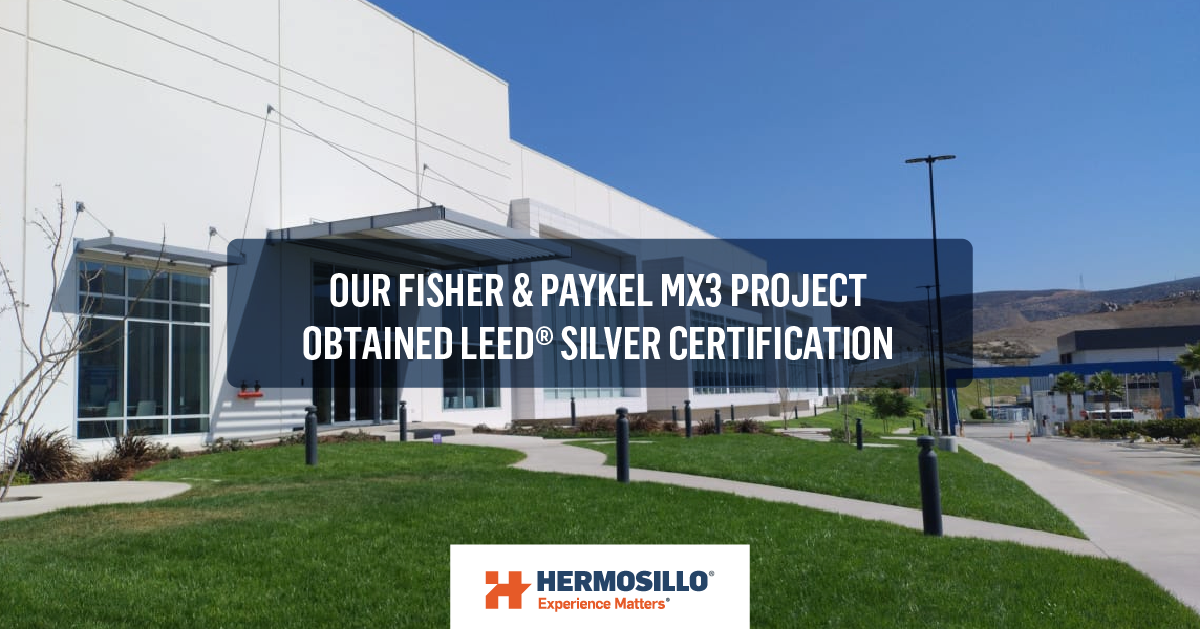 We are proud and satisfied to share that one of our projects received LEED® Silver certification recognition this summer. Continue reading to find out more details.
Our project, Building Sánchez Number 3, for our client Fisher & Paykel Healthcare in Tijuana, Baja California, has become a LEED-Certified Building, obtaining the Silver Certification, an outstanding example of sustainability, environmental quality, and environmental responsibility.
In Hermosillo, we have been in charge of implementing a series of innovative and sustainable practices and construction techniques that have transformed our way of operation and maintenance of our projects. Some of the highlights of this successful project are:
Purple line: We carry out the engineering for the purple line, that is, the internal treatment of wastewater so that, instead of going to a body of water, it is reused in irrigation systems and bathrooms. For this, the client installed a water treatment plant, and in Hermosillo, we connected the main power to the entire warehouse and irrigation.
LED luminaires and sensors: LED lighting and sensors were placed for energy optimization.
Landscaping: It was designed to focus on efficiency in water use, using plants and vegetation that require minimal irrigation.
Water-saving urinals: Implementing these has drastically reduced water consumption in the facilities.
Waste separation: We adopted a sustainable approach by separating waste into categories such as wood, metals, particular handling waste, and household garbage, thus promoting the practice of recycling.
Low-emission materials (VOC): We use materials such as paint, seals, and adhesives with low emissions of volatile organic compounds.
Thanks to this, we have achieved a total of 50 points, obtaining the Silver certification. The USGBC® determines the category through a scoring system in which a series of guidelines are evaluated according to the established requirements in carbon, energy, water, waste, transportation, materials, health, and indoor environmental quality. The projects go through a verification and review process, and depending on the total score obtained, they can apply to one of the four levels of a LEED® certification:
LEED® Certified. 40-49 points
LEED® Silver. 50-59 points
LEED® Gold. 60-79 points
LEED® Platinum. 80 or more points
For us in Hermosillo, caring for the environment is of utmost importance and is part of our objectives as an ESG company. We are proud and motivated that our hard work and effort allowed us to obtain LEED® certification by the USGBC (United States Green Building Council).
We reiterate that this remarkable achievement wouldn't be possible without the commitment and collaboration of everyone in this great LEED-Certified Building. We are happy to be part of an industry that cares about our planet, and we will continue working to lead the way to more sustainable construction in Mexico.
Learn about our efforts and practices to achieve more sustainable construction here.
Be the first to know about our new blog posts! Subscribe to our newsletter here.