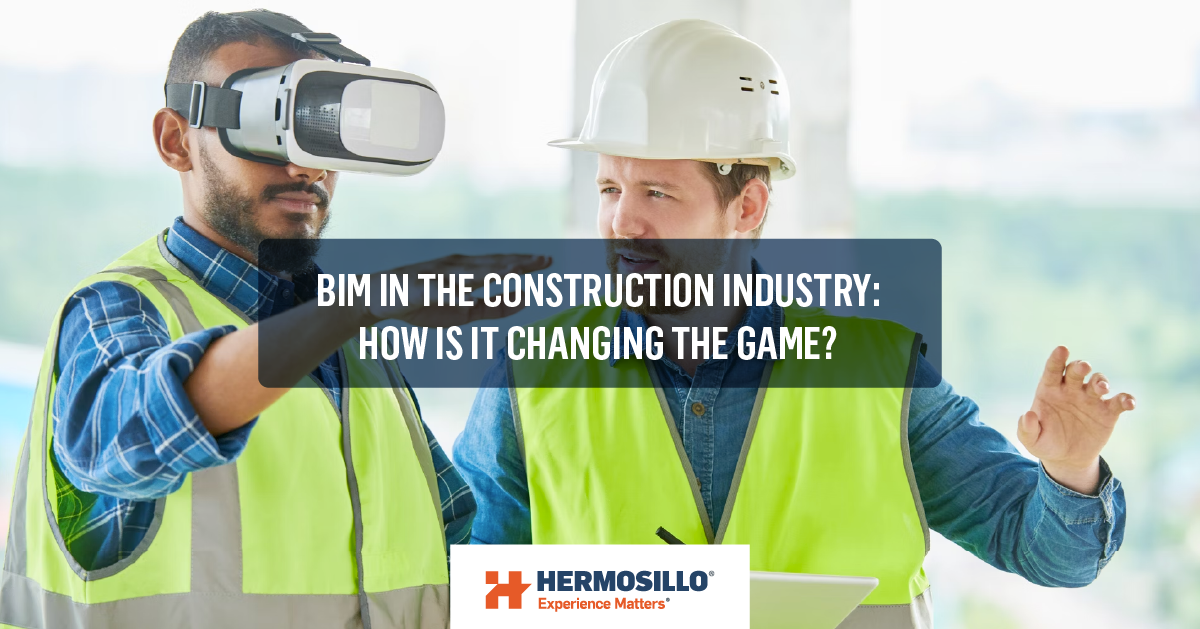 AEC (Architecture, Engineering, and Construction) professionals have found in BIM technology a way to manage and synthesize information within a transparent and efficient roadmap — from a project's initial vision to its final brick. BIM revolutionizes how structures are visualized, planned, designed, built, and managed.
As we delve into the significant influence of BIM within the construction sector, let's explore its core principles and examine why it has evolved into an essential element of current construction practices. Furthermore, this article will explain how, at Hermosillo, we leverage BIM to craft an immersive client experience throughout every phase of our projects.
What is BIM in the Construction Industry?
BIM stands for Building Information Modeling. It represents a holistic process that consolidates the information and environments about a building into one unified model. This approach facilitates seamless cooperation among architects, engineers, contractors, and end users throughout a construction project.
This data-sharing process is backed up by a robust cloud service where design, construction, and operation coexist in one place. The keyword here is collaboration. At its core, BIM champions collaboration, aiming to harness real-time data to ensure every construction project runs smoothly. The result is a model with the most accurate representation of the physical characteristics of a future facility.
BIM is as much a framework as it is a tool, harmoniously coexisting to deliver its full potential. It serves as a medium for team communication, ensuring information is accessible anytime, anywhere, and enabling informed decision-making.
In the words of Arturo Flores, an AEC expert, BIM is about integrating each individual workflow into a more cohesive and leaner framework, focused on taking full advantage of pre-construction models to have better-informed teams, thus making better and timely accurate decisions.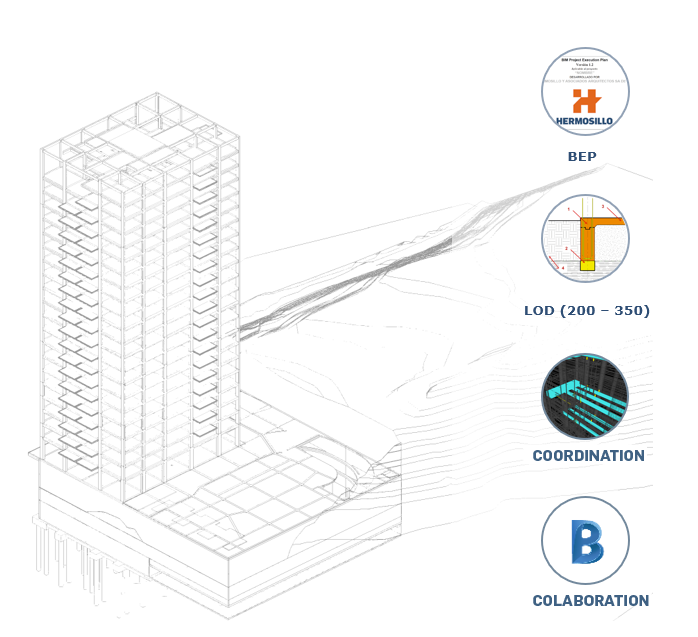 How is BIM Used in the Construction Industry?
BIM allows AEC professionals to manage and generate data efficiently, simplifying decision-making. With information always accessible, there's no waiting for "official" data deliveries as it's instantly in the cloud. This immediacy enables simultaneous processes, exemplified in fast-track projects.
BIM impacts everyone's workflow, from site and structural engineers to mechanical engineers and contractors. Multiple BIM applications benefit each professional differently. To simplify it, we can categorize the applications into two main areas: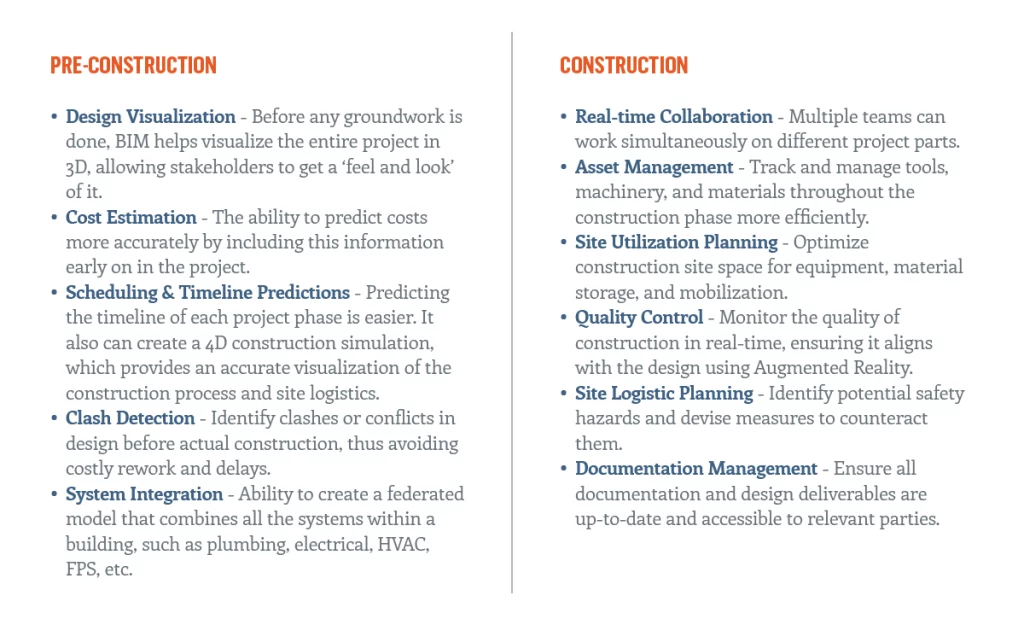 Consider reviewing our comprehensive BIM Standards Guide for a detailed and realistic perspective on BIM's role in the AEC industry.
At Hermosillo, Building Information Modeling is not just a concept; it's a commitment to excellence.
Hermosillo's VDC Program: Innovating BIM for Enhanced AEC Practices
In our relentless pursuit of excellence, Hermosillo's Virtual Design and Construction (VDC) program has pioneered several groundbreaking practices within the scope of BIM. These practices have not only revolutionized the way that building owners approach construction but have also set new standards for the entire AEC industry.
Here are some of the key accomplishments of our VDC program:
Enhanced Productivity through VDC
Our VDC program drives enhanced productivity through improved communication and collaboration, ultimately reducing rework. By modeling all systems together from the project's inception and employing clash detection coordination, potential design conflicts are identified early, preventing costly reworks and delays on the job site. Hermosillo's models transcend mere 3D representations; they serve as the cornerstone of project information.
Greater Transparency with Immersive Experiences
Our commitment to accuracy extends to virtual and augmented reality, offering immersive walkthroughs of the project during the planning and revision stages. These immersive experiences allow clients to see their vision literally, understand the impact of proposed changes, and make confident, informed decisions.
At Hermosillo, our VDC team comprises certified professionals who are experts in their respective fields. Their unwavering dedication ensures we maintain the highest quality standards and effectively manage risk, especially in complex projects.
Review this case study highlighting our adoption of BIM in a real-life project for Fisher & Paykel. Here, you will see our BIM services in full action as we guarantee a standard of quality to our clients.
Is BIM the Future of AEC?
With over 49% of construction professionals in the US already incorporating BIM, it's evident that it is not just the future but the present pulse of the AEC industry. BIM has reshaped how we conceive, design, and build structures, ushering in an era of enhanced productivity, transparency, and safety. In Hermosillo, we have established ourselves as a leading force in Mexico when it comes to implementing BIM across all our projects since 2016. This achievement has consistently enabled us to surpass customer expectations and consistently deliver exceptional results in every project we undertake.
BIM and VDC will continue to evolve, enabling us to create safer, more efficient, and more environmentally conscious structures than ever before. Our VDC program exemplifies our commitment to excellence, innovation, and client satisfaction. At Hermosillo, in collaboration with key business partners and educational institutions, we are actively working to expand the adoption of BIM practices nationally. We believe that sharing our expertise and promoting industry-wide innovation will lead to a brighter and more sustainable future for the AEC industry.