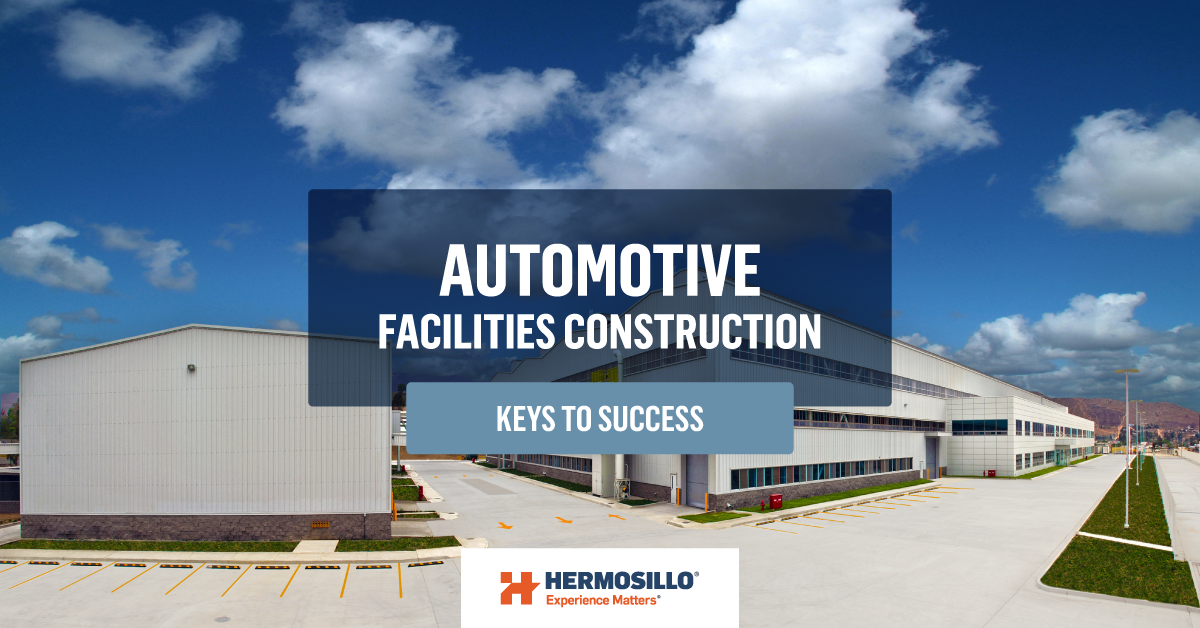 Every design/build project for a General Contractor represents a new challenge that needs to be overcome with precision and expertise. Innovative technology is a must. The automotive industry continues to expand in North America, and it's looking for solutions and value engineering that guarantees efficiency and quality to meet its ends.
When a manufacturer establishes itself in the country, it may start with a Final Assembly and a Paint shop facilities as a first phase. When looking to grow, they want to expand their facility and introduce additional production processes to it. In this post, we will talk specifically about our best recommendations during the pre-construction and construction phases, and how BIM and Lean Construction optimize the planning and execution of every step.
The Pre-Construction Phase and Recommendations to Consider
The success in the development of the project will depend on the correct planning and execution of its phases. During pre-construction, the following stages are crucial:
Site Location: It is one of the most important decisions in any project since the property has to have the proper utilities needed for the production phase, qualified manpower, connectivity, and also be close to potential customers and reliable suppliers.
Defining the Scope of Work: To properly define the project's boundaries and deliverables, complying with the End-user's requirements.
Conceptual Drawings: The preparation and delivery of basic engineering plans must globally reflect the scope of the project and they should comply with the local code and best design and construction practices.
Applying BIM and Lean Construction to an Automotive Design and Construction Project
Manufacturers can make significant cost and energy savings by building-in efficiencies at the plant design stage. Here we share with you two simple ways in which you can be more efficient while designing your automotive project:
Implement a BIM methodology as a foundation in your work processes. It allows a smoother collaboration between everyone involved in the project.

As a result, data management is clearer, and it facilitates the visualization of every element that is part of the project. Also, decision-making is easier too, and you can properly manage 3D modeling programs with 4D simulations and cross-engineering.

Implement Lean Construction. Establish a continuous workflow to help reduce waste and optimize the construction schedule. Pursue low costs, high quality, and high variety, producing exactly what your client needs. If you want to learn more about Lean Construction, we have a blog post explaining all about it.
Wrapping Up
For almost 60 years, we have been General Contractors designing and building many industrial projects that have prospered in Mexico. The automotive industry is no exception. General Contractors must be at the forefront and offer customers tangible solutions that will help them achieve their goals in our country.
Paint Shops, Stamping & Body Shops, Final Assembly… you name it. We have experience building automotive manufacturing plants for various OEMs and Tier 1 and 2 customers. The biggest challenge is executing an expansion of an existing facility without stopping production.
We have applied our Forward Thinking methodology (BIM, Lean Construction, Safety, and Sustainability) in each of these ventures, in order to deliver the vision of our clients, without affecting the schedule and/or cost of the project, the plant's operability/productivity, and without compromising the quality of your building or product.
In the words of Rafael Cruz, Flex-N-Gate's PM Project Leader: "In the planning department, they (Hermosillo) are always ahead. They were ahead in everything doable. They work very well and have a strong team with strong leadership. You get to figure out that when you have strong planning, executing is done effortlessly."
The implementation of tools such as Virtual Design Construction, BIM methodology, and Lean Construction, is necessary to structure a design and construction project efficiently.
You can learn more about our experience in automotive facilities here.