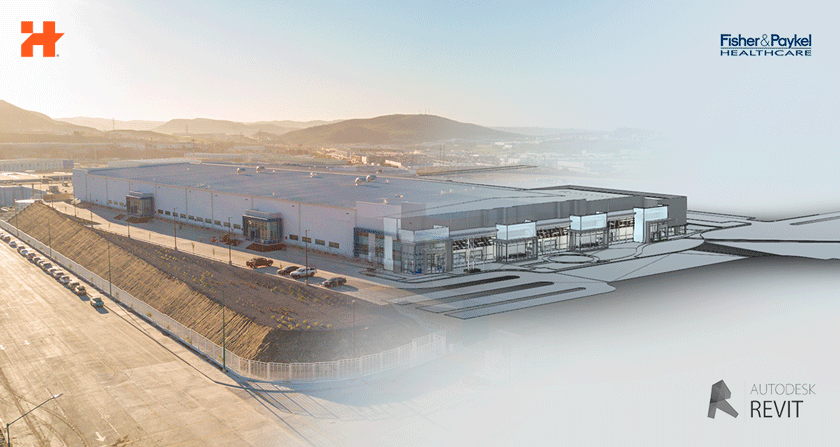 Productivity is the goal, collaboration is our path
The constant challenge in the construction industry through the years has been productivity. According to ScienceDirect, 57% of the work time in construction is considered waste. Meaning, that more than half of the effort made, generates direct or indirect costs and adds zero value to the product.
For this reason, we have adapted particular frameworks/mindsets like Lean Construction and BIM.
In this study case, we're going to explore how BIM functions as an approach to enhance productivity. In particular, on the 203,988 ft² medical facility we built for the international enterprise Fisher & Paykel Healthcare. We'll go into detail on the tools we implemented that helped us succeed on the project's high-quality requirements along with the challenges that came along the way.
We've found out that when productivity is the goal, collaboration and innovation are the way to go.
The project
Fisher & Paykel is all about innovation; they've shown it in their products and in their way to do things. They have a history of revolutionizing the respiratory care market since 1971. They were the first to introduce a humidifier specifically for use in the treatment of patients with obstructive sleep apnea. In short, they have a clear vision of efficiency and innovation.
Naturally, we wanted to fulfill that vision.
The project consisted in designing and building an industrial plant specialized in medical devices in Tijuana, Baja California. It consisted of 203,988 ft² of building area and 23,662 ft² of warehouse area.
To achieve this, the 3 main requirements were:
Work under a guaranteed maximum price contract

12 months of work without budget deviations

Work with BIM. (As they have worked with it in previous projects from New Zealand and the USA)
The challenge
The manufacturing process of medical devices is critical and precise. You need to work under high-quality standards to get it right. Clean rooms, for example, involve a high level of complexity in construction. For its nature, they need to have a controlled level of contamination that is specified by the number of particles per cubic meter as specified particle size. So, a pretty big deal.
On the other hand, they were actively looking for a contractor with BIM expertise. Fisher & Paykel knew by firsthand that they wanted to be involved in the project every step of the way. They knew that by working with BIM they could reach an exceptional level of collaboration.
Moreover, they were concerned about how the different members of the team could communicate. The project construction was in Mexico, and Fisher and Paykel's participants were based in different regions across New Zealand and the United States.
In short, we were looking to build a high-complexity project with a clear collaboration process to achieve high-standard quality, stay on budget and deliver on time.
The solution
We coordinated communication between teams with a centralized model of information. The goal was to have a crystal-clear visualization of the project.
For planning, we decided to use mainly these two tools:
BIM 360 Docs: For documentation management; such as construction blueprints, 3D models and general documents.
BIM 360 Team:For the real-time collaboration of different Revit models from different locations.
The biggest perk of BIM 360 is the versatility of the project visualization. The client could literally see the up to date 3D version of their project on their phone on New Zealand. Additionally, they could collaborate real-time on the platform. They could make annotations about the design or leave notes to subcontractors. As a result, consultants had a greater understanding of what was need for the project execution.
On the other hand, we had other tools for design execution:
Revit + Dynammo: To create BIM parametric models.
Navisworks manager: Engineer coordination and clash detection.
Revit Live + Prospect: For better design conceptualization through virtual reality.
The goal of using these tools was to deliver an immersive experience to the client, where they had total knowledge of the project development. Meaning they could ask for changes in advance. Therefore, changes occurred during the virtual work of the project, not on the construction site.
Later on, we developed an integration of Autodesk Forge to connect BIM 360 data with Fisher and Paykel's ERP. We could make use of their budget system, information boards, and data analysis systems to optimize processes and identify risks in a timely manner.
The results
We achieved the level of collaboration required, meaning we all had a clear objective and we worked accordingly. The client was involved from beginning to end and it showed. We succeeded in delivering the project in 11 months, just in time. On specifics we were able to accomplish:
Constant information stream and integral collaboration

50% reduction in time of document revision

95% clash detection reduction, usually found onsite.

Reduction of design changes. The client understood the design and have a clear vision of how it was going to look. This was a result of constant virtual reality walkthroughs in every area. They would do a lot of changes in colors, either on walls, spaces or tiny details. A lot was set during this.

Greater ability to respond to any change in project requirements.

Real-time information based on the latest version of the project.
All things considered, we can ensure that BIM is a remarkable framework that has helped us from start to finish. When coordinated correctly, results can be amazing. In this project, we were able to save time, effort and costs for every party involved.
The client received its project on time and in form, with the expected high-quality standards of a medical facility. As well, we were able to work without drawbacks, meaning more productivity and less waste.
In short, achieving this kind of collaboration is key. The future of the construction industry relies on the constant innovation of our process. That's why Hermosillo is always looking far ahead. We build and design under world-class international work standards, to fulfill our client's vision.
Based on this text.