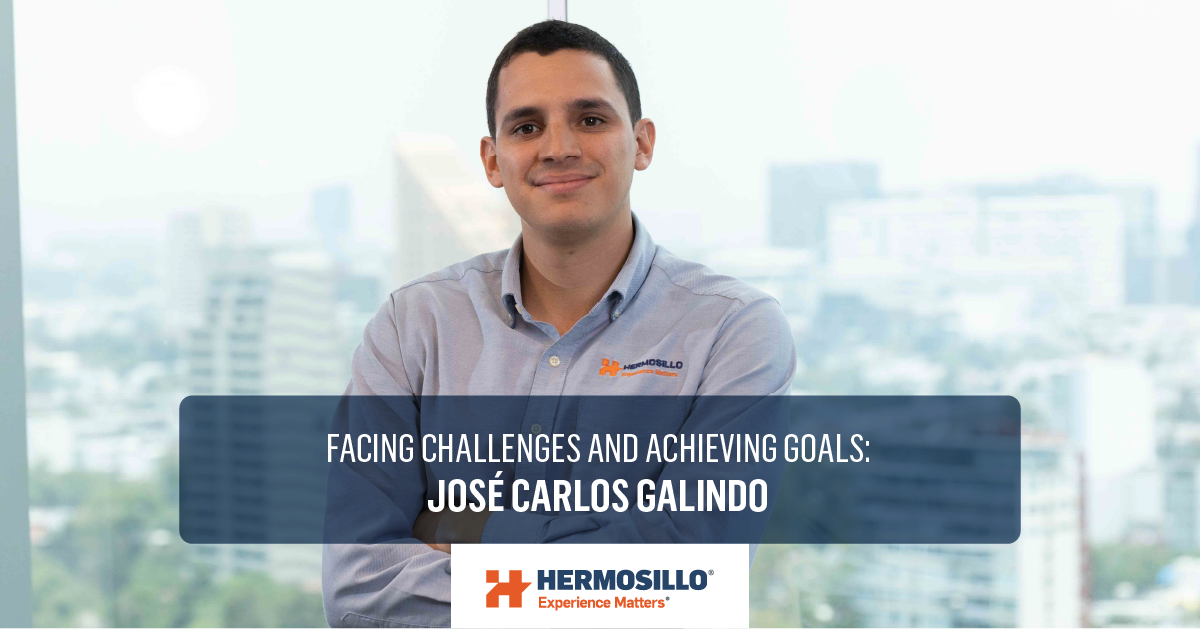 In the changing environment of the design and construction industry, the presence of passionate collaborators is essential to address the challenges in each project. One of these collaborators is José Carlos Galindo, who holds the position of Project Leader in Hermosillo. With extensive experience, learning, and dedication, José Carlos has become a key element in successfully executing our projects. Please keep reading to learn more about his career trajectory.
How would you describe the culture of Hermosillo and its focus on quality of work?
I describe the culture of Hermosillo as humane and serviceable. The Group strives to instill different values ​​in us aimed at customer service and the person's role in society.
Concerning customer service, this encompasses quality, time, cost, and safety – the aspects by which the client trusts us to carry out their projects. We take care of every detail and make your satisfaction a priority.
Regarding the role of Grupo Hermosillo's collaborators in society, it is based on implementing values such as respect and daily family life.
What motivates you in your daily work?
I find motivation in myself. I am a person who seeks challenges in all areas of my life, professionally and personally. I believe every project is a challenge. I always seek to improve, grow, and learn. If you enjoy and do what you do passionately, the rewards and recognition will come by themselves.
Likewise, a constant is that in the projects I have participated in, I always make excellent friends, which creates a good atmosphere in the office and makes everyday life enjoyable.
How do you manage the balance between work and your personal life?
Everyone involved in the construction field knows it's a very demanding profession. It's essential to seek a balance to avoid falling into the wrong routine. I believe this is something that you learn as time goes on. In my early projects, it was challenging for me to find that balance. However, little by little, you have to get organized and realize that if you feel good, it will be reflected in the project.
In my case, the approach is to disconnect from work-related thoughts when I leave the site and save them for the next day. I seek to spend time with my loved ones and enjoy the weekends as much as possible. I love traveling, and it's the best way to maintain this balance because it disrupts your routine.
What activities do you like to do in your free time?
I am a sporty person. I enjoy playing soccer, and I usually join teams with friends. I regularly go to the gym, swim, and ride my bike.
On the other hand, I love spending time with my loved ones, going to the movies, and, without a doubt, traveling. I'm the kind of person who seeks to explore new places whenever I can. I travel to a nearby destination every month, and I try to go to a more distant place twice a year.
What skills are essential for a successful Project Leader, and how have you developed these skills in your career?
For me, the key to construction is understanding that all parties involved seek the same goal, whether the client, contractor, or subcontractor. Therefore, follow-ups and honesty are crucial.
We rely on third parties, and teamwork is important. As they say in Mexico, "be a pebble in the shoe" of the persons we depend on, reminding them of their commitments and being open to help. I always ask, "Is there anything I need to know or something I can do to help you fulfill your commitment?". I prefer to identify the problem and work together to find a solution or raise my hand in time to collaborate and seek a solution. We all need to head in the same direction.
What is the biggest project you have been a part of, and what was your role in it?
All the projects I've participated in have left an impression on me. However, the one I consider the most challenging up to this point and that I took the most pride in upon completion was "Amazon Sort Center Escobedo."
My role was Project Leader, and the project was a Build-to-Suit. The challenging part was the timeline, with beneficial occupancy just four months after the start and substantial completion six and a half months later. Additionally, supply chains were recovering from the pandemic then, so it required a significant effort to meet the client's goals and needs.
Today, I can proudly say that we succeeded thanks to the teamwork achieved during the project and all the professionals involved.
How do you ensure your work has minimal environmental impact?
For some years now, Hermosillo has been a pioneer in Lean Construction, and I find a strong relationship between this culture and the environment. The foundation of Lean Construction is to eliminate waste of any kind, whether it's material, time, etc. So, by implementing it correctly, you ensure that you only use what you need for the project, avoiding having excess material that often ends up as waste.
What advice would you give someone interested in entering the design and construction industry?
Something that worked for me, and I believe applies to any position related to construction, design, budgeting, management, etc., is starting a construction career on-site as a Resident or Site Supervisor. It's the best way to learn and prepare, understand construction processes, and grasp a project's dynamics from the execution side. Later, you can move to other departments, but no one can tell you how it's done because you've already experienced it. Don't compare yourself; everyone has their timing.
How has studying a master's degree abroad been, and how has the company supported you?
I am currently abroad studying for a master's degree. The purpose of this is to prepare myself and be able to contribute the knowledge I acquire to the company upon my return to Mexico. The reality is that the company fully supported this decision. I received a lot of support from Mauricio Rodríguez, the Chief Operating Officer of the Ciudad de México Business Unit, and from the senior management of the group, Pablo Álvarez and Rafael Romano. The program I am enrolled in is entirely focused on construction management with modules in engineering, finance, and ESG.