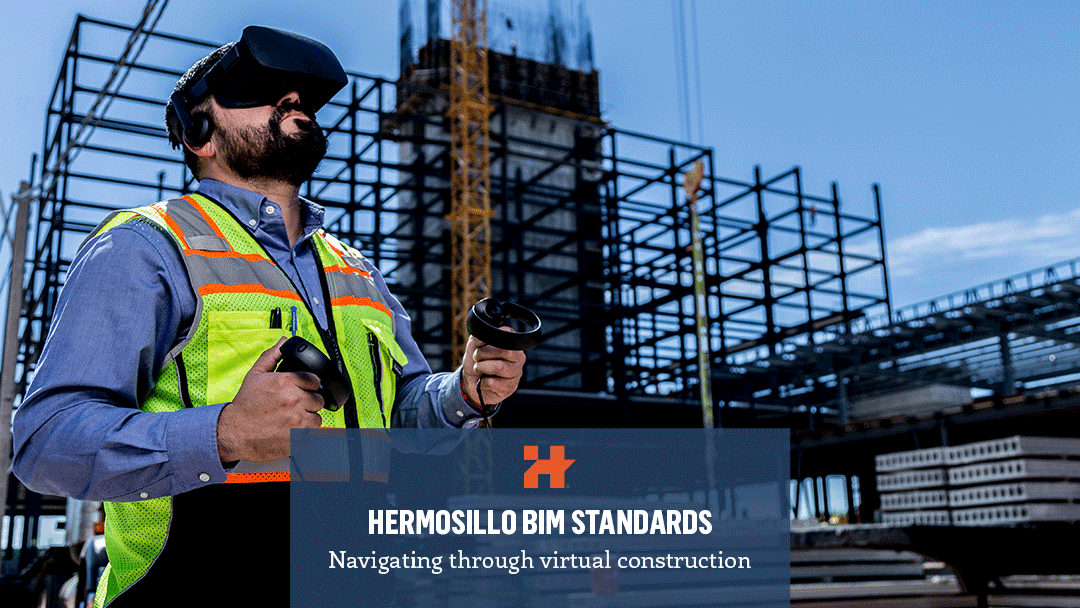 We are passionate about continuous improvement. We've always thought that if there's a better way to do things, we will aim to achieve it, the Hermosillo way. So, since we started in 1963, we knew we wanted to deliver quality experiences for our clients. We say experiences because we believe that quality should be perceived from the beginning of any project; from the bidding phase to its completion and delivery.
For this reason, we've been working passionately on enhancing our process. 
During the last few years, it has been abundantly clear that people in construction (and life) value the following points:
Clarity throughout the project. Everyone likes to know what is happening with their investment. 

Knowing what to expect and how to expect it. 

People who keep their promises.
That's why we created the Hermosillo BIM Standards. A system we've been implementing to promote the effective execution of BIM practices within our teams. It consists of a series of frameworks divided in 3 phases: modeling, coordination, and collaboration. The ultimate goal is to achieve the points we mentioned above. 
In this post, we're going to explore how the system works for us and for our clients. Our purpose is to give a clear picture of how we've been able to deliver projects in 72% less time. We'll cover the collaborative process we go through, and the importance of communication, to finally deliver the final product.
First steps: Defining the goal, teams, and tools. 
First, we have to know where we are going.  What are we building/designing? What are the requirements? When is it needed? Where is it located?
Then, when the project scope has been defined, we form multidisciplinary and experienced teams to successfully accomplish each goal of the project.
Lastly, we make sure to communicate our collaborative process among teams using the most efficient tools to execute the client's requirements. Something like this: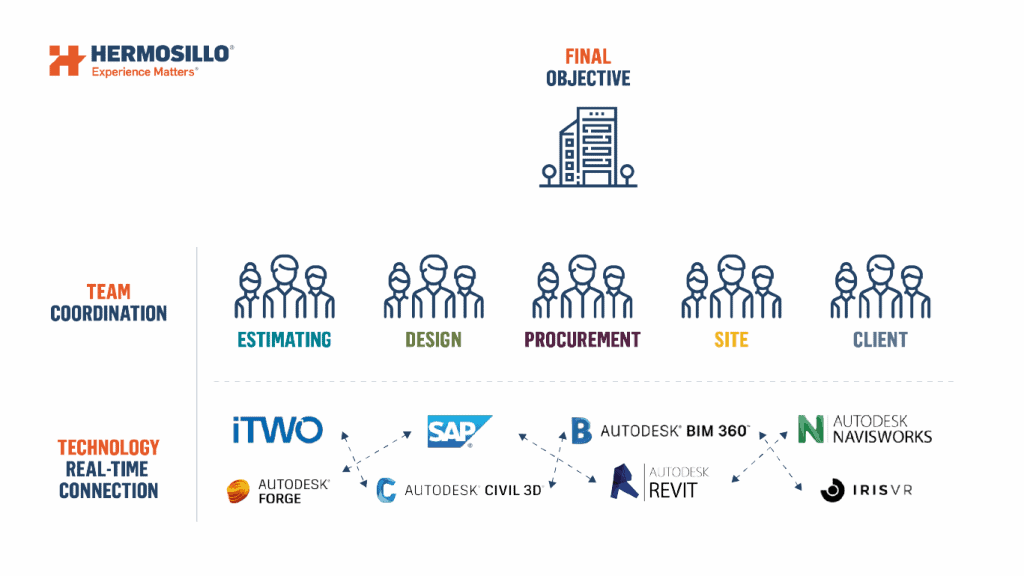 Knowing where we are headed is crucial. Delimiting the path contributes to creating the right communication flows and keeping the information timely and relevant. Also, it's worth noting that what we are striving for is to reduce re-works, delays, "mistakes", and going over budget in a systematic way. More on that here.
The process: Hermosillo BIM Standards
To achieve consistent results, you need a well-structured process. We created a work cycle to enhance our virtual work, utilizing BIM as a central component. It consists of 3 phases, which are, as we stated, cyclical: design, coordination, and collaboration. Each one has its own goals and final products, but the cruciality of HBS lies in its interpolation. Here's how we do it. 
| Related: HOW TO USE BIM IN THE CONSTRUCTION SITE: APPLICATIONS AND BENEFITS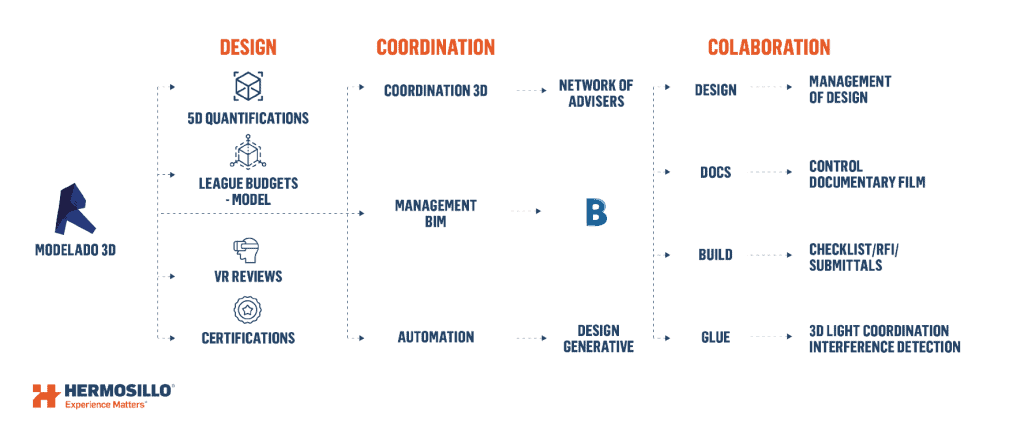 1. Design
Main Virtual Tool: Revit
This is the starting point, where we establish the foundations for the whole design process. There are 3 crucial steps in this phase.
Hermosillo BIM Execution Plan: Along with LOD Planner, this document has the plan for the development of the BIM model during the project's life cycle.
LOD Planner: Its goal is to achieve the requirements of time, quality, and resources. It is a very detailed document that contains the level of development required on the project (hence, the initials LOD).
BIM Kick-Off Meeting: The whole team, including trade designers, gets together to discuss the design schedule and to establish the BIM uses of the model.
Once this is all set, the design process starts.
The ultimate goal is to end up with a federated model, the result of combining several different models into one (or importing one model into another). It consists of 8 or more different ones.
Architectural
Civil
Structural
Electrical
Plumbing
HIVAC
Fire Protection System
Fire Alarm System
Special Systems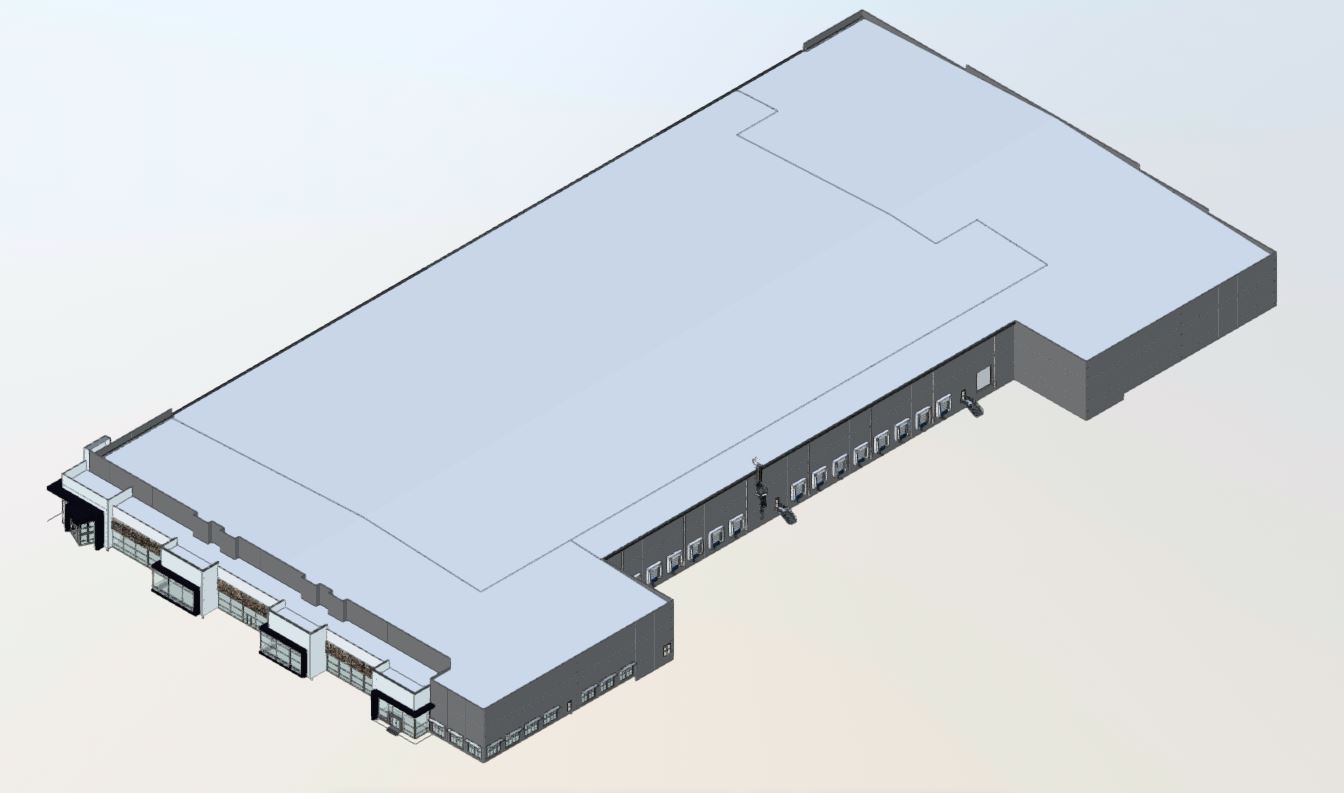 After this, we are able to move forward to the next step of the process.
2. Coordination
Main Virtual Tool: Navisworks
This is when we certify everything is working properly within the design. It is the spatial coordination of the project with all the systems integrated into the virtual construction of the building. As the previous step, in this phase, we have important documentation too: Coordination Process Manual, 4D Connection Manual, and Action Tracker, which allows us to trace each issue. The goal is to have a framework that promotes early clash prevention during the design phase.
To achieve this, we run tests on every system against each other to detect any clashes. For example, structural model vs air conditioning model, architectural model vs mechanical model, and so on.
Our coordination process goes like this:
Federation: Compilation of trade models
Detection: Identification of clashes among trades
Report: Documentation and tracking of clashes
Assign: Communication through BIM 360
This allows us to be precise and detect any design flaws that may cause drawbacks in the construction process. Clash detection looks something like this: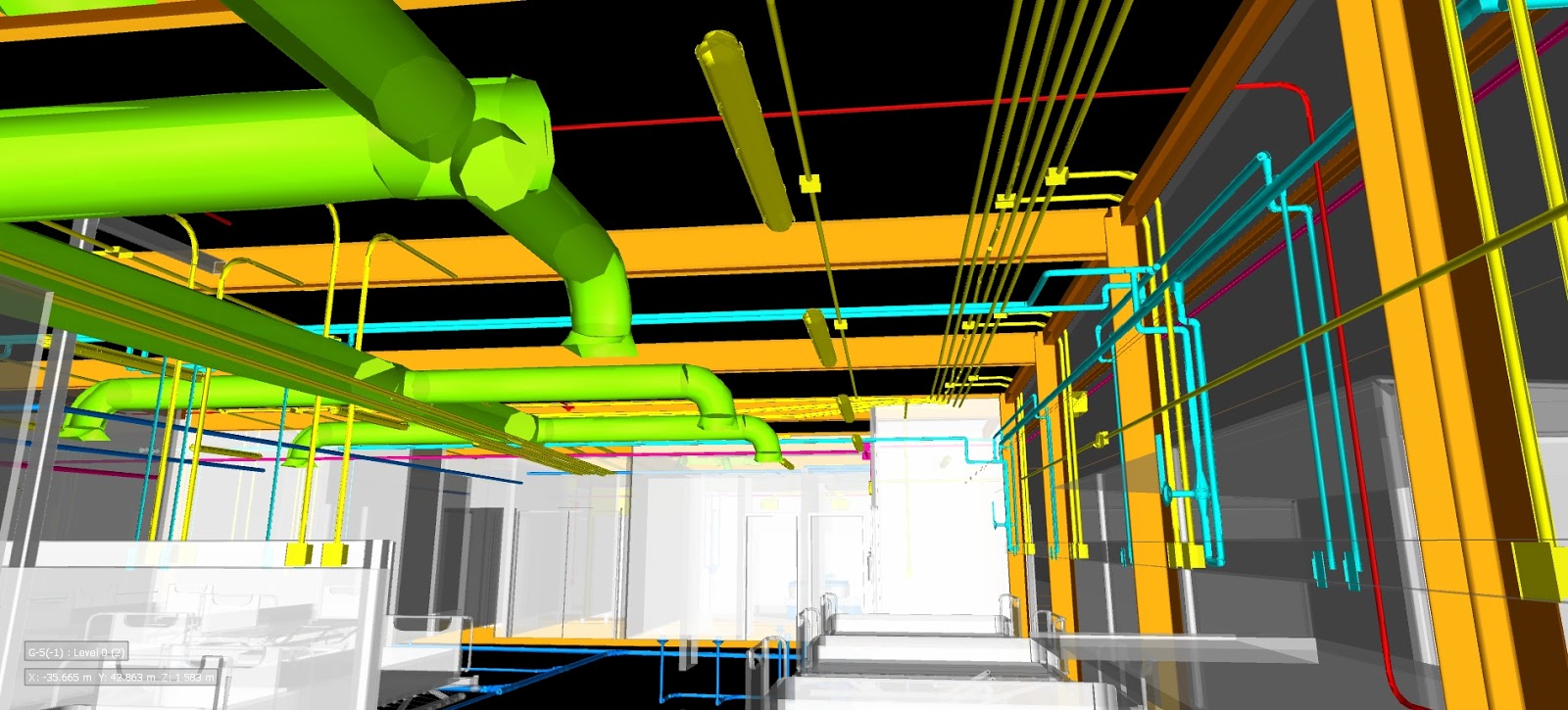 Furthermore, we integrate the construction schedule so we can take our BIM model to the next level by creating a 4D Construction Simulation, which provides an accurate visualization of the construction process and site logistics, taking into consideration the planned duration of each activity required to build the project.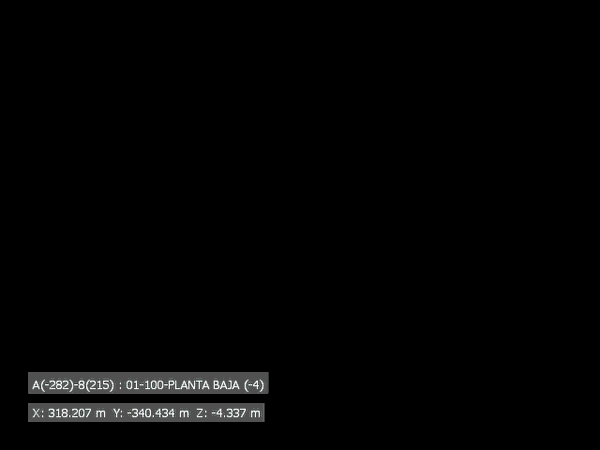 To maximize results, teams must be aware of the changes that the project may experience after the detection of clashes. This is when collaboration is key, and that brings us to the next phase.
3. Collaboration 
Main Virtual Tool: BIM360
This is basically the core of project management. We use BIM, to centralize information of every team involved in the project. As a result, we have a centralized, standardized, real-time source of information. It allows us to make well-informed decisions in a timely manner. Information is power, and when used wisely, the results are apparent.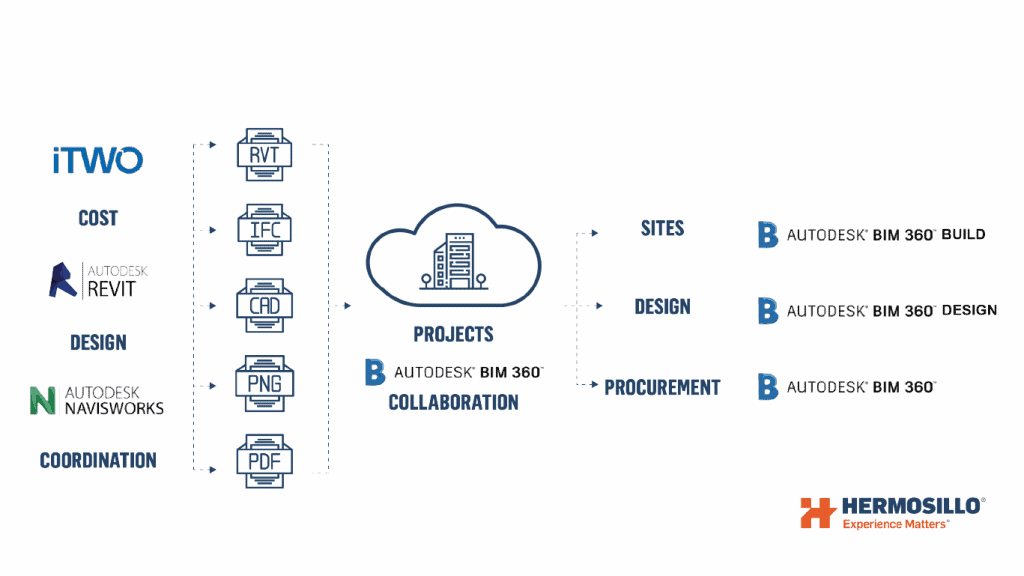 The challenge of this phase is on the reliability of said data. That's why it is important to establish frameworks of documentation to keep the project up to date.
Here is where everything is crystal clear for our clients. During the project, they receive capacitation and orientation on how to use BIM 360. This results in access to real-time information on the progress of their project.
Results of Hermosillo BIM Standards 
So, what are we achieving with all of this? 
As Arturo Flores, one of our VDC Managers at Hermosillo stated, "Promoting the application of the Hermosillo BIM Standards in our projects has allowed us to integrate each individual workflow into a more cohesive and leaner framework, focused on taking full advantage of pre-construction models to have better-informed teams, which end up taking better and timely decisions." 
Moreover, we are able to reduce 95% clash detection, usually found onsite. We work more efficiently, and more importantly, our clients experience a level of closeness rare in the construction industry. We make sure we deliver quality on time and on budget. But we also take into consideration the experience of our clients during the whole process. In short, we are able to achieve: 
Accurate visualization: we make it as real as possible. The design is clearer for our team and for our clients. 

Design optimization: Errors are significantly reduced. Hence, fewer re-works and waste of time. 

Design Coordination: Communication between our designers assures that there will be fewer clashes, errors, and conflicts in later stages. 

Cost estimation: Quantities are available at the early stages of the project, therefore quantity take-off can be automatically driven.