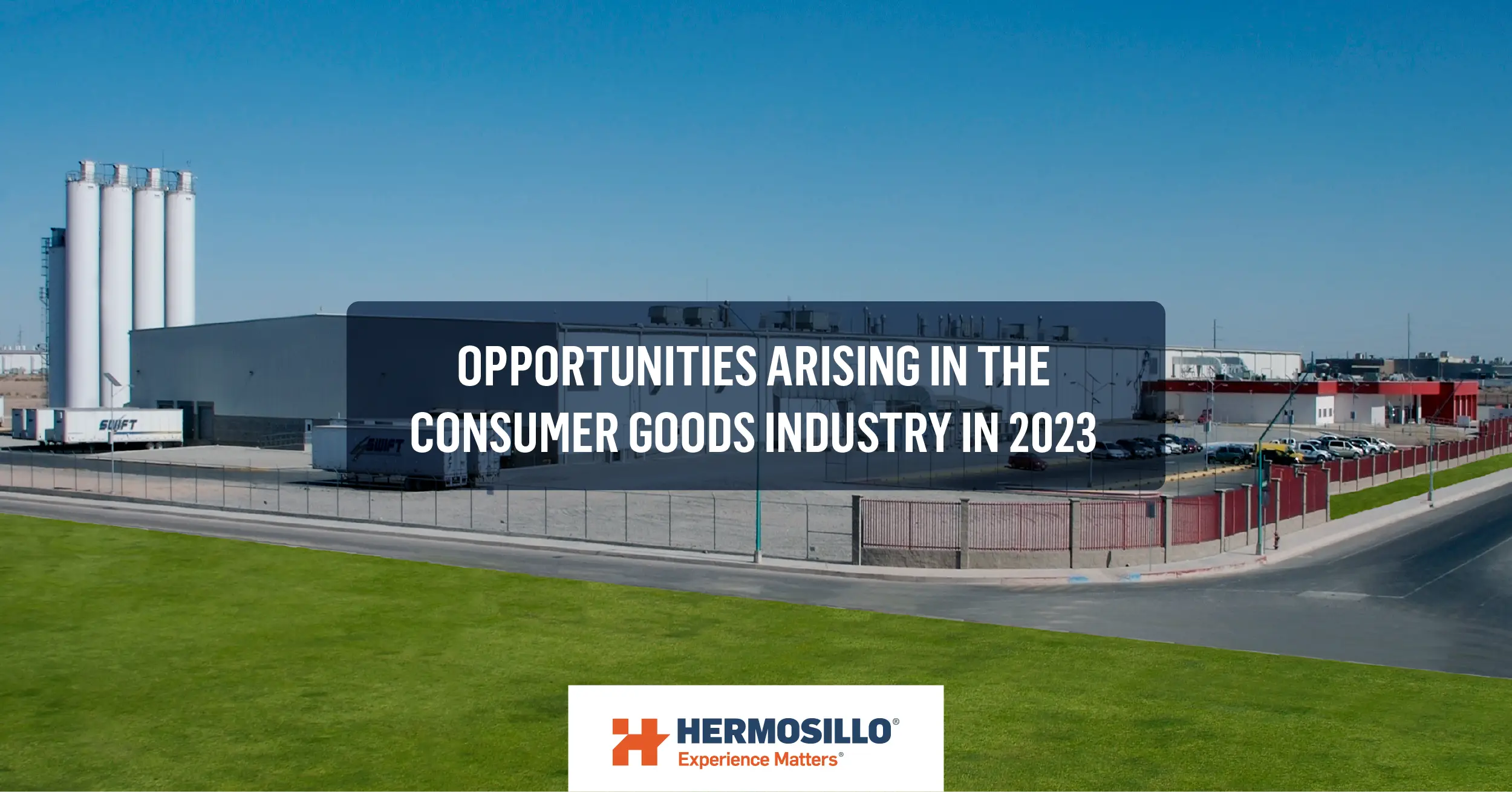 The consumer goods industry is considered one of the world's most important fields. It is an essential part of every economy, as it provides people with products and services they use daily.
Right now, it is going through many changes globally. Changes have been occurring quickly since the pandemic of 2020 and are raising challenges, mainly related to cost increases, supply chain setbacks, and labor shortages. This situation is a significant part of why Mexico quickly becomes the logical choice for manufacturing consumer goods.
So, what initiatives are consumer goods manufacturers implementing to face those challenges, and why are they considering investing in Mexico? These are the questions we are set to answer in this blog post. Read on and discover what's new in the consumer goods industry in 2023.
What is the Consumer Goods And Services Industry?
This industry involves acquiring raw materials to process them into end products for consumers. It covers food and beverage, household goods, personal care, and apparel.
Consumer Goods Industry in Mexico Overview 
The consumer goods industry has experienced steady growth over the years, fueled by the growth of the middle class, rising consumer spending, and a growing population. Its relevance is demonstrated in how predominant consumer goods are in everyone's lives. About 47% of the expenses from Mexican households are for consumer goods; this includes meat, cereals, milk, fruits, personal health, and cleaning supplies.
In 2020, Mexico's consumer goods industry represented 13% of the country's gross domestic product. The same year, due to the pandemic, the world radically changed its consumer habits. The more noticeable shift was online shopping. In 2020, e-commerce grew in one year, the equivalent of five years of growth. From 2016 to 2019, this industry grew 1.8%. In 2020, it was 10.4%.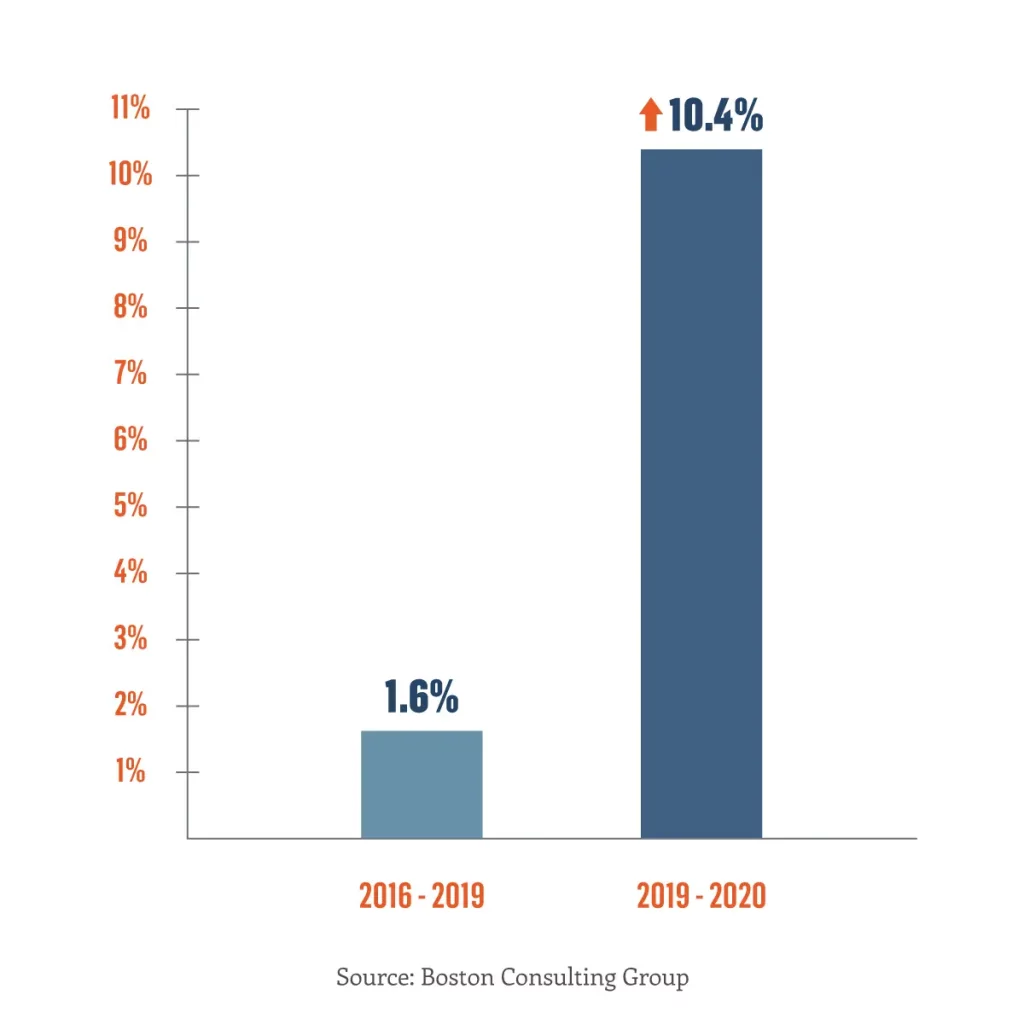 Since then, there have been 60% more businesses within the industry. This growth is expected to keep coming. The Mexican Online Sales Association estimates that the domestic eCommerce sector was worth USD 19.7 billion last year, an increase of 27% over 2020.
Consumer Goods Opportunities in Mexico
Now, the Mexican consumer prioritizes food, medicines, and healthcare products. They are now more conscious about the types and benefits of brands they consume and value sustainable and socially responsible companies.
These changes have opened new opportunities for investors to develop strong businesses in the country. Some of these markets with opportunity growth are:
Natural and organic food is produced and bought locally.
Health and beauty products.
Consumer electronics: TV screens, tablets, computers, printers, smartphones.
Household goods, housewares, and appliances.
Furniture for home office.
Indoors work-out equipment.
Cleaning and sanitizing products.
Toys, games, and video games.
Arts and crafts.
Musical instruments.
However, this growth comes with a new set of challenges.
Consumer Goods Industry Challenges
The greatest challenge for the consumer industry is keeping up with the ever-changing consumer. The challenges companies face in 2023 are inflation, labor shortage, and supply chain issues.
Inflation: As the world recovers from the COVID-19 pandemic, many countries are experiencing inflationary pressures. Rising commodity prices, supply chain disruptions, and fuels cost increases, including energy, are some of the factors driving inflation.
Labor: The Consumer Goods Industry requires a qualified workforce to support manufacturing. A shortage of skilled labor can lead to higher costs and a less efficient manufacturing process.
Supply chain: The COVID-19 pandemic has highlighted the fragility of global supply chains, and the consumer goods industry is one of the most affected fields. Supply chain disruptions can significantly impact the timely delivery of products, leading to lost sales and revenue.
So, what are global consumer goods businesses doing to overcome these challenges?
Trends & Opportunities
CREATIVELY TRANSFORMING
Consumer Goods companies should embrace transformation through divestitures and portfolio optimization. Vertical Integration is a popular option that involves owning more parts of the supply change. This ownership gives them more control, ensures supply, and protects margin from cost increases. It also improves efficiency and traceability, translating into more raw data for the company to make decisions.
DRIVING DATA THROUGH SUPPLY CHAINS
The supply chain is essential for any consumer goods company as it will dictate overall operational status. The shift is heading into building local manufacturing facilities and distribution centers that are accessible, well-located, and sustainable. Mexico offers a wide range of opportunities, particularly location-wise. The country's proximity to the US provides several advantages, including reduced transportation costs, shorter lead times, and easier access to the growing Latin American market. This phenomenon is called "nearshoring." Mexico will benefit from the companies that divest in other countries and establish manufacturing facilities here.
PRIORITIZING ESG
Now more than ever, customers seek sustainable products. Environmental, Social, and Governance initiatives are the golden rule now. Some ESG initiatives global leaders within the industry are implementing are reusable packaging, sustainable sourcing of materials, and climate-smart practices.
OUR EXPERTISE: Consumer Goods Facilities Examples
We have built Consumer Goods facilities for global brands like Coca-Cola, Kellogg's, Heineken, P&G, and The Home Depot, all over Mexico. Here are a few examples: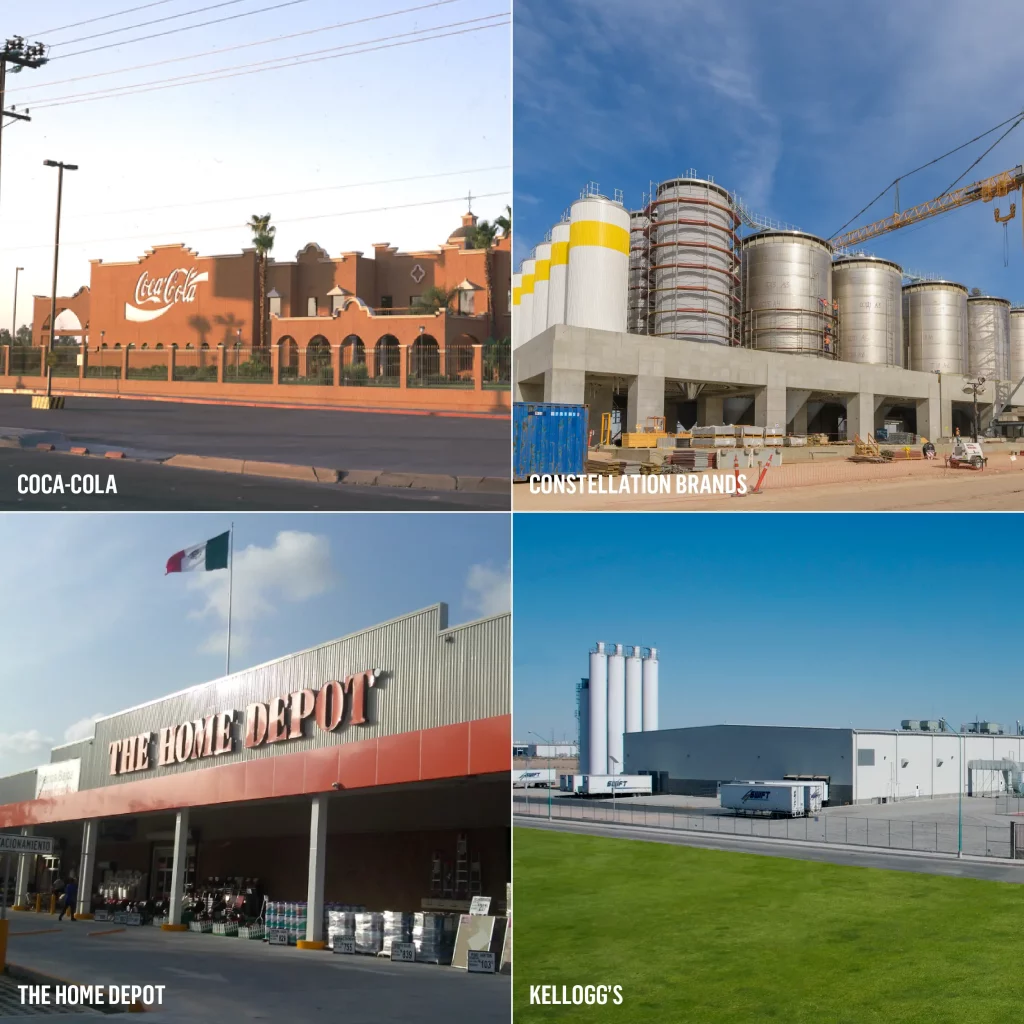 Related: Hermosillo delivers store no. 24 for The Home Depot in Querétaro
Wrapping Up
This year is all about nearshoring, costs, and efficiency. Targeting and focusing on improving these three factors will guarantee success for consumer goods manufacturers.
Despite the challenges, the industry is poised for continued growth, with companies adapting to changing consumer needs, overcoming supply chain setbacks, and leveraging technology. The keys to succeeding in this changing environment are strengthening their product line, enhancing the local supply chain, and implementing solid ESG policies.
Mexico is becoming the golden choice for manufacturers because of its skilled labor and strategic location. For this reason, investors must partner with industry experts to guide them through their projects.
We understand the changes that are going through the Consumer Goods Industry. Hermosillo is an ESG company that seeks to innovate in every project we work on. As local experts, we are ready to guide our clients through every step, from site selection until the facility is fully designed and constructed.