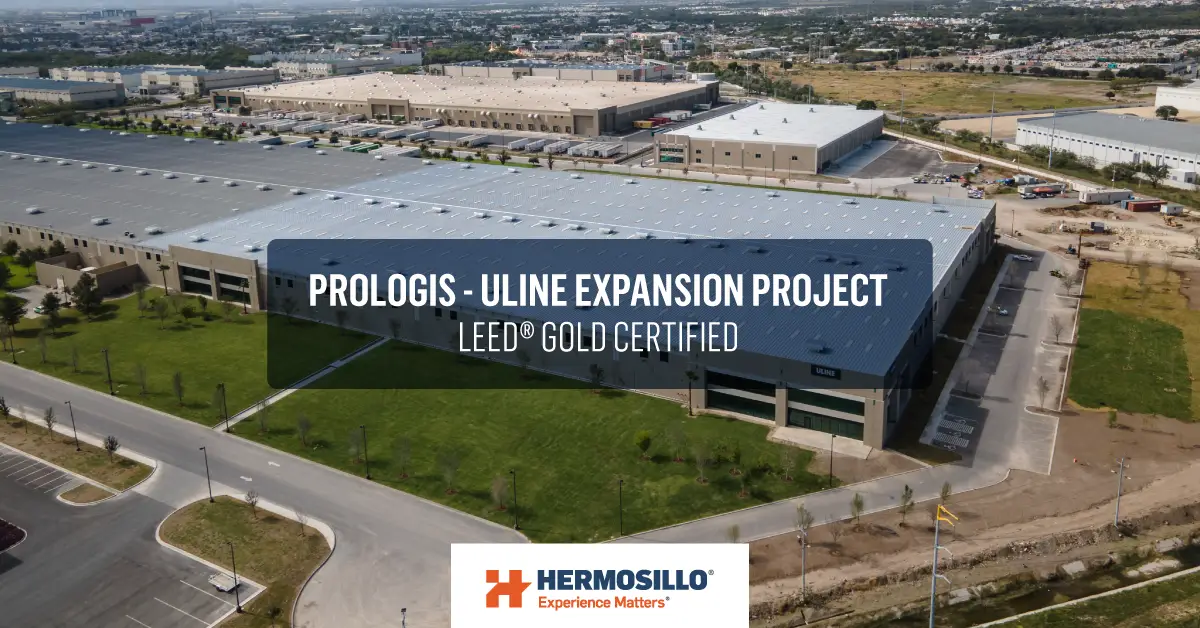 In Hermosillo, for 60 years, we have sought to protect the environment by developing projects that reduce environmental impact in the construction industry. We present our clients with viable options to help create more "green" projects, such as buildings certified under LEED® guidelines. That is why, with great satisfaction, we proudly announce that our ProLogis PPA6-ULINE expansion project in Apodaca, Nuevo León, has recently been certified as a LEED® Gold building.
LEED® CERTIFICATION
The United States Green Building Council® (USGBC®) has created LEED® (Leadership in Energy and Environmental Design) as a standardized evaluation and certification system for sustainable building design, construction, maintenance, and operation. It is the most recognized certification program in the construction industry internationally, with more than 100,000 projects participating in around 180 countries and territories.
This certification has four levels:
LEED® Certified. 40–49 points.
LEED® Silver. 50–59 points.
LEED® Gold. 60–79 points.
LEED® Platinum. 80 or more points.
A more excellent investment is necessary to obtain more points, resulting in a higher level of compliance with environmental recommendations for ecosystem protection and a more substantial positive environmental impact.
Our ProLogis PPA 6 EXP ULINE project has obtained the Gold certification, with 61 points in its evaluation. This achievement demonstrates our client's commitment to developing projects that meet rigorous environmental protection criteria, such as energy savings, better air quality, sustainable materials, and better water management. The project was evaluated in various categories, including:
Sustainable sites (obtaining 15 out of 18 points)
Water efficiency (8/10 points)
Energy and atmosphere (23/37 points)
Materials and resources (5/13 points)
Indoor environmental quality (6/12 points)
Innovation in design (2/6 points)
Regional priority credits (2/4 points)
Please read our blog post to learn more about LEED® Certification and its importance in construction.
PROJECT SPECIFICATIONS
We worked on the design and construction of the expansion of a ULINE building for our customer ProLogis, a world leader in industrial real estate development, a company which we have had the opportunity to work with for more than 20 years, developing more than 50 projects in different cities of our country.
ULINE is an American company that offers more than 41,000 products related to packaging, commercial, and cleaning supplies. It has distribution centers in several US cities and two located in Mexico. ULINE hired us to complete the Tenant Improvements (TI's), which involve the adjustments to the interior of the warehouse necessary for its distribution center to be able to operate.
This project has a total surface of 303,615 square feet and is located in Apodaca, Nuevo León. The design and construction process was completed in 10 months, ending in October 2022.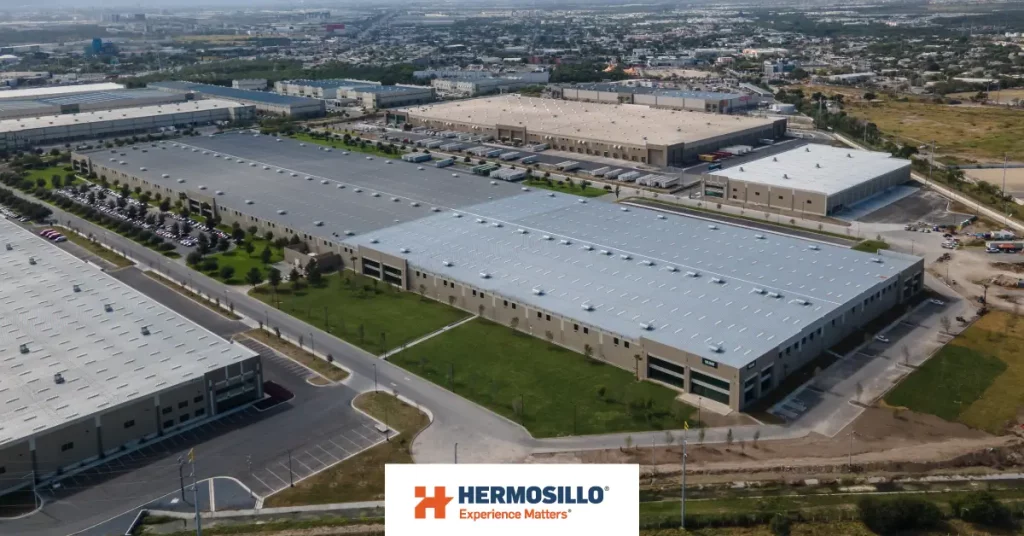 DEVELOPMENT
Both clients trusted our company to develop the project under the design/build and fast-track schemes. As a result, we simultaneously designed and built the industrial facility and the TIs, reducing the total project cycle time.
One of the main challenges we faced in this project was relocating the existing Tilt-Up concrete walls from axis 21 (the limit of the original warehouse) to axis 33 without disrupting ULINE's operations, which, we are pleased to mention, never stopped. This was achieved because we maintained clear communication, close coordination with the client, and detailed logistics and planning following the LEAN Construction methodology.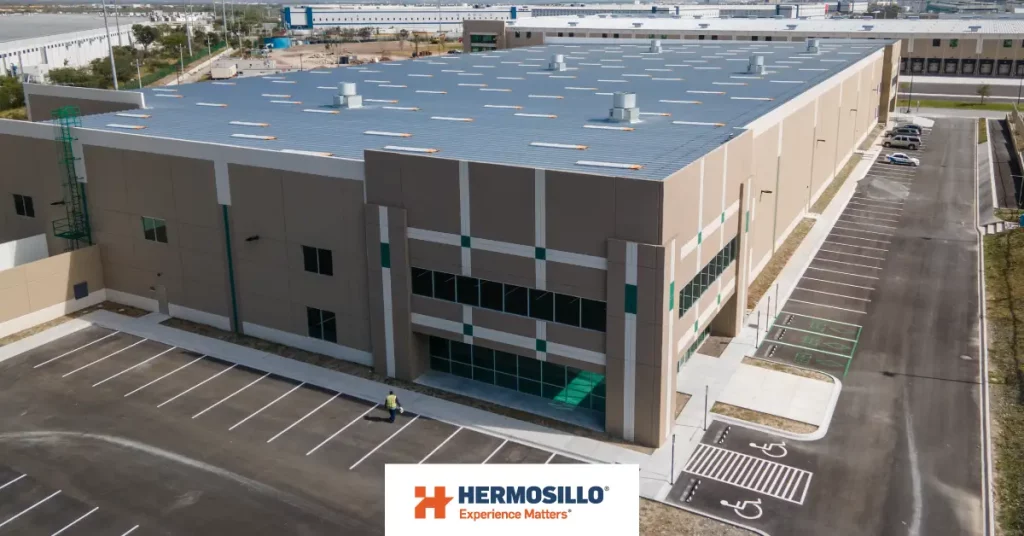 WRAPPING UP
Throughout our 60 years at Grupo Hermosillo, we have been dedicated to developing design and construction projects that help protect our environment and improve the quality of life in our communities. We are thrilled to announce that our latest project has been awarded LEED® certification, marking it our 26th certified project.
LEED® certification is an essential tool for promoting sustainable and energy-efficient construction worldwide. We thank our customers, ProLogis and ULINE, for caring about our planet. We recognize their efforts to create projects where we can meet and exceed the most rigorous environmental and energy efficiency standards. In Hermosillo, we will continue to strive to fulfill our social responsibility commitment and develop our internal ESG (Environmental, Social, and Governance) strategy so that the sum of green initiatives helps us leave a better planet for future generations.