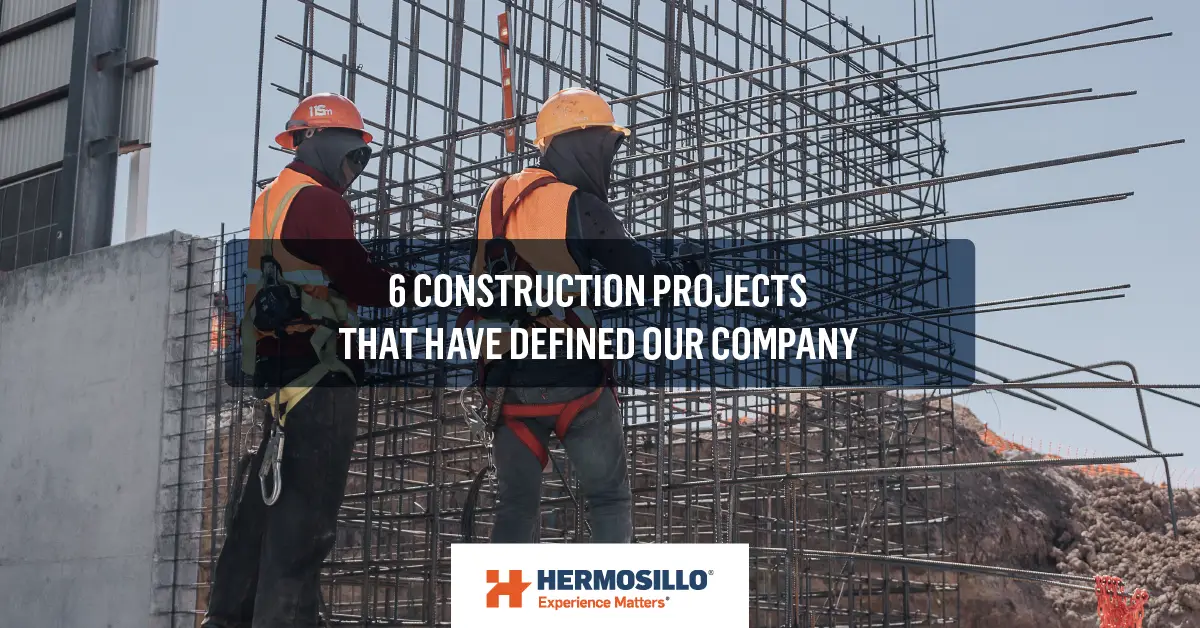 For six decades, we have had the honor of participating in numerous projects that contributed to the development and growth of many industries in Mexico. We are deeply grateful to our customers, who have trusted our team and services since our foundation. In 2023 we celebrate 60 years as general contractors; it is the perfect time to reflect on the road traveled and to feel proud of every achievement.
Below we share a brief journey through some of our most significant projects, as they have influenced our progress to become leaders in the construction industry. Although all of our projects are unique and important to us because they have contributed to our success, the following six stand out for their magnitude, complexity, and great collaborations that originated from them. Without a doubt, these projects marked important milestones in our development.
While celebrating our 60th anniversary, we share six projects that stand out to us because of their magnitude, complexity, and great collaborations that originated from them.
ELECTROLUX: Manufacturing Plant (Ciudad Juárez, Chihuahua)
Our team completed this project in partnership with the renowned international construction company Gray Corporation under a Guaranteed Maximum Price contract. In 2004 we worked on the design and construction of an industrial manufacturing complex for Electrolux in Ciudad Juárez, Chihuahua, in a record time of 10 months.
The site where our team built the manufacturing plant was on the city's outskirts, in the desert, with no power, water, or road to reach it, making it a real challenge. The project covers a total area of 1,680,000 SF (​​156,000 m²), distributed as follows: 862,000 SF for the manufacturing facility, 538,000 SF for the warehouse, 215,000 SF for the plastics plant, and 65,000 SF for the office building. A bridge connects the manufacturing and warehouse facilities to transport electrical appliances between the two floors through a conveyor.
A notable aspect of this project is the incorporation of explosion-proof walls and ceilings in specific sections of both the plastics plant and the manufacturing facility. These areas were meticulously designed and constructed, featuring top-tier reinforcements such as chains and robust fasteners to withstand the potential impact of an accidental explosion. Implementing this safety measure would limit the impact to a single section, effectively controlling the force and preventing extensive damage. Ultimately, this security measure safeguards Electrolux's personnel's well-being and protects the company's valuable assets during unforeseen and extreme circumstances.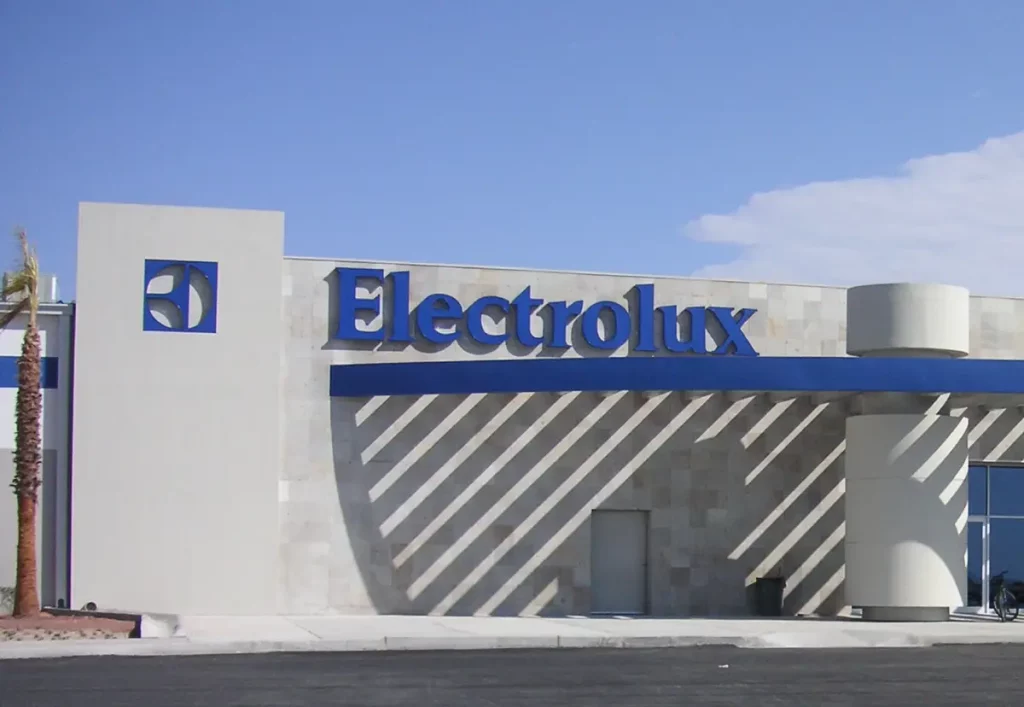 ROSARITO BEACH HOTEL: Front-Beach Resort (Rosarito, Baja California)
The Pacific Tower of the Rosarito Beach Hotel is a 19-story building with 271 condominiums, a swimming pool, two jacuzzis, a bar in the outdoor area, a playroom, and versatile multipurpose rooms. In addition, we created a lounge terrace on the top floor, with a room for events, a bar, and a pool with sea sand.
During the construction of this project, we faced significant challenges, such as strong winds from the Pacific Ocean and a very aggressive 12-month work schedule. However, thanks to the commitment and dedication of our team, we managed to complete the hotel within the established time, meeting all the specifications and requirements of the owner.
This hotel has become a symbol of excellence and quality in the region. It fills us with joy to have contributed to its success, and we are sure it will continue to be a preferred destination for Rosarito's visitors.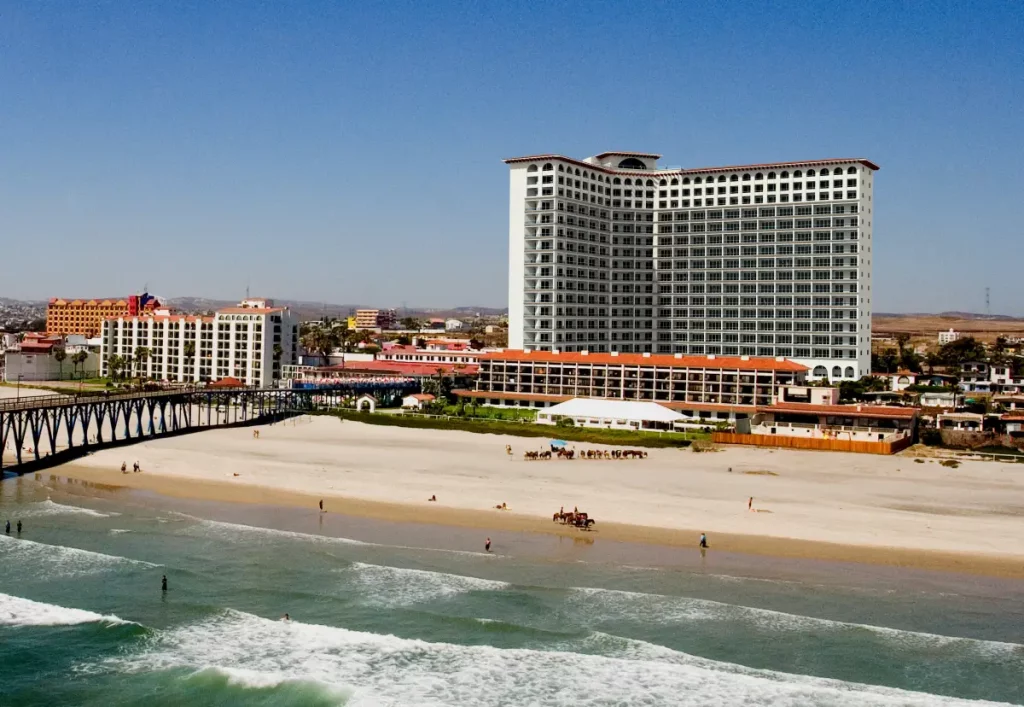 GENERAL MOTORS: Stamping Plant and Body Shop (Silao, Guanajuato)
We successfully accomplished this remarkable project for General Motors in 2016 in collaboration with Barton Malow International, a leading American construction company. This project was a great challenge for us, given its high level of complexity and the need for meticulous coordination with the end user. We had to navigate the construction process without disrupting the ongoing vehicle production, which demanded acute planning and execution.
Our primary goal was to design and build two new facilities within the established Silao, Guanajuato plant to increase vehicle production capacity. In addition, the scope included the creation of the CUC (Central Utility Complex), the CMM (Coordinate-Measuring Machine), and the Conveyor Trestle. Furthermore, we constructed the primary substation, a high voltage line, and a support and service office building to attend to the needs of employees. In addition, the capacity of the step-down substation was increased from 30 MVA to 60 MVA, accompanied by the installation of a 15 km transmission line connecting this complex to a CFE power substation.
One of this project's outstanding engineering and architectural features was the construction of an elevated bridge to link the body shop building and the existing plant, providing a seamless connection between both structures. In addition, the stamping building stands out for having pits and underground corridors that serve as a specialized foundation for the production machines. This approach ensures optimal functionality and stability, catering to the specific needs of the manufacturing process.
Lastly, this project is distinguished by the simultaneous construction of the two warehouses: the stamping plant, with an area of 337,110 SF (​​31,340 m²), and the body shop plant, covering an impressive area of 911,652 SF (84,726 m²). It is essential to mention that the administrative building was one of our first projects executed following the LEAN Construction methodology, emphasizing efficiency and effectiveness throughout the construction process.
We take great pride in highlighting that our team received special recognition from General Motors for achieving 1,000,000 accident-free work hours. This distinction exemplifies our commitment to safety and excellence in the workplace. We are proud to have carried out this project for General Motors, contributing to the growth and enhancement of their facilities in Mexico.
More details about this project are here: General Motors: M5 Case Study.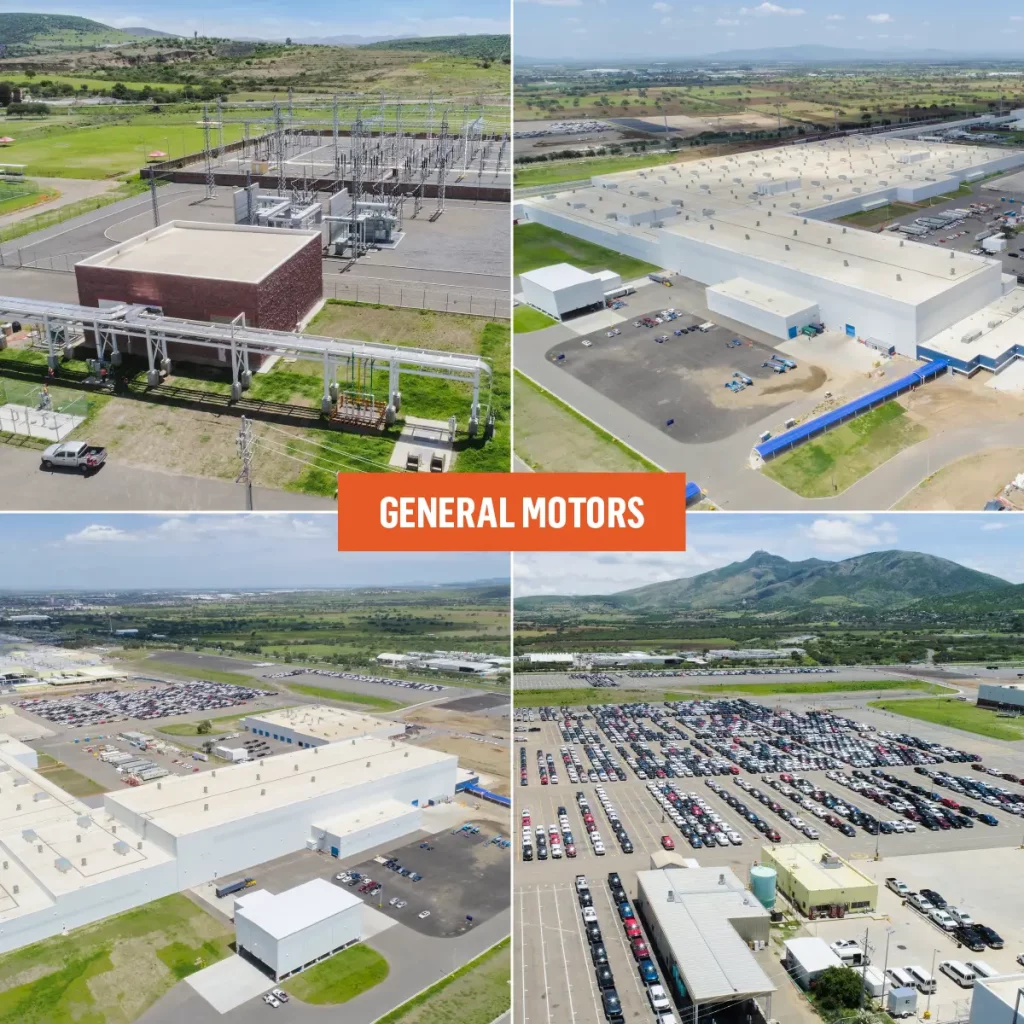 PUNTA ESTE: Mixed-Use Development (Mexicali, Baja California)
Punta Este holds a unique significance as an architectural project for our company since it serves as the home to our corporate and operational office in Mexicali. This location has a special place in our hearts, as it is where Hermosillo was founded six decades ago. This connection to our roots adds a profound sense of pride and nostalgia to the project, making it very meaningful to us.
This mixed-use complex is a unique urban development built in 2017, consisting of an office tower, a hotel, and a two-story shopping plaza. The midrise tower occupies an area of 312,156 SF (29,000 m²) and reaches a height of 220 ft (67 m). This modern structure has 7 covered parking floors and 8 office floors, including a lobby, terrace, cafeteria, and multipurpose areas. The commercial plaza covers an area of 26,523 SF (​​2,465 m²) distributed on two levels, where you can find successful commercial premises, such as restaurants, cafeterias, recreation, and personal care businesses.
To ensure the structural stability of the corporate tower, foundation piles were built more than 30 meters deep due to the low bearing capacity of the soil. We executed the project in its entirety under the LEAN Construction methodology.
The design phase of Punta Este was a significant milestone for us, as it marked one of the first projects where we seamlessly integrated the fourth dimension (cost) and the fifth (time) dimension into our 3D design process. This is how we encouraged a more holistic and efficient approach, along with collaborative work that led to substantial improvement of our productivity during this phase.
We are very pleased to have carried out this important project in our hometown, as it has become an iconic landmark today as the tallest building in Mexicali. This project is a symbol of our dedication to enhancing the urban landscape of our beloved city. We trust that Punta Este will be a source of pride for the people in town and leave a lasting impression as a true icon of the region.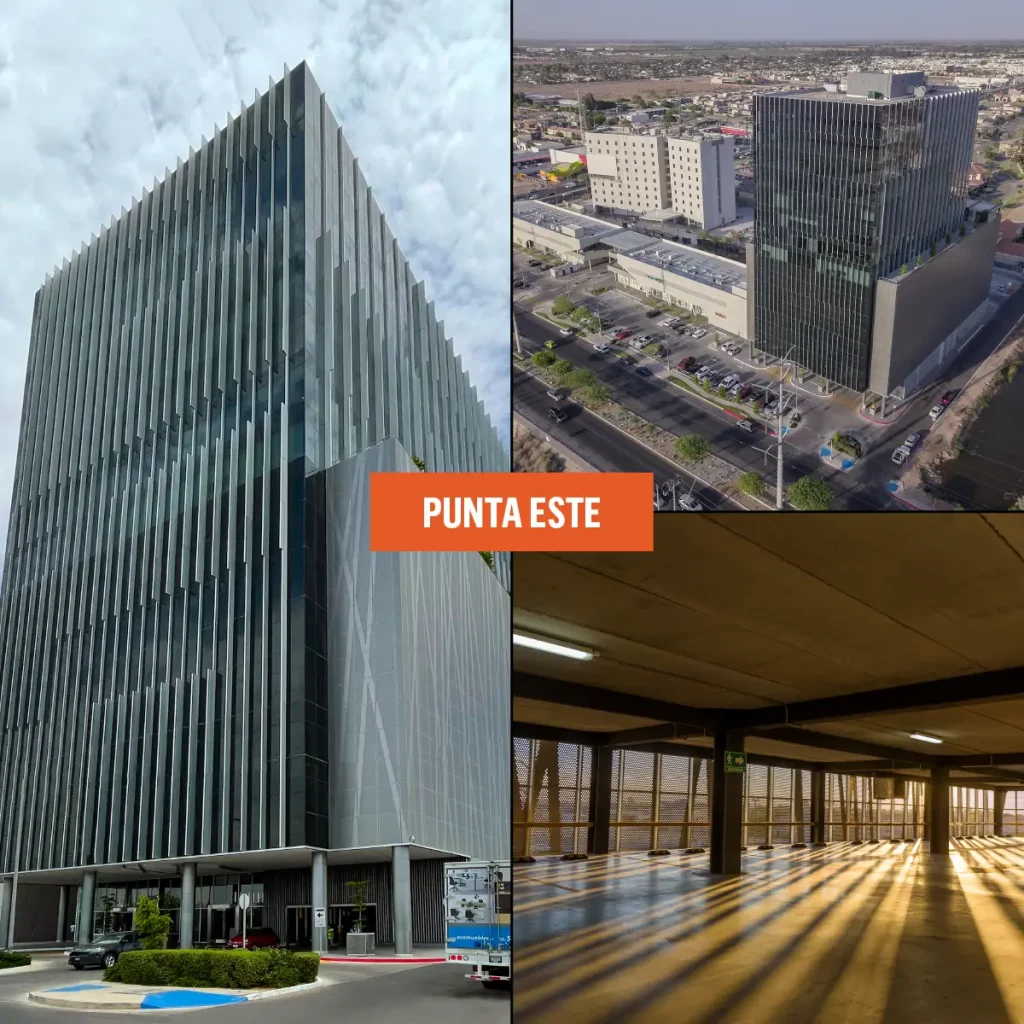 SKYWORKS SOLUTIONS: Semiconductor Manufacturing Plant (Mexicali, Baja California)
The industrial warehouse we built for Skyworks Solutions Inc., formerly Rockwell Semiconductor and later Conexant Systems, Inc, in 1997 in Mexicali, Baja, California, has undoubtedly left its mark on our trajectory.
For this project, we implemented a specialized foundation designed to withstand earthquakes. Also, we mounted the manufacturing plant on a 30 inches thick slab of expanded polystyrene caissons on a unique foundation consisting of sliders and insulators. This foundation protects the building from an earthquake's oscillatory and trepidatory movements, decreasing its intensity and reducing the vibration inside the building.
The construction of the production floor was a remarkable feat, completed through a continuous pour accomplished in a little over 24 hours, showcasing efficiency and speed. With an impressive rate of 80 m3 per hour, we employed three concrete pumps to ensure a continuous flow throughout the process. To reinforce the structure, we placed over 900 tons of high-quality rods, bolstering the strength and durability of the production floor. This guarantees the floor's ability to withstand heavy equipment, machinery, and the daily operations within the facility.
We collaborated with a specialized quality laboratory from abroad that was in charge of supervising the detailed construction of the foundation, ensuring stringent requirements. In addition, to comply with strict regulations and structural integrity, we implemented careful cooling procedures to avoid beam deformations.
Thanks to the dedication of our team and its efficient execution, we completed this 53,800 SF (5,000 m²) project two months early. In recognition, the client awarded us with a productivity bonus for an outstanding performance and delivery of a world-class project ahead of schedule.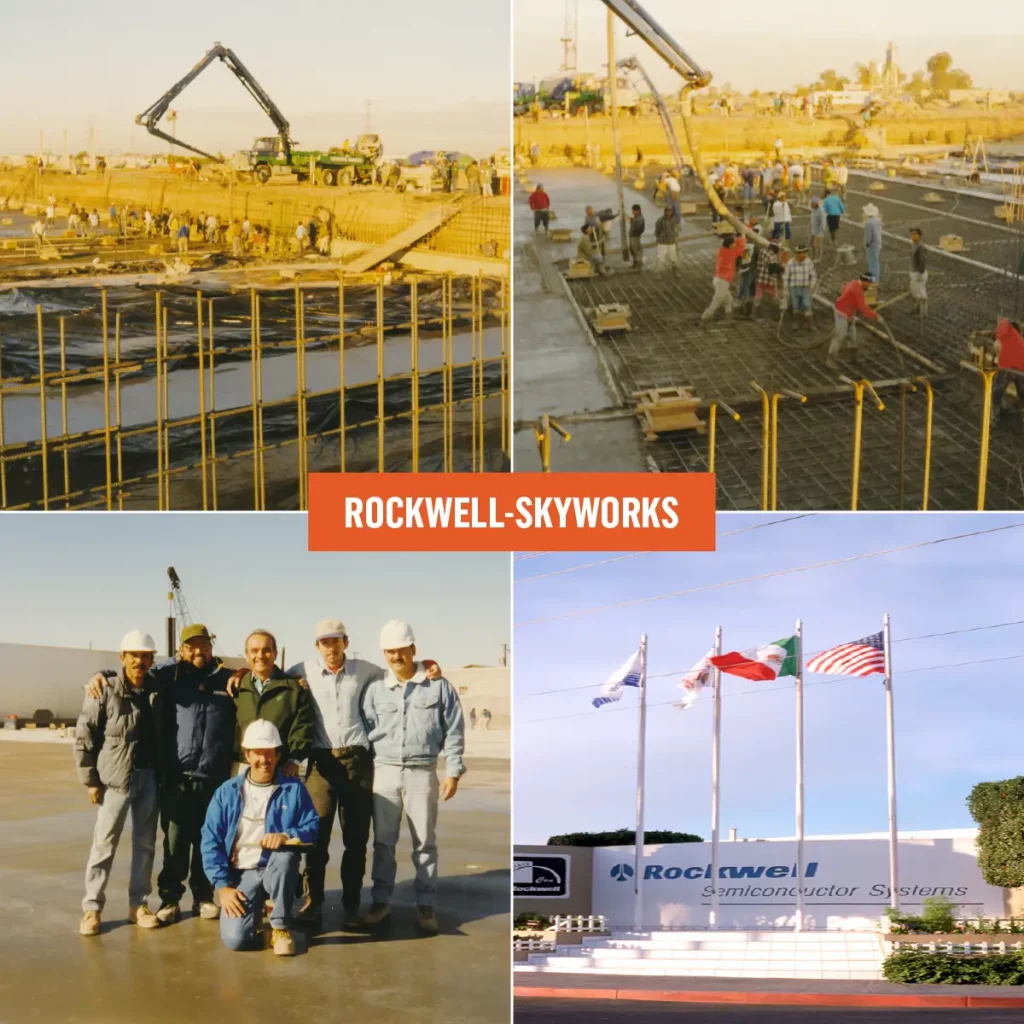 TOYOTA: Assembly Plant and Body Shop (Tecate, Baja California)
In 2002, we embarked on a collaborative project with Albert Kahn Associates Architects to design a state-of-the-art manufacturing plant exclusively dedicated to producing the renowned Toyota Tacoma pickup model. Following the design process, we joined forces with Gray Corporation to complete the construction of this significant facility.
We designed and built a step-down and switching substation to manage the power supply for the entire complex efficiently and implemented a specialized air conditioning system within a designated painted area to maintain optimal environmental conditions. Furthermore, we developed an internal ventilation system to address the facility's need for proper airflow.
In order to conduct comprehensive testing of the vehicles, we designed and constructed a test track. Also, a state-of-the-art fire-fighting system was installed, backed by a structure approved by the insurance company Tokio Marine.
Undoubtedly, one of the most remarkable aspects of this project was the unique challenge posed by its location on the side of a hill. To overcome this challenge, we undertook a massive earthmoving endeavor, relocating 2.2 million cubic meters of dirt This cleared the way for the construction of the 452,000 SF (42,000 m²) industrial warehouse in record time. Additionally, implementing the Kanban system during the construction phase improved the efficiency and coordination of the production process, optimizing time and resources.
We have also participated in constructing the subsequent plant expansions, which had an additional challenge, since we worked hand in hand with the Toyota team without stopping production, respecting very short times and strict security measures. We highlight this project because, thanks to its result and the collaboration with these two international companies, we continue to work as partners in new constructions for Toyota.
Want to know more about this project? Read our case study here.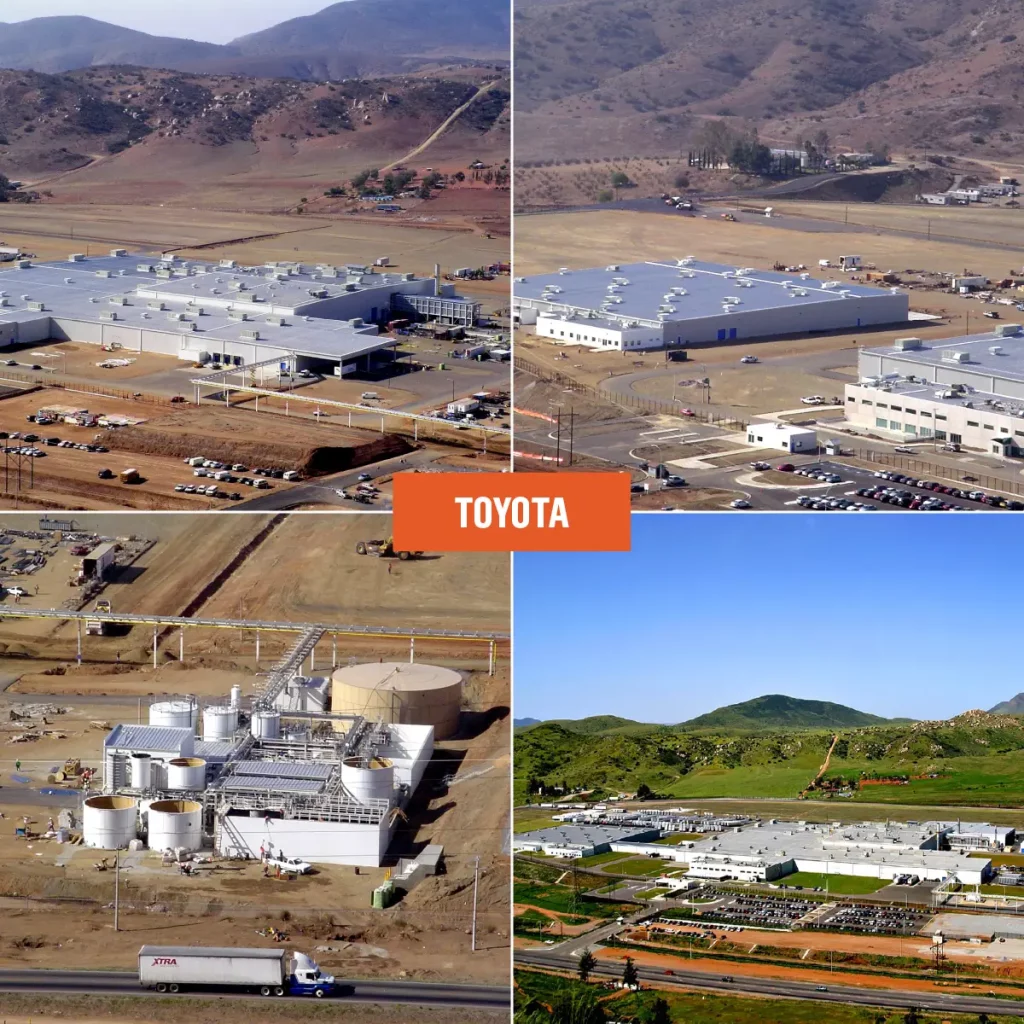 WRAPPING UP…
Undoubtedly, each project represents a challenge. However, in Hermosillo, we work hard and smart to ensure that every project is executed within the established time and budget. We focus on understanding the needs of our clients and not only satisfying them but exceeding their expectations.
When we think about our future, we feel very excited about becoming the first construction company in Mexico to complete a century of training and hard work. We are driven by passion and dedication to exceed established standards, solve the needs of our clients, and deliver world-class projects that make a difference in the construction industry.