The global economy and supply chain strategies are shifting in unexpected ways. Mexico is rising as a significant nearshore destination, outpacing other countries for international manufacturers looking to expand their production. Currently, Mexico is considered a prime opportunity for investment, offering unparalleled benefits for businesses considering relocating production to the country to have a better strategic location.
So, what is driving this boom?
In this article, we will explore why Mexico has become a nearshoring powerhouse, examining the benefits, key players, and strategies for success.
What Is Nearshoring?
This practice of nearby production, known as nearshoring, is about relocating manufacturing or business operations to neighboring countries or regions close to a company's primary market. Often, it aims to reduce costs, increase efficiency, and minimize logistical challenges compared to more distant offshoring alternatives.
This approach is gaining global traction, enabling companies to lower the risk of having long and complicated supply chains. For many reasons, Mexico is widely regarded as a strong option for nearshoring in Latin America.
Overview of Mexico as a Top Nearshoring Destination
Why has Mexico become the nearshoring destination of choice? In simple terms, Mexico's consistent investment in its manufacturing industry makes it an intelligent nearshoring option for foreign investors.
Over the years, international treaties, educational initiatives, high-skill labor, and robust local business support have collectively shaped the manufacturing industry in Mexico. As a result, you can see this effort reflected in Mexico's active participation in global matters. The country plays a significant role in the worldwide medical, automotive, and consumer goods sectors. To illustrate this, consider the following statistics:
Mexico is America's 3rd largest food processor.
Mexico ranks as the seventh-largest vehicle manufacturer globally.
Mexico is Latin America's second-largest medical device market.
The country's robust presence in these vital sectors signifies ample opportunities for businesses seeking to invest and collaborate.
FDI in Mexico from 2006 to 2022
International investors are naturally attracted to locations with proven success, and Mexico fits the bill perfectly. The sustained commitment to development has resulted in consistent Foreign Direct Investment (FDI) growth. Check out the following table with data from Mexico's Ministry of Economy.
Here are some insights we can extract from this FDI trend:
Last year, Mexico received a record 36,215.37 million Mexican pesos in Foreign Investment, the highest since 2013, with 48% from new investments.
In 2022, the growth rate was 5.2% annually, outpacing the 2% average growth of the previous decade.
The forecast for 2023 appears optimistic, with a consensus prediction for GDP growth rising to 1.1 percent in May, according to the Bank of Mexico.
About 47% of total FDI has originated from the US.
The Role Of The US in Mexico's Nearshoring Evolution
The United States has played an essential role in Mexico's nearshoring emergence. Due to its proximity, the US has historically been the top contributor of FDI to Mexico by a large margin. This has created a win-win scenario, as Mexico has risen to become the leading supplier to the US.
Mexico's Economy Secretary confirmed that the country is a crucial provider of medical devices, automobiles, and various non-petroleum goods. A recent report by Bloomberg highlighted that factories along the US-Mexico border are thriving, with exports exceeding 80 billion dollars in the first two months of 2022.
These encouraging numbers are positively shaping the perception of Mexico across the world. As we mentioned, corporate leaders are showing a growing preference for nearshoring strategies in Mexico instead of traditional offshoring due to the rising logistical and supply chain costs. Border Now reports that 172 out of 260 executives with manufacturing facilities in China prefer Mexico for servicing the US market.
5 Advantages of Nearshoring in Mexico
The following perks showcase Mexico's benefits of nearshoring and its potential as a strategic, financially viable, and globally competitive option.
Location: Probably the one you've heard the most, but it's true. Mexico's location is unparalleled. Its strategic proximity to the US and efficient transportation options offer a significant benefit.
Clusters: Mexico is home to multiple specialized industrial clusters. They facilitate the integration of new companies by providing skilled workers, suppliers, and strategic allies in one place. For instance, the medical cluster in Baja exemplifies the exponential growth that can be achieved in an established cluster.
Workforce: Mexico is known for cultivating high-quality professionals committed to excellence. Some studies even show that Mexico is shifting towards a more knowledge-based economy, encouraging the development of highly-specialized individuals. Clusters are also a decisive factor for development workers with industry-specific expertise.
International Treaties: Trade agreements like the USMCA and Mexican regulations facilitate nearshoring operations by reducing tariffs and reinforcing protections for investors. These agreements create a favorable network for sustained growth and collaboration.
Quality Buildings and Infrastructure: World-class buildings, efficient infrastructure, and connectivity make Mexico an excellent place to install production facilities.
Most Popular Nearshoring States in Mexico
As of 2022, the most favored Foreign Direct Investment (FDI) states include Mexico City, Nuevo León, Estado de México, Jalisco, Chihuahua, and Baja California. Half of these states have cities on the border with the United States. Border states are also top exporters, especially in the automotive industry.
Hermosillo possesses the capacity to design and locally execute projects across Mexico on a nationwide scale. Our strategic presence extends through four regional offices situated in high foreign direct investment (FDI) states: Baja California, Nuevo León, and Mexico City.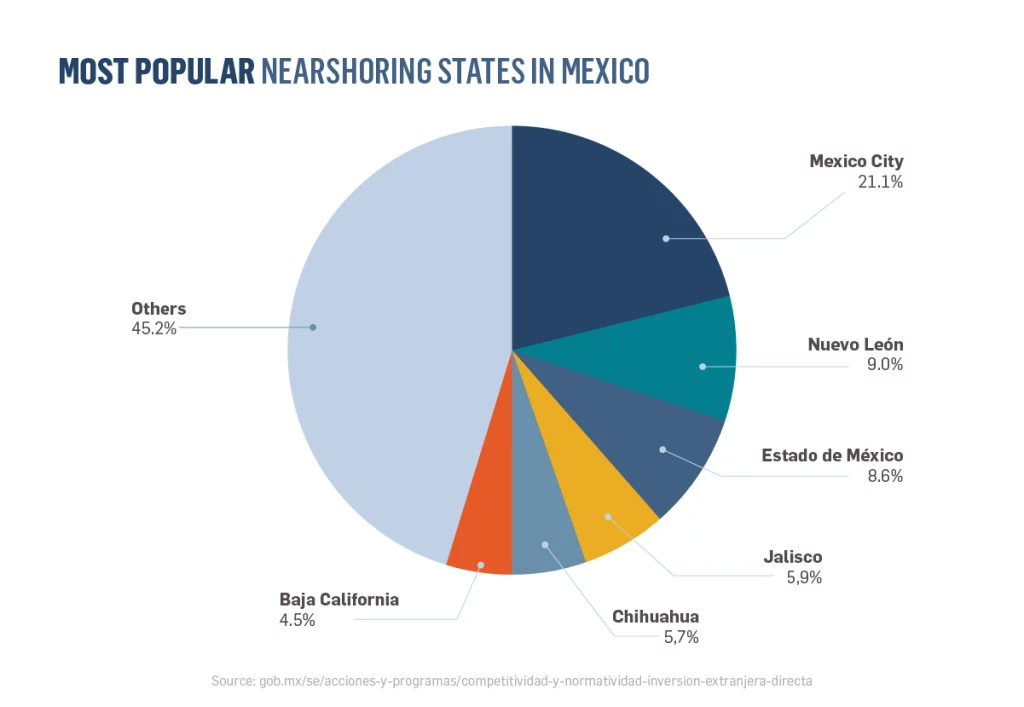 Choosing a Reliable Nearshoring Partner
Finding a trusted partner is crucial, considering the challenges and potential opportunities that come when investing in Mexico. For this reason, you need to look for someone with firsthand experience that understands the associated risks, local codes, best construction practices, and policies.

We recommend choosing a local partner with proven experience, like Hermosillo, which specializes in designing and constructing industrial facilities, and Waycore, a company that specializes in soft-landing and assisting international manufacturing companies looking to establish in Mexico.
Get Started with Your Nearshore Strategy in Mexico
The country's future as a leading nearshoring destination appears bright and promising. Investors seeking to secure their supply chains find nearshoring to Mexico an attractive option.
You now have the golden opportunity to participate in this growth. Currently, Mexico is expanding without yet being an oversaturated market. It's a reasonable time to invest and move operations to Mexico. The country's strong manufacturing background, strategic location, skilled workforce, world-class facilities, and favorable treaties make it a stellar destination for businesses aiming to grow.
Leveraging Mexico's strengths as a nearshoring hub and having Hermosillo as your local partner can help position your business for sustained success in the global market.