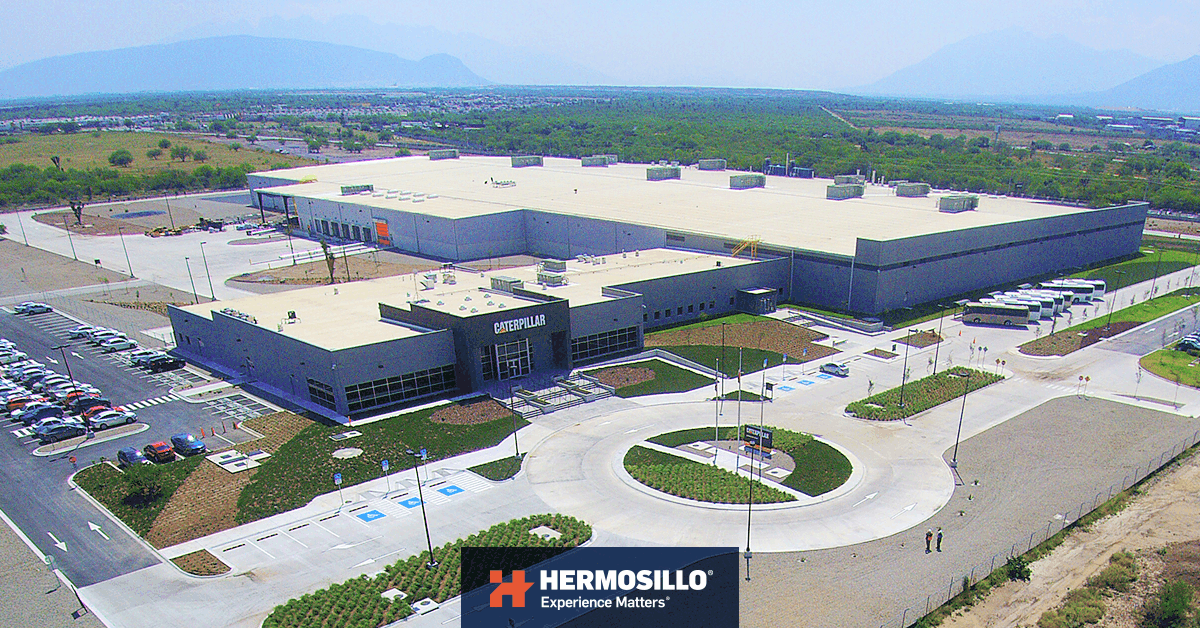 Caterpillar is the world's leading manufacturer of construction and mining equipment, diesel and natural gas engines, industrial gas turbines and diesel-electric locomotives. With more than 50 years of presence in Mexico, this company has spread to several facilities throughout the country.
Hermosillo was assigned by this important company, in its build its hydraulic components division, to design and build its new valve and gear pump facility in Ciénaga de Flores, Nuevo León.
Project specifications
The project, executed in 2015-2016 with an extension of 32,000 m2 (344,445 SF), featured concrete insulated tilt-up walls, a 60-mil TPO roof system and FPS designed according to FM (Factory Mutual) guidelines. In turn, important mechanical systems were integrated, such as wastewater processors, compressed air, natural gas, refrigeration system, RO water, ice water, treated water, and drinking water.
Solutions and development
An interactive process was handled with the client where various Value Engineering solutions were proposed and accepted, which resulted in savings equivalent to 7% of the contract.
We are proud to announce that this amazing facility received the Gold Certificate based in the Green Building LEED® (Leadership in Energy and Environmental Design) rating system.
Categories such as sustainable sites, water efficiency, materials and resources, internal environmental quality, and design innovation were evaluated as part of the LEED Certification Review Report that acknowledged Hermosillo's high level of excellence.
Conclusion
Our company values a focus on sustainability and actively pursues environmentally friendly projects, enabling successful constructions that guarantee a better world for future generations.
Testimonial from our Caterpillar client, Stephen Scott:
"As the Project Manager, we chose Hermosillo for our project based not only on their competitive bid, but also due to their proposed Value Engineering ideas, along with their references from previous clients and our design consultant, CH2MHill, in Mexico City.
We have since built a very good relationship with Hermosillo as the project has remained on schedule and on budget. We have been impressed with their project management, design, and construction capabilities, along with their attention to detail. They have consistently shown to be flexible and exhibited a strong desire to understand and achieve the Owner's goals, while remaining fair and consistent in their dealings with our team.
I would certainly not hesitate to use them on other projects and am pleased to provide my recommendation to any of Hermosillo's potential clients. Hopefully, you will have the same positive experiences we encountered should you decide to allow them the opportunity to provide you with their services in the future."